Focus
Get more with myNEWS
A personalised news feed of stories that matter to you
Learn more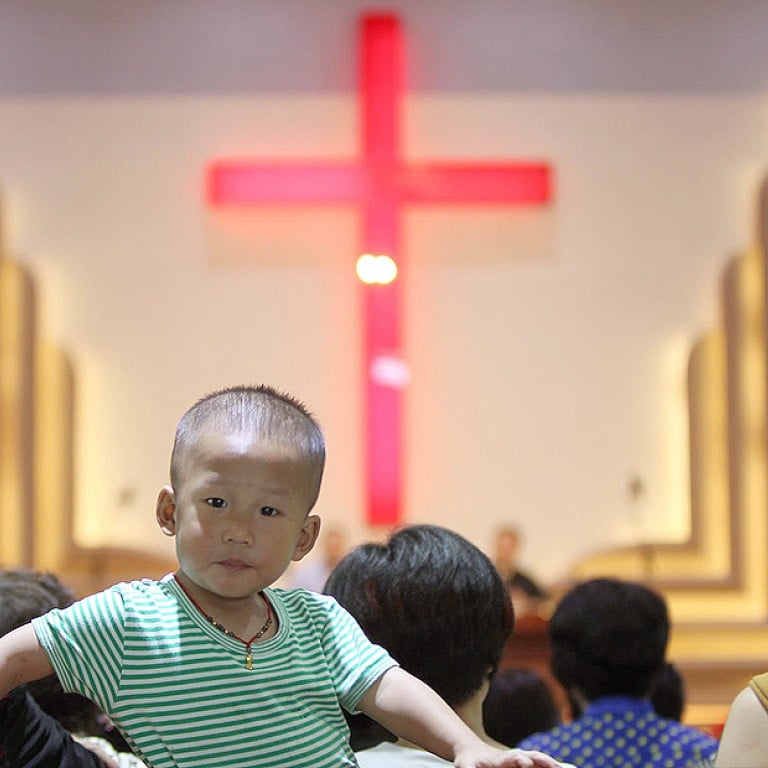 Christians in Zhejiang cross with authorities over church demolitions
The Christian community in Zhejiang is at loggerheads with the local authorities over a campaign to remove crosses from church buildings
Wenzhou in Zhejiang province is known as China's Jerusalem. One million of the city's eight million legal residents are Christian. Huge crosses rise towards the sky on many of the city's more than 2,000 churches.
But increasingly, these crosses signify a burden for believers.
The local government has been on a campaign to tear down church buildings and their symbols, which has created a rift between the authorities and the government-sanctioned Protestant churches known as the Three-Self Patriotic Movement.
At least three churches have been demolished, and more than 160 crosses, including some at Catholic churches, have been taken down in the past seven months, according to a list compiled by local pastors.
China Aid, a religious rights group based in the United States, has counted more than 360 crosses and one church razed in Zhejiang since January.
"The cross is a symbol of our belief. Our Lord Jesus Christ shed his blood on it. Demolishing our crosses means challenging our bottom line," said one pastor from Shuitou town in Pingyang, about an hour south of Wenzhou. "That's similar to stripping off our clothes to humiliate us."
As with many Christians interviewed by the , he asked that his name not be disclosed for fear of being punished by officials.
Officials said the crosses that adorned the churches exceeded the size allowed by the local government and needed to be demolished during what they called the "three rectifications and one demolition" campaign.
This three-year effort is aimed at aiding Zhejiang's economic development by removing older and illegal properties, according to a document issued by the provincial government.
Wenzhou church leaders and overseas religious and human rights groups say the campaign has become a crackdown on Christianity triggered by the provincial authorities, with some expressing fears it could grow into a nationwide attack on religion.
But local authorities say the demolition campaign is not targeting Christianity.
Pingyang county had dismantled more than 560,000 square metres of illegal structures by the end of June, including 20,100 square metres of space used for religious purposes at Christian and Catholic churches and Buddhist and Taoist temples, said Chen Xiuming , deputy director of the office in charge of the campaign in Pingyang.
The demolitions were not favoured towards any particular group, he said. "I toppled an 800 square metre unlicensed workshop of my nephew's last month," he said. "Churches can re-erect crosses if they are willing to take down their big crosses. We welcome church leaders to submit proposals on how to rectify their crosses to a suitable and acceptable size."
Several church leaders and pastors admitted that their buildings violated urban planning and land resources rules. But they argued that their designs were common practice in the Wenzhou community.
"Once we decide to construct a building or a church, at least 100 official seals of approval from different departments [need to] be collected," a pastor said, adding that the process can take several years. "In order to save time, people in Wenzhou used to start projects before getting permits", and some church members sought to build structures as large as possible.
The campaign has now triggered violence between the government and local Christians. At least 60 were injured on Monday after more than 600 police officers and demolition workers attempted to forcibly remove a cross on Jiuentang Church in Pingyang, said a leader of another church nearby. Church members tried to prevent police removing the symbol by surrounding the building, which ended in a bloody confrontation.
Jiuentang Church is officially sanctioned by the national Three-Self Patriotic Movement of the Protestant Churches and the China Christian Council.
Pingyang's government could not be reached for comment.
One church member said he sustained head and back injuries in the clash after hundreds of uniformed men, most with iron batons and shields, blocked the roads outside the church at about 3am on Monday, while 20 Christians stood guard outside the church compound.
"They lined up outside, and all of a sudden started to beat us up, without giving any reasons," the man said. "We never expected this, as we thought they might talk to us first."
Photos circulated on mainland social media sites showing a blood-splattered floor and bloodied men lying on the ground.
Watch: A Sunday service in Zhejiang province where the government wants to ban crosses
Unlike other churches under the Three-Self system, Wenzhou churches do not rely on government money. Church wardens tend to use their own money or count on donations and loans to build chapels. Preachers are often entrepreneurial and either representatives in local people's congresses or delegates to a local political consultative conference. To get things done, they use their , or connections.
"But now we are finding those political connections do not help us safeguard our beliefs," said a member of Sanjiang Church in Yongjia county, which was demolished in April.
"Conversely, those become bargaining chips for officials to put pressure on church leaders to make concessions."
The newly built 30 million yuan (HK$37.43 million) Sanjiang Church, which local authorities said was five times its authorised size and lacked all the necessary permits, was torn down on April 28.
Five officials in Yongjia were sacked for not stopping the 10,000 square metre project. One church leader has been detained for organising a protest against the demolition.
In early April, after the church received the demolition notice, hundreds of worshippers from different counties across the province gathered at the building to launch an almost month-long, day-and-night protest to save the building, an official said.
The provincial security department sent an undercover team to mix among the worshippers, said three Sanjiang church members who took part in the protest. Their account was confirmed by a county official from neighbouring Yingyang, who declined to be named.
"We once convened up to 2,000 followers from different cities and counties in the province to gather inside the main hall, but many brothers and sisters of Sanjiang Church were … persuaded by church leaders to withdraw," one of the church members said.
Nathaniel Yuan, a PhD candidate at the department of cultural and religious studies of the Chinese University of Hong Kong, said the complicated and awkward relationship between local authorities and Sanjiang Church, as well as other churches under the Three-Self system, had had a negative impact on the community.
"It's a pity the authorised church community in Wenzhou failed to make a significant Christian impact on local culture. Instead, it has been deeply affected by some of the bad practices in ordinary society, such as lawlessness and competing to build palatial churches," Yuan said.
Compared to a decade ago, Wenzhou Protestants have become more active in fighting for their freedom to worship, he said.
"We have learned a painful lesson from the demolition of Sanjiang Church - we can't be split any more," a church leader from Cangnan county's Lingxi township said.
He said Christians in Wenzhou were split among several denominations, but joined together to safeguard their crosses.
Churches across the province came up with various measures to stop their crosses being taken down, including parking heavy trucks in front and laying rocks at gateways as barriers.
Tension between congregants and authorities grew after June 6, when the municipal legislative affairs office posted on its website a directive for party cadres and government personnel to "educate all relatives" to withdraw or keep a distance from religious activities.
"Many civil servants were warned they would be sacked if they failed to lobby family members to withdraw from Christianity and co-operate with the authorities in the cross removal campaign," a Yongjia pastor said.
But the destruction won't undermine residents' Christian faith, pastors and academics said.
"It might be possible to destroy Buddhism if you pull down all their temples, but you can't wipe out Christianity just by demolishing their buildings and crosses. Christianity has a very special missionary system," said Professor Liu Peng , a religion expert at the Chinese Academy of Social Sciences.
"Buildings may be important to a church, but it's just a visible construction of Christianity. Missionaries and shepherds are the real pillars that play the most important role in preaching the Christian spirit."
This article appeared in the South China Morning Post print edition as: At cross purposes