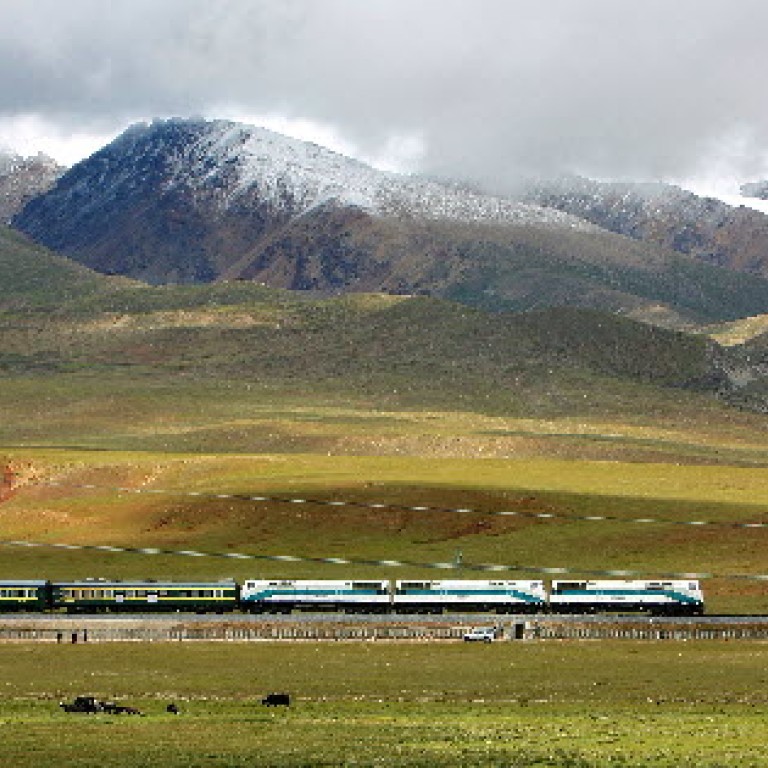 New

|
Qinghai-Tibet Railway's new westward spur may open next month
Track tests have been completed on the railway line, which will boost the economy in an area of Tibet where 700,000 people live
The Qinghai-Tibet Railway's spur line from Lhasa to Shigatse may be open to traffic next month, with the completion of track tests on Tuesday, People's Daily reported.
The 253km Lhasa-Shigatse spur, which includes 13 stations with altitudes ranging from 3,600 to 4,000 metres, is the largest investment project in the Tibet Autonomous Region in the 12th Five-Year Plan. It is also reportedly the line that spends the longest time crossing the area because of strong geothermal activities that produce the high such temperatures in China.
Lhasa, the southern terminus of the 1,956km main line from Xining, Qinghai, is the eastern terminus of the spur line, which runs along the Lhasa River to the south, almost 90km across the Brahmaputra Canyon area and the Nianchu River wetlands before reaching Shigatse. The trains trains will run on the spur at an average of 120 km/h.
Care was taken to follow the same eco-friendly construction guidelines as with the railway's main line, especially on the Tibetand Plateau, the Railway Office of the Tibet Autonomous Region said.
But when builders laid the railway bed, they had to keep the encroachment on the wetlands in the Nianchu River National Wetland Park to a minimum. So, they extended the Nianchu River grand bridge to over 800 metres, and about 50 trees had to be uprooted and then replanted to restore the wetland's original appearance, said Xiao Yanbin, chief engineer of the Lhasa-Shigatse railway project for the Gezhouba Construction Group.
Yang Yulin, deputy director of the Railway Office, said the project's main achievement will be the benefit to the area's residents.
"The opening of the railway will completely change the inconvenient situation in the southern part of Tibet, which had been inaccessible by rail and relied only on road transport," he said.
The railway will also be a boost to the local economy in Shigatse district, not only in the investment environment, but also in the mining industry, tourism and the characteristic agriculture. "It's a blessing for the 700,000 people in southwest Tibet," said Yang.
Huang Lihua, general manager of Tibetan Travel Corp said that once the spur opens, leaders in Qingdao, Shandong, will take the lead and run a special train to Shigatse for tourism.