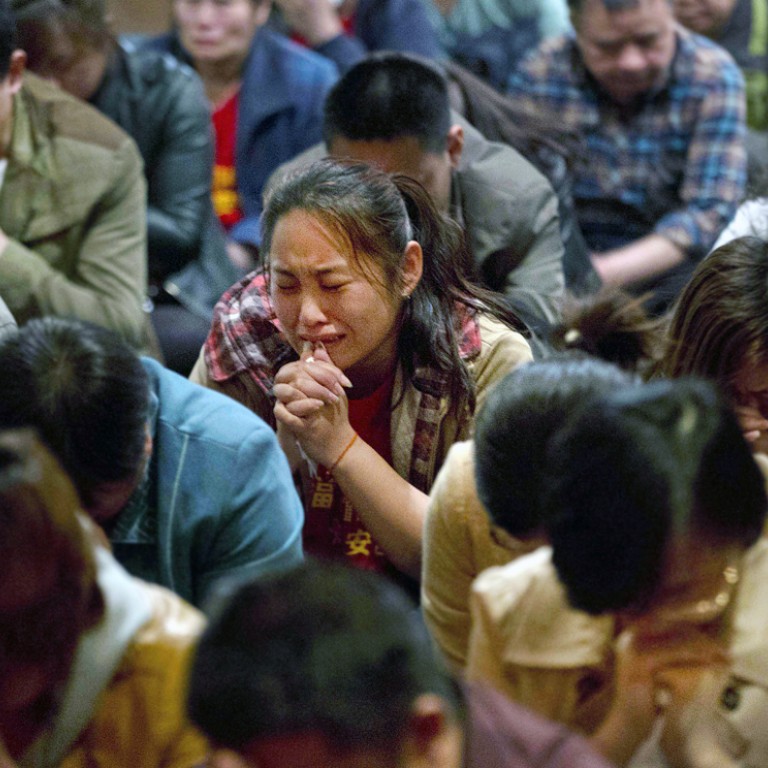 Relatives of Chinese MH370 passengers say police detained and beat them
Families members say Malaysia Airlines has refused repeated requests for them to see official video footage of passengers boarding flight that disappeared on March 8
Chinese relatives of passengers of missing Malaysia Airlines flight MH370 claim they were detained by Beijing police for nearly 24 hours after demanding to see the carrier's official video footage showing people boarding the doomed flight.
Two other woman relatives of passengers alleged they were punched and beaten by about six police officers after asking for the release of two other relatives - a father and daughter - who had been detained on a separate occasion.
More than 20 relatives told the that since July 14 they had asked almost daily for the airline's liaison staff in Beijing to show them the footage - but always without success.
They said 16 relatives - nine men, five women and two boys, aged six and four - were detained by police on July 14, the first time they asked to see the footage.
The relatives said they had gone to the airline's office, in Shunyi district, in the northern suburbs of Beijing, after learning that Malaysian relatives had seen the footage.
Police came around midnight and detained the 16 relatives, they told the Post. Some had planned to stay overnight. They claimed they were held at five different police stations in Shunyi for almost 24 hours.
"The police accused us of being an organised group, and said that we had an agenda," a relative said. "All we wanted was to find our loved ones - people with whom we share the same blood."
Another relative said: "We were also warned that more than 10 people gathering together is illegal."
The two women say they were dragged and punched by six local policemen in a police station on May 19 after asking for the release of two family members held on an earlier occasion.
The women claimed the violent conduct of police had left then with numerous bruises on their bodies. The elder of the two women said she was kept in hospital for three days.
This article appeared in the South China Morning Post print edition as: Relatives of Flight 370 say police beat them