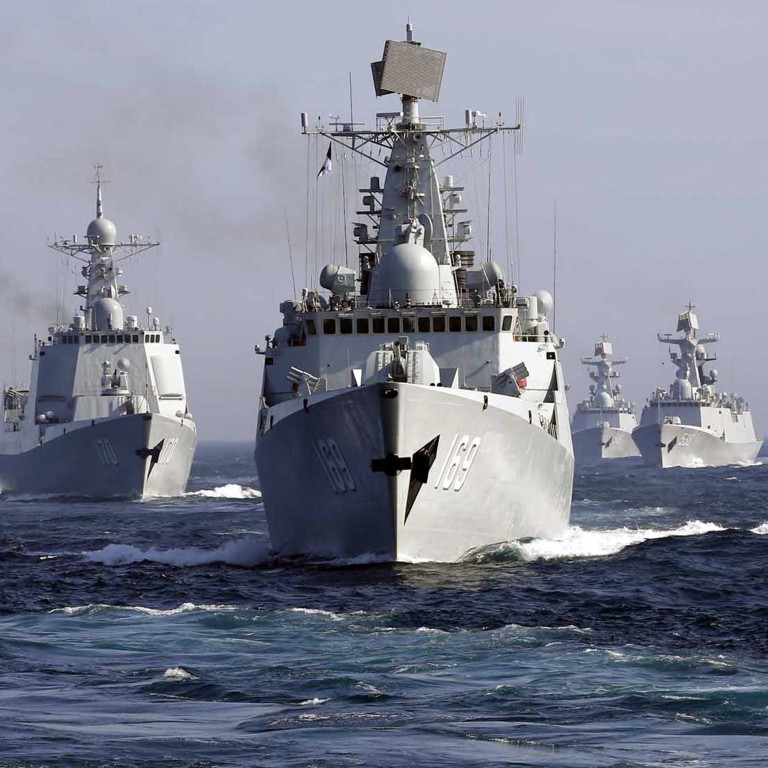 China's navy no longer so inferior to Japan's, experts say
While Japan's navy may have a qualitative advantage over China's, the much bigger People's Liberation Army is catching up, analysts say.
China's loss of the first Sino-Japanese war has been attributed to a disorganised navy. Although the northern fleet equalled, some say exceeded, the Meiji navy in terms of firepower, it was annihilated because it lacked coordination among its military units.
Today while Japan's navy may have a qualitative advantage over China's, the People's Liberation Army is catching up, analysts say.
In sheer manpower, China has the upper hand, with Beijing putting the PLA Navy's strength at 235,000, or more than five times the number in the Japan Maritime Self-Defence Force.
But the Japanese navy has being training with modern warfare strategies, and with different units, for decades, according to Macau-based military expert Antony Wong Dong.
"PLA units are still exploring new ways to operate jointly, which could lead to merging their different weapon systems together," Wong said.
Toshi Yoshihara, an associate professor at the US Naval War College, said that although the Japanese navy was still superior in technological sophistication and experience, China was catching up quickly.
"China is out-building Japan virtually across the board," Yoshihara said.
He said the PLA Navy was deploying modern destroyers, frigates, fast-attack craft and submarines. "Japan is already having trouble keeping pace with this level of Chinese output."
As so many Chinese warships had entered production, adding mass and balance on the fleet, Japan could no longer rely on its qualitative advantage, Yoshihara said.
But a deciding factor would be the support of the US Navy. "The US-Japanese alliance is essential to weighing the overall naval balance," he said.
China might even have the edge now, according to Dr Lyle Goldstein, an associate professor at the China Maritime Studies Institute under the US Naval War College.
"In my opinion, the forces are quite evenly matched now, but China may even have pulled ahead in recent years," Goldstein said. He added that this was not the official assessment of the US Navy.
Japan last year formally unveiled the biggest warship in its fleet since the second world war - the Izumo-class helicopter destroyer.
The 248-metre ship, due to enter service next year, is designed to carry 14 helicopters, and complements Japan's two serving Hyuga-class helicopter destroyers, which are 197 metres long and can accommodate 11 helicopters.
Shanghai-based military expert Ni Lexiong said the helicopter destroyers could function as aircraft carriers for US planes, while China had only one aircraft carrier, the Liaoning, although observers say more are in the works.
China required nearly 10 years to convert the 67,500-ton Soviet-built Varyag into the Liaoning. It was formally delivered to the PLA in September 2012, and so far has been used for training.
"But Japan's helicopter carriers have been battle-ready for more than three decades with the help of the United States," Ni said. "Every one of its carriers is able to operate independently in combat."
Japan also enjoys an advantage in submarines, according to Wong. The PLA's existing submarines, many of which are old models, have been criticised by Western forces as "too noisy and too easily detected", while Japan has some of the most technologically advanced diesel-electric submarines in the world.
"The gap between the two countries' military capability, especially in hardware, has been narrowed, as Beijing has made a priority of boosting defence spending since it began double-digit growth in the early 1990s."
In March, Beijing said the annual budget for the military would by 808.2 billion yuan (HK$1.02 trillion), a 12.2 per cent increase over last year, and slightly higher than the average 10 per cent increase.
"On the software side, there is still a huge gap," Wong said.
"The PLA needs more time to catch up."
This article appeared in the South China Morning Post print edition as: PLA Navy catching up with Japan's, experts say