Focus
Get more with myNEWS
A personalised news feed of stories that matter to you
Learn more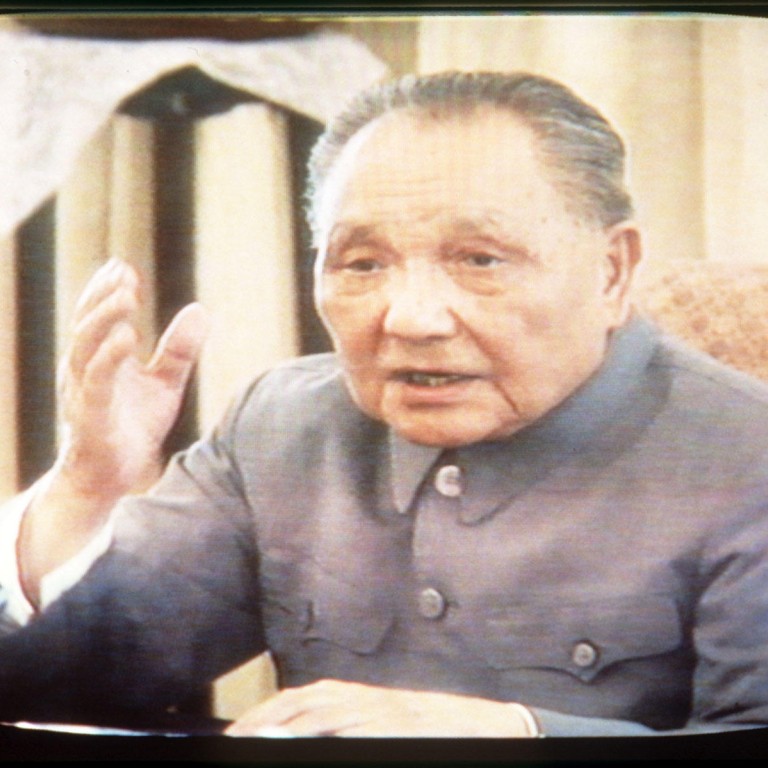 Deng Xiaoping's guiding principles are still in play today
President Xi Jinping's efforts to exert China's influence on the world stage mirror those of the former paramount leader, who would be 110 today
When Xi Jinping took office two years ago, he began flexing the country's military muscles and asserting Chinese involvement in regional affairs.
Many analysts wondered if he was breaking with Deng Xiaoping's admonition that China should not attract attention and "lie low", avoiding confrontation in foreign affairs to keep the nation focused on domestic matters.
Yet analysts and China watchers say the philosophy of Deng, who would have celebrated his 110th birthday today, still guides the nation's foreign affairs - even when promoting China's interests has been viewed by other state leaders as bullying. Indeed Xi's style, some watchers note, takes cues from Deng.
Despite China's moves to control, for example, the South China Sea, these watchers say the nation is not ready to be a global leader in security matters - that the costs of doing so are too high.
"What we are seeing today is a China willing to be more proactive in achieving something it wants, such as defending claims in territorial disputes," said Taylor Fravel, associate professor of political science at Massachusetts Institute of Technology, in the United States.
But its wish to dominate had limits, he said. "International leadership is costly, and you can only lead internationally if you want to pay the cost for that. China is not willing to assume a leadership role in international affairs. It has its opinions, but it is not ready to be a leader in resolving problems."
Deng's diplomatic strategy emerged in the early 1990s, after the fall of the Soviet Union, as China was trying to steady itself amid an international furore over the bloody crackdown on Tiananmen Square protesters in 1989. Faced with international hostility, Deng focused on developing the nation's economy. Senior officials in the two post-Deng administrations led by Jiang Zemin and Hu Jintao reiterated Deng's principles.
"Some countries in the third world want China to be the leader, but we should not be, and this is the fundamental policy of our nation," said Deng - quoted in a party publication - while talking to officials in December 1990.
"We cannot be the leader, and we do not have enough power."
China launched a series of reforms that accelerated economic growth. In 2001 - four years after his death - the nation became a member of the World Trade Organisation and started expanding its influence abroad. It provided a one billion euro loan to Hungary in 2011.
This May, Premier Li Keqiang pledged more than US$12 billion in a credit line and aid to Africa to cover new technology and development of a high-speed railway. State media said the money was on top of loans of US$20 billion to Africa already promised by Xi from 2013 to 2015.
In addition, Beijing has sharply increased its role in UN peacekeeping missions. The Stockholm International Peace Research Institute said China had less than 100 peacekeepers in 2000; the UN noted that, as of July, the nation had deployed nearly 2,200 civilian police, military observers, engineers and medical staff - mostly to work in Africa.
Deng stressed that China should avoid taking the lead in international politics, yet defended the nation when he believed its core interests were at stake, said Francois Godement, senior policy fellow at the European Council on Foreign Relations.
For example, Deng rejected Britain's request in the 1980s to continue administering Hong Kong, even as London acknow-ledged China's sovereignty over the city after 1997.
In early 1979, China engaged in a brief war with Vietnam after Hanoi invaded Cambodia and defeated the murderous Khmer Rouge regime, which Beijing had backed. Vietnam also occupied the Spratly Islands in the South China Sea, claimed by Beijing.
Deng, then vice-premier, had also grown more resistant to the Soviet Union's authority. To prevent Moscow coming to Vietnam's defence, Beijing massed its forces on the Sino-Soviet border. The Vietnamese-Cambodian conflict ended after Vietnam withdrew its forces in 1989.
Under Xi's leadership, Beijing has began engaging more with its neighbours - sometimes in ways foreign nations have considered to be aggressive.
This week Xi is visiting Mongolia - the first trip there by a Chinese president in 11 years - where he is witnessing the signing of energy and infrastructure deals.
At times, the nation appears to want to lead the region diplomatically. At a May security meeting in Shanghai, Xi called for a forum for Asian nations to discuss defence issues that did not include the US, saying Asia's security must be handled by Asians.
Yet that suggestion came after a number of moves seen as provoking less-powerful nations, as well as the US. Last November, Beijing created an air defence identification zone over the East China Sea, which has begun requiring flight plans and two-way radio contact with Chinese authorities.
The US and Japan - which claims the East China Sea - accused China of stoking tensions.
More worryingly for many foreign leaders, China has asserted its control over the South China Sea, brushing aside the claims of others in the region. That has led to protests by several of its neighbours. The Philippines recently accused China of carrying out an "expansionist agenda" and ignoring an international arbitration effort to settle the claims.
In May, Beijing installed an oil rig near the Paracel Islands, prompting a stand-off between China and Vietnam. The move led to anti-Chinese riots in southern Vietnam that claimed at least three deaths, Vietnam reported (China claimed four), and confrontations at sea between Vietnamese fishing boats and Chinese vessels; China's media showed Xi visiting Chinese troops and officials, and urging soldiers to get "combat ready".
Jin Canrong, a professor of international relations at Renmin University, said China's rapid economic growth had increased the nation's confidence, so that it was more assertive in its territorial demands and making its voice heard internationally.
China's power plays have also reached the financial arena. Last month, Beijing positioned itself as a major player in providing alternative financing to emerging markets by paying the largest share of US$41 billion to a development bank newly formed by Brazil, Russia, India, China and South Africa. Analysts said the New Development Bank would rival the International Monetary Fund and World Bank, dominated by Europe and the US.
Cai Fangbai, China's ambassador to France in 1990, said the nation would stick to the "lie low" plan in creating policy because China saw itself as a developing nation; its per capita gross domestic product is now about US$6,800, compared to about US$37,000 in Japan.
"We are not becoming a leader and China still needs to focus its strengths on economic development," said Cai, a member of the Foreign Policy Advisory Committee under the Chinese Foreign Ministry. "China still has to seek its own development and enhance its own strengths."
Fravel said for China to establish a leadership role, it would need to minimise the impact of the US in the Asia Pacific region, and be willing to pay a huge cost, such as stationing troops abroad.
Chu Shulong, deputy director of the Institute of International Strategic and Development Studies at Tsinghua University, said China had acknowledged the mounting requests for it to become more involved in international security with its rising economic and military power.
Indeed, US President Barack Obama criticised China for being a "free rider" in a interview on August 10, saying Beijing had failed to help resolve global security issues, referring to the ongoing insurgency crisis in Iraq.
"On one hand, some people want China to play a more prominent role," Chu said. "But when China takes up its role and gets involved, there are people saying China is challenging the US and changing world order."
Still, some scholars and officials have pressed China to develop a new diplomatic strategy that clearly defines what kind of power it intends to become.
Wang Jianwei, professor of government and public administration at the University of Macau, who has written on Deng's diplomatic theory, said there was no reason for China to stick to Deng's directives.
"It is really time for China to present to the world a new foreign policy direction, clearly defining how it positions itself and how it wants to be seen by other nations," he said.
"China has to admit changes. Not many people will be convinced that a nation can keep its foreign policy direction unchanged for two decades."
This article appeared in the South China Morning Post print edition as: Deng's guiding principles