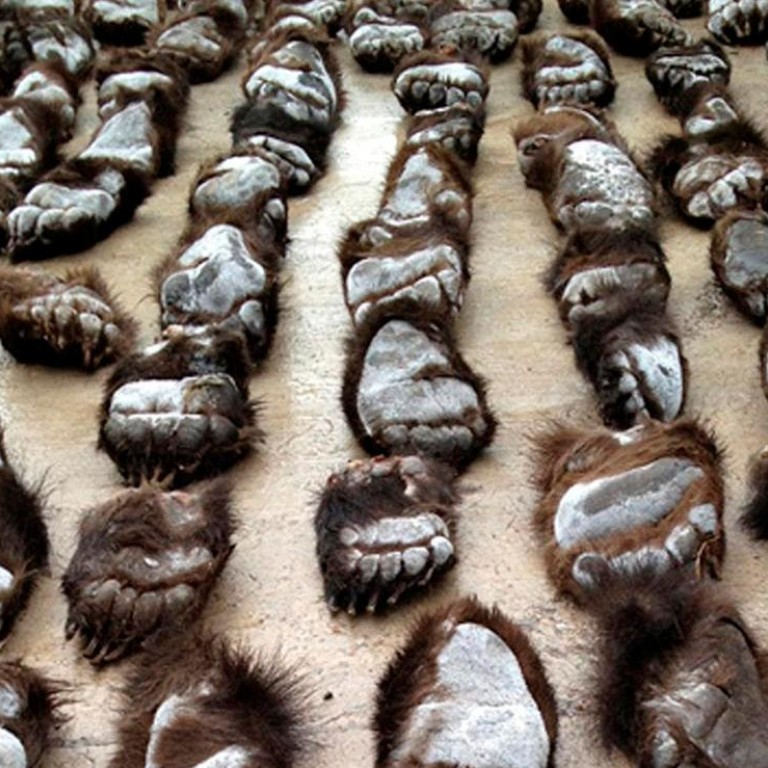 Black bear smuggling from Russia to China increases
Monitoring group flags growing trade in Asia despite efforts by China to stamp it out
The illicit trade in black bears between northeastern China and Russia is a growing problem, a wildlife body warns, with demand for bear parts persisting despite efforts to stamp it out.
Traffic, which monitors global trade, said at least 2,800 black bears were killed in Asia in the past 12 years and sold for their skin, bile, paws and meat.
"There is some enforcement taking place, more so in some countries than others. That reflects the scale of the trade and the commitment of the authorities to clamp down on the trade," said Dr Chris Shepherd, Traffic's regional director for Southeast Asia.
Figures from China suggest Beijing is stepping up efforts to crack down on the trade, even though it remains one of the largest destinations for bear products. Between 2000 and 2005, China reported 46 seizures of bear products. That figure almost doubled to 90 between 2005 and 2010.
But according to the group's report, called "Brought to Bear", the illicit trade between the Russian region of Primorsky Krai and Heilongjiang in China alone accounted for 1,934 bear killings. It warned the border trade situation "is becoming increasingly urgent, particularly as demand continues to persist evidenced by a number of significant bear paw seizures". Paws originating from Russia could be sold for more than 20 times their initial price once smuggled into the mainland, the report said.
On Thursday customs officers in the port city of Qingdao intercepted a black bear skin with the head and limbs still attached, reported.
Wildlife crime expert Justin Gosling said the main challenge for officials was combating the number of legal outlets that kept bears, like entertainment parks.
"Anywhere there's a licit market there will always be an illicit market too, and it makes it much easier for people to smuggle into the legal market if it exists already," he said.
In recent months, China has stepped up efforts to reduce the appetite for bear parts, particularly bile from captive Asian black bears. A new law threatens to jail people for up to 10 years for knowingly eating products made from rare wild animals.
This article appeared in the South China Morning Post print edition as: Black bear smuggling from Russia on the rise