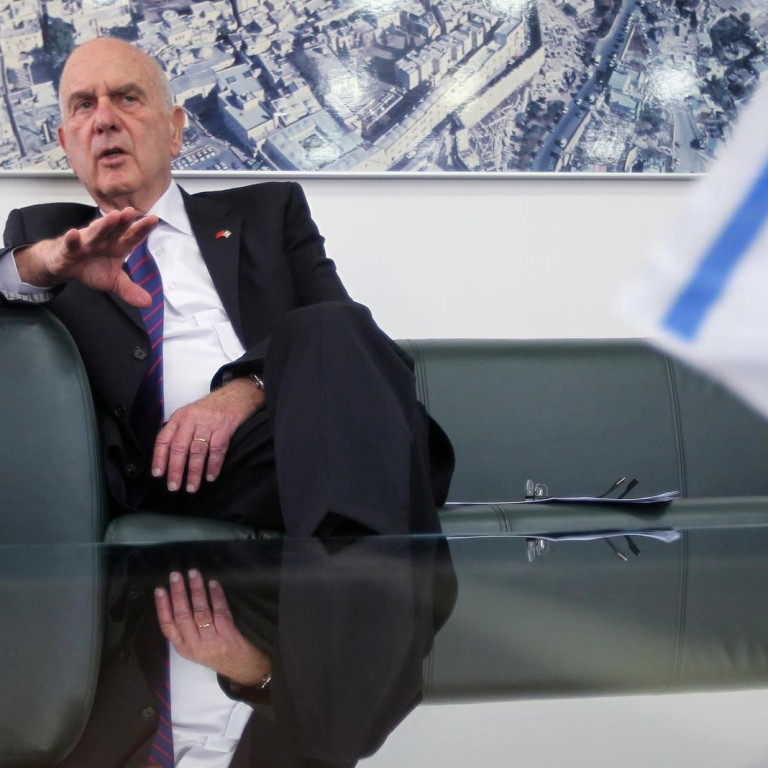 No easy fix in Gaza, Israeli ambassador tells China
Ambassador says that hopes of Beijing brokering a truce are too optimistic
It would be difficult for China to mediate in the Gaza conflict even though Beijing enjoys good relationships with both Israel and the Arab world, the Israeli ambassador to China has told the .
Matan Vilnai said China could play a balancing role but warned that conflict in Gaza would be "very complicated" for Beijing to solve. He made the comment after Beijing made suggestions for peace and called for a ceasefire between Israel and Hamas.
"I know your leaders. They are very smart people, and they understand that dealing with the Middle East is very dangerous," Vilnai said. "It is very complicated, and I am not sure that China is prepared to do it, because it is not easy and there is not a simple way to do it."
He said not even the United States could bring the conflict to an end, despite it having been in a strong position in the Middle East for decades. "You must be part of the Middle East in order to do it," he said.
The six weeks of fighting have killed at least 2,038 Palestinians in Gaza, about three-quarters of them civilians. Sixty-seven people have died on the Israeli side, almost all soldiers. Egypt has scrambled to secure a ceasefire deal over the past weeks, but fighting resumed on Tuesday.
Beijing has been making an effort, albeit a marginal one, to help end the conflict.
Foreign Minister Wang Yi met his Egyptian counterpart, Sameh Shoukry, in Cairo on August 3, calling on the Israelis and the Palestinians to stop pursuing their "unilateral demands by using force" and to establish a security mechanism. China has pledged US$1.5 million in emergency humanitarian aid to Gaza.
China's special envoy on Middle East affairs, Wu Sike, toured the region last month to call on both sides to settle the conflicts through talks.
The Palestinian ambassador to China, Ahmed Ramadan, said last month that Beijing should play a more important role in the Middle East peace process as China had both economic and political influence in the region.
Vilnai, however, said China had to tread carefully as Beijing needed to protect its interests in the resource-rich region and maintain good relations with Israel, which has become an increasingly important trade partner for China.
China is now Israel's second- largest trading partner, with exports of US$2.88 billion and imports of US$7.99 billion last year. Chinese companies are eyeing several high-profile investment deals in Israel.
These include tendering for construction of a railway linking Eilat on the Red Sea and Ashdod on the Mediterranean, and purchasing a more than US$1 billion controlling stake in Tnuva, Israel's dairy giant.
"You must be very careful trying to deal with the Middle East," Vilnai said.
"And to understand the situation … will take years."
Vilnai also hit back at critics who claimed Israel had targeted Palestinian civilians in its strikes on Gaza.
He blamed Hamas for using civilians as human shields, adding that Hamas must "recognise the right of Israel to exist" before a ceasefire deal could be brokered.
Hamas fighters were radical militants who were no different to the fighters of Islamic State, he said.
This article appeared in the South China Morning Post print edition as: China will find no easy fix in Gaza,Israel warns