Macau
Get more with myNEWS
A personalised news feed of stories that matter to you
Learn more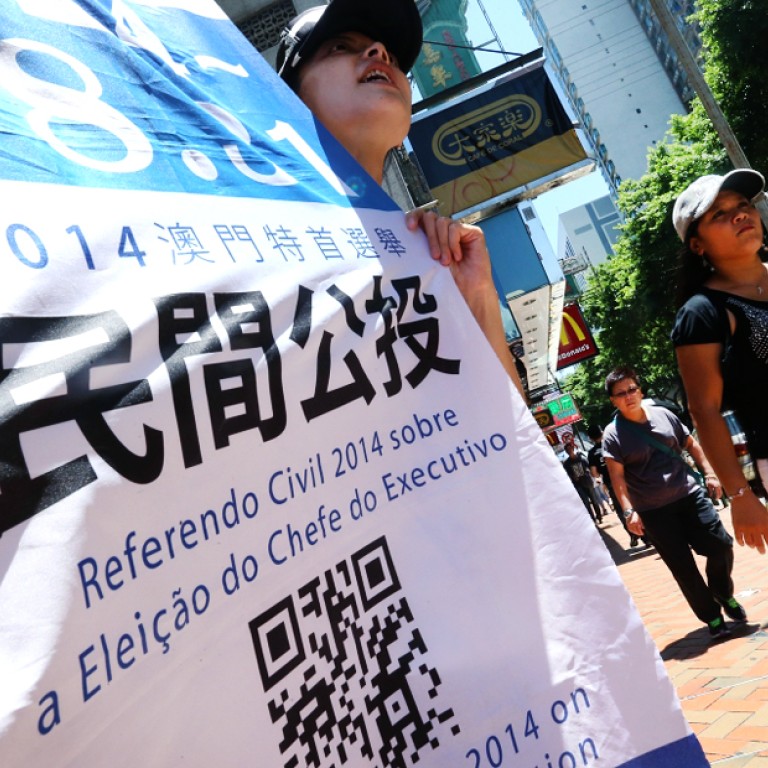 Leader of Macau poll 'referendum' probed
Organiser of Occupy-style campaign accused of failing to comply with order to stop the action
Macau authorities have stepped up their crackdown on democracy activists operating an unofficial "referendum" on the upcoming chief executive election, placing a core leader under judicial investigation yesterday.
But the allegation that the poll organisers had breached personal data laws is in question, with a legal scholar saying it is "hard to justify" the detentions on those grounds.
The authorities' latest move came after police shut down all five of the poll's physical voting stations and detained then released four organisers within hours of the referendum's launch on Sunday.
Jason Chao Teng-hei - leader of the Open Macau Society, which is organising the poll with Macau Conscience and Macau Youth Dynamics - was accused of failing to comply with a government order to stop the referendum. Chao said the order was illegal.
His case was transferred to the public prosecutions office, part of Macau's judicial system, and he is required to make an application if he needs to leave Macau for longer than five days.
The referendum asks residents if they have confidence in Chief Executive Dr Fernando Chui Sai-on and want universal suffrage in the next election.
Watch: Macau unofficial referendum organiser: Hong Kong and Macau should join forces for democracy
Prosecutors said the cases of the four other detained activists had been returned to police for further investigation.
Sten Verhoeven, an assistant professor at the University of Macau's faculty of law, said data was apparently collected during the poll to ensure no one voted twice. But if voters consented, there could be no breach of Macau's Data Protection Act, he said.
"As long as a person gives his or her consent, the data can be collected," Verhoeven said. "The protection of privacy deals with unwarranted and undesired intrusions in one's personal life. When one validly consents, there can be no intrusion."
As there is no indication the data would be used for other purposes, "it seems questionable to arrest and detain people on this ground", the legal scholar said.
The collection of data, Verhoeven noted, was done "on a daily basis" by companies, non-profit organisations and social network sites.
The online voting platform remains in operation until Saturday, a day before the election set to put the unopposed incumbent chief executive back into office for another five years.
Meanwhile, Chui continued his meetings with various groups ahead of his guaranteed re-election victory. He vowed to look into whether casino companies in the world's gambling capital were living up to pledges made in government agreements.
By midnight last night, 6,212 people had voted in the "referendum". Sulu Sou Ka-hou, newly elected president of the city's most prominent democratic group, the New Macau Association, said he believed news of the detention had prompted people to join the campaign.
This article appeared in the South China Morning Post print edition as: Leader of Macau poll 'referendum' put under probe