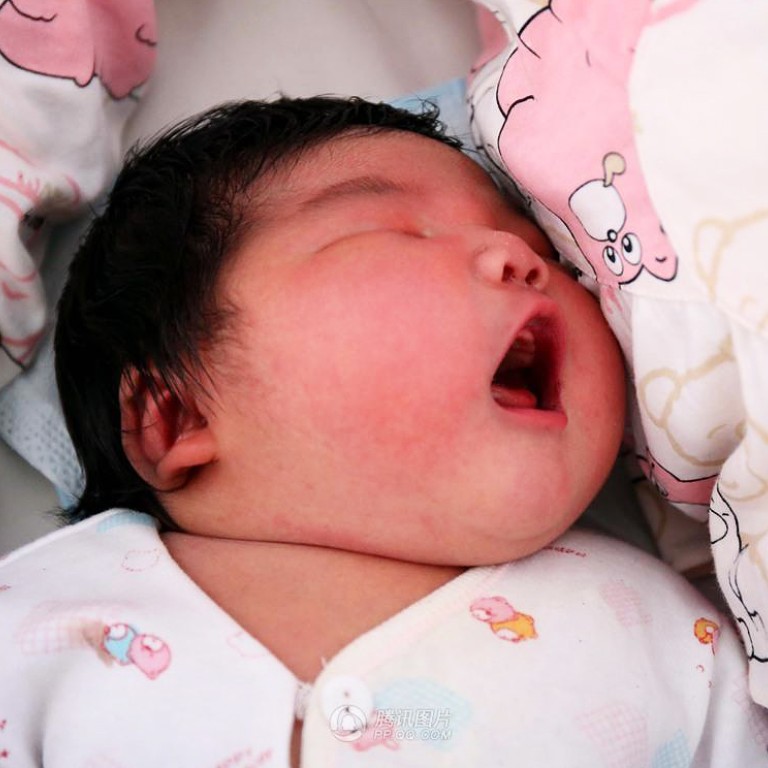 Chinese mother gives birth to whopping 6.3kg baby boy
A Chinese mother a huge bundle of joy on her hands, having recently given birth to a 6.3kg baby – one of the heaviest in recent years, reports said on Tuesday.
A Chinese mother has a huge bundle of joy on her hands, having recently given birth to a 6.3kg baby boy.
The infant was born by Caesarean section at the Chongji Maternity Hospital in Yucheng city, Shanxi province, Tencent News reported.
The child, whose name was not publicised, was delivered on August 23 at 7.25pm.
When born he weighed the same as an average three-month-old.
The second child of a woman surnamed Tian, the baby was something of a shocker for hospital staff.
"It's the first time I've delivered such a huge baby in my 30-year career," Chongji Maternity's director was quoted by Tencent as saying.
The newborn's weight is in fact almost double the average weight of newborns, at up to 3kg, based on child-growth standards charts by the World Health Organisation.
Pictures posted by Tencent news on QQ.com showed the rosy-cheeked baby happily drinking from a milk bottle or crying in his incubator, with his plump fists raised in the air.
In some of them, he is seen soundly dozing next to his 34-year-old mother.
In one of the photos, Tian was seen lying on her hospital bed and clad in pink pyjamas, smiling as someone helped feed the child.
The hospital could not be immediately reached by the South China Morning Post.
According to the Guinness World Records website, while big, the heavyweight baby is nowhere near a record breaker.
The heaviest baby in the world was a 10.8kg boy born to a Canadian "giantess", Anna Bates, in the US state of Ohio on January 19, 1879. The boy died 11 hours later.
Another who came close to that record was an Italian baby born in September 1955 who weighed 10.2kg.
Other heavy babies mentioned by Guinness were 8kg Anna Swan, who was born in 1846 in Nova Scotia, and, more recently, a 7.57kg Brazilian baby named Ademilton dos Santos, who was born in January 2005.
A few of the heaviest babies on record were born large due to genetic abnormalities.