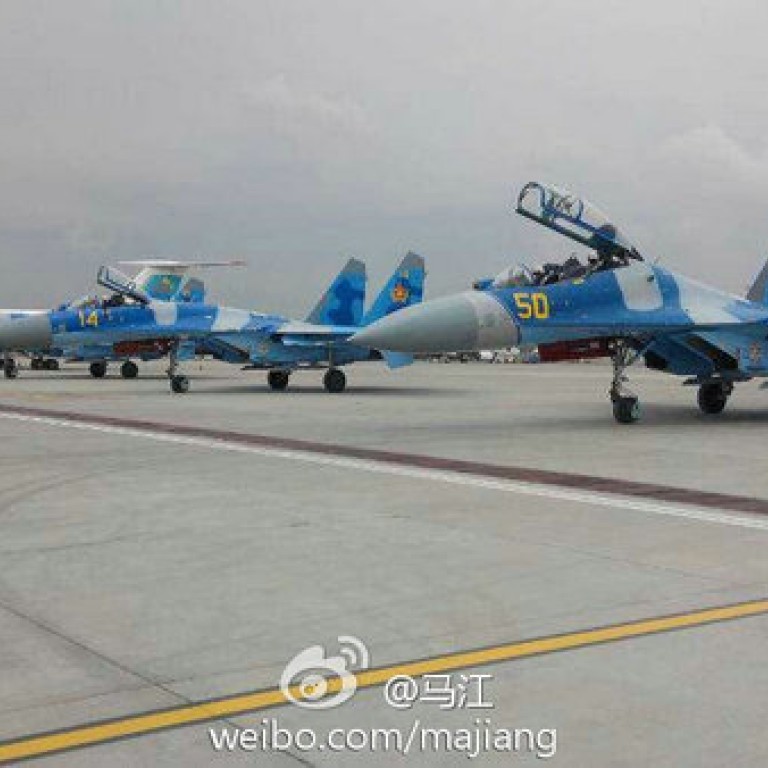 Five Kazakh fighter jets make emergency landings at Yinchuan airport
One plane reported mechanical failure returning from military drills in Inner Mongolia
Five Kazakh fighter jets made emergency landings at an airport in the northwestern Ningxia Hui autonomous region during the weekend after the crew of one of the planes, an Sukhoi Su-27, reported mechanical failure, mainland media confirmed.
The military jets were returning from the anti-terrorism drill Peace Mission this year in Inner Mongolia and were forced to land at the Yinchuan Hedong International Airport, the PLA Daily said on weibo this morning.
The other planes landing at the airport were a Tupolev Tu-134 jet, an Antonov An-72 jet and two more Sukhoi Su-27 jets, according to the website of Global Times.
The decision to land at the Yinchuan airport was made in line with preset emergency plans, PLA Daily said.
The newspaper report came two days after other media reported that the airport in Yinchuan was forced to shut on Saturday afternoon, leading to numerous flight delays and cancellations. Photos circulated on mainland's social media showed three Su-27 fighter jets on the runway.
The abrupt closure of Yinchuan airport touched the nerves of mainland travellers, as it came weeks after airport shutdowns in multiple cities in eastern China due to military manoeuvres. They caused hundreds of flights to be cancelled or delayed from late July to early August.
The PLA wrapped up anti-terrorist exercises with thousands of military personnel from Russia, Kazakhstan, Kyrgyzstan and Tajikistan on Friday in Inner Mongolia. The five-day drill is a part of the annual anti-terror drills by Shanghai Cooperation Organisation members that began in 2005 to facilitate the exchange of terrorism intelligence and increase joint anti-terrorism combat capability, state media reported.