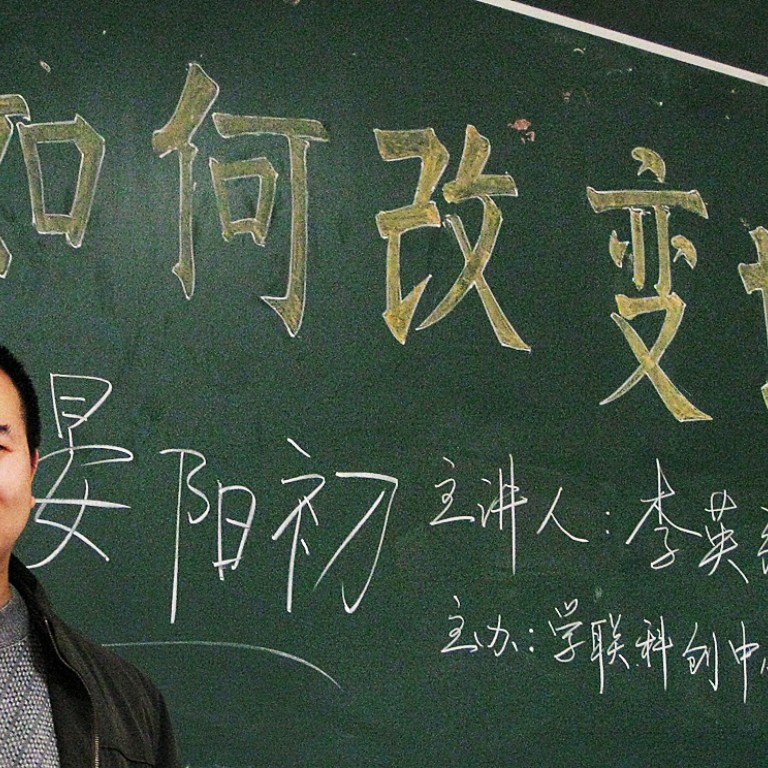 Charity group sees six libraries shut down by Chinese authorities in mystery crackdown
No official explanations for closures, but NGO hints that it could be linked to religious books or foreign funding
A Chinese pro-literacy non-profit has seen its sixth library shut down by authorities this year without any explanation given – sending a chilling message following reports of raids on its centres.
China Rural Library (CRL), a government-sanctioned grass-roots group that seeks to boost literacy and education in the country's impoverished rural areas, said its Shanxi library was shut down last Thursday.
CRL said that around 10 days before the closure, "CRL's 11 libraries across the country have [experienced] raids more than once" from local education and culture authorities.
That would mean five libraries – one in Shanxi province and the remaining four in Sichuan – had suspended operations since late August, according to its official Weibo account. Adding the shutdown of the Lu Zuofu library in Xiaojia town, Chongqing, on May 30 brings the total to six.
CRL's management did not explain the reasons behind the shutdowns, but in a hint that it was forced said "none of its libraries are voluntarily closed for mismanagement reasons", according to its Weibo.
CRL's account on e-commerce site Taobao.com, in which people were able to purchase books and donate to the libraries, were also suspended.
Separately, Tang Shuangfei, manager of the Lu Zuofu centre, said in a lengthy post that the Xiaojia library was accused by local authorities of "circulating religious books" and that among those officials confiscated during an inspection was a book on Christianity written by German political economist Max Weber.
Tang denied the library owned any religious literature.
The abrupt closures have raised concerns that more of CRL's libraries would face a similar fate. "Will the list [of closed libraries] be expanded?" Li Yingqiang, the founder of CRL, wrote on his microblog.
Li said in another post that five of the closed libraries this year had a "stable cooperation relationship" with local schools before the abrupt closure, and he received no formal explanations from the authorities yet.
Li refused to answer inquiries from the South China Morning Post.
In response to the accusation of circulating religious books, CRL said that the library project was a "civil campaign rather than a political campaign" and said even if the libraries received any religion-related books, they would never put them on the bookshelves to abide by Chinese policy. The officially atheist Communist Party strictly regulates religion, sanctioning churches, designating places of worship and approving religious material.
In another statement, CRL said one of its libraries was shut down because its partner – a village middle school in Jincheng, Shanxi – requested to terminate its contract over "pressures from above".
The education bureaus of Sichuan, Shanxi and Chongqing did not reply to inquiries from the Post on Tuesday.
Founded in 2007, CRL has built more than a dozen libraries in rural areas, normally with cooperation with local schools and government-owned libraries.
The goal is for rural youths, especially schoolchildren, to enjoy – free of charge – reading books and using facilities donated by charities and individuals.
According to its website, CRL's libraries carry books on subjects ranging from literature, the sciences, biographies, arts, economics for schoolchildren, as well as education and psychology-related books for schoolteachers.
The shutdown of independent libraries of CRL, which aims to "help rural youths to grow up into healthy and normal modern citizens", according to its website, coincides with the current crackdown on seven subversive influences from the West including universal values such as civil rights and press freedom, which was widely known as Document Number 9.
It also came at a time when the Communist Party is tightening its grip over non-government organisations, especially those with foreign ties.
Several government documents have shown that local governments have started to probe NGOs funded by and linked to overseas organisations.
Although Li said most of CRL's funds came from domestic donations, he admitted in a post that it received a total €15,000 (HK$150,400) from the Yiyuan Foundation of Care and Education, a German foundation founded by Chinese students in Germany.
It is not the first time that CRL's libraries have been shut down. In August 2011, its Tao Zhixing library in Shaanxi province was shuttered after harassment from local authorities. Five libraries were shut down in 2012 and three last year.