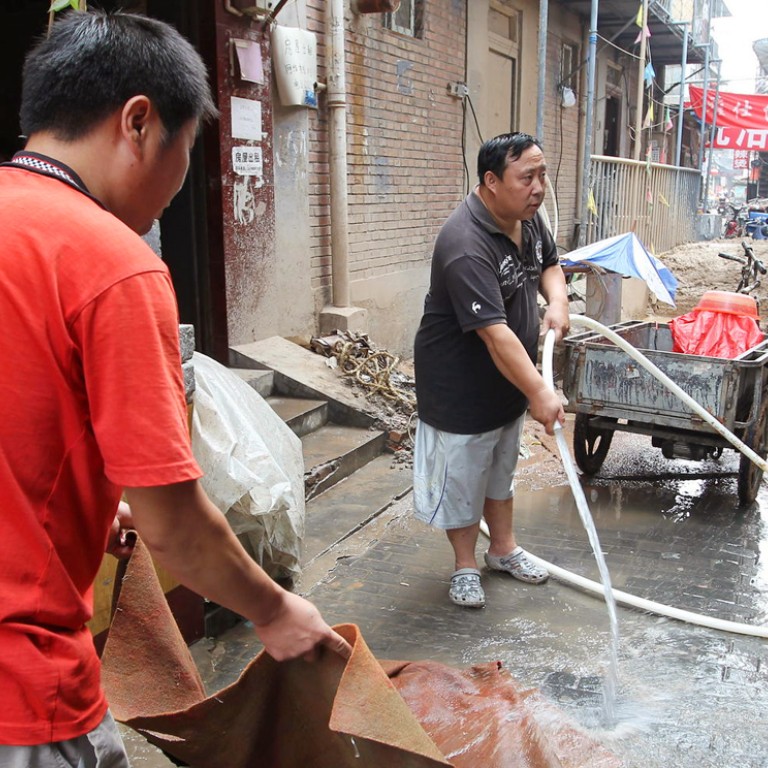 Beijing residents defy law to sink own wells in search of clean water
Residents take matters into their own hands as capital struggles to provide water for swelling population - but it's not a good solution
As water shortages continue to plague Beijing, unauthorised wells are becoming a common sight across the city - a solution that might ease supplies for now but risk greater damage in the long term, experts say.
Some drilling teams said they had built wells in several residential communities on Beijing's fringes, where many migrant workers live, according to the .
The risk, however, is that these wells could further worsen Beijing's water crisis. The capital's underground reserves are so overexploited that groundwater levels have dropped by more than 12 metres since 1999, according to official statistics.
Watch: Beijing residents drill wells to cope with water supply shortage
Despite the municipal government's vow to keep the city's population growth to within its water supply limits, daily water consumption rose to more than 3 million cubic metres on several days in July, setting new records.
So how severe is Beijing's water crisis today? For residents in a tightly packed community next to Tsinghua University, tap water has been in such short supply this summer that they are drilling their own wells.
A group of neighbours from the Shuimo community pooled about 60,000 yuan (HK$76,000) to pay for a drilling crew to tap into underground reserves after repeated interruptions to supplies since July.
Residents cheered in the area's narrow lanes late last month as the crew sunk a new well, bringing up water from 60 metres below the surface.
"Tap water supplies have never been very consistent here, but after July they started to smell foul. That's when residents started to drill for groundwater. Many have done so already in this community," said a resident who identified himself only by his surname Ma.
A woman in her 20s said she only used tap water to wash clothes and do some cleaning. "The tap water is so smelly that I have to use bottled water to brush my teeth," she said.
About 20 wells have been sunk in Shuimo over the last month and most of them are about 20 metres to 30 metres deep, but the water from those wells is slightly muddy.
Ma said they would let the water flow for a few days to clear it of pollutants before piping it into nearby households.
None of this patchwork of essential infrastructure has official approval. And with no meters installed to gauge use, residents can siphon off as much as they want without paying. The residents know they should apply to the Beijing's water bureau for drilling permits but Ma said no one in Shuimo had done so. "What else could we do? We need water," said Ma.
Residents said the water shortages began to worsen as more migrant workers moved into the area over the last few years, turning the once quiet village on Beijing's periphery into a crowded community.
More than 10,000 people live in an area of about 2.5 square metres, about 10 times the population of just over a decade ago, according to the . Despite the surge in population, the water supply has not increased. Each month, Tsinghua pipes about 2,500 tonnes of tap water to the community, the newspaper reported.
The only prospect of relief is the first batch of water transferred from the Yangtze River expected this autumn, when the middle route of the massive south-north water diversion project comes on stream.
This article appeared in the South China Morning Post print edition as: Beijingers defy law to sink wells