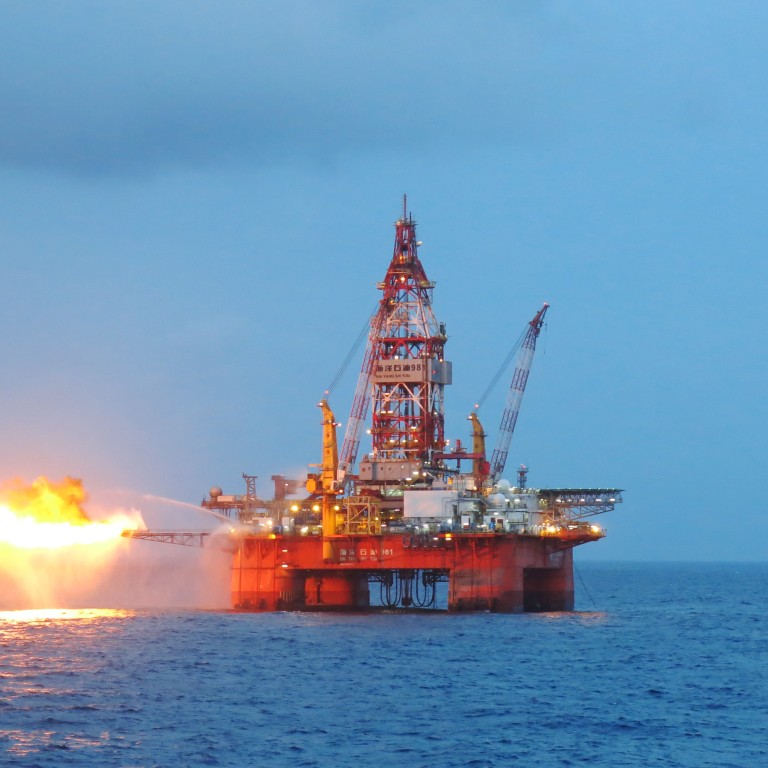 CNOOC's 'Paracels Islands' rig makes major deepwater gas field discovery
Structure moved after deadly row with Vietnam makes first major discovery in undisputed zone
China National Offshore Oil Corp said yesterday that its semi-submersible rig, a structure that was at the centre of a dispute with Vietnam, had found a deepwater gas field about 150km south of Hainan, in the northern part of the South China Sea.
A high volume of natural gas flows was found last month in the Lingshui 17-2-1 well, Xinhua reported, quoting CNOOC manager Xie Yuhong. Tests determined it produced 56.5 million cubic feet of gas per day at an average operational depth of 1.5km, the report said. The well was not in a disputed area.
It is the first significant deepwater gas discovery by the CNOOC 981 rig that led to a deterioration in ties between China and Vietnam in May. Beijing had deployed the rig to waters near the Paracel Islands, which are claimed by both Beijing and Hanoi.
A series of deadly anti-China riots then swept through Vietnam, killing at least four people. The tensions lasted two months until the rig was moved to the Lingshui well in July.
Beijing denied it was moved because of criticisms from Vietnam, saying calm seas meant the rig completed its work one month ahead of schedule.
The exact exploitable reserves of Lingshui are subject to confirmation, but Xie said a large gas field usually meant at least 30 billion cubic metres was available.
CNOOC chairman Wang Yilin was quoted by Xinhua as saying the discovery opened the door to deepwater oil and gas resources in the South China Sea.
The rig, which cost six billion yuan (HK$7.56 billion) to build, has been operating in the South China Sea since May 2012.
Dr Kang Lin, from China's National Institute for South China Sea Studies, said the rig found energy reserves near the Paracels during its work from May and July, and might be deployed in the area again, possibly triggering another round of disputes.
But he also said: "China may also have more communication with Vietnam before sending back the oil rig. [China] may send it back when the Sino-Vietnam relationship is not tense."
This article appeared in the South China Morning Post print edition as: CNOOC rig taps deepwater gas field off Hainan