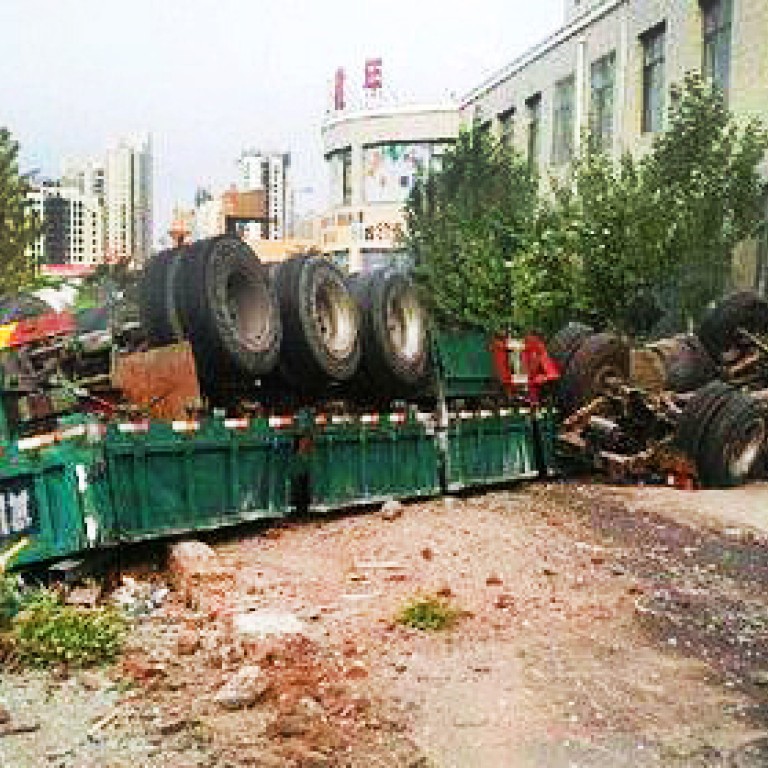 Update

|
Eight dead, six injured as truck crashes into Hebei bus stop
At least eight people were killed after a runaway truck smashed into a bus stop in Hebei province on Tuesday.
The six-wheeler truck lost control of its brakes and ploughed into waiting communiters, and collided with two cars.
The accident happened at around 8am in downtown Zhangjiakou city, injuring another six people.
Photos from the scene, as yet unverified, showed people lying face-down on the ground amid wooden slabs and debris.
Around 20 people were waiting for buses at the stop, according to state broadcaster China Central Television.
Emergency responders were at the scene, pulling bodies from the rubble at the intersection of Wuyi East Avenue and Linyuan Road in Qiaodong district.
Xinhua reported on Tuesday that the truck's brakes had malfunctioned, causing it to overturn and plough into a group of people standing at the bus stop.
Another photo showed the wrecked green six-wheeler truck had overturned and hit a wall. 
The injured were rushed to hospital, and an investigation is under way, Xinhua reported.
The Zhangjiakou city government did not respond to requests for an update and comments.