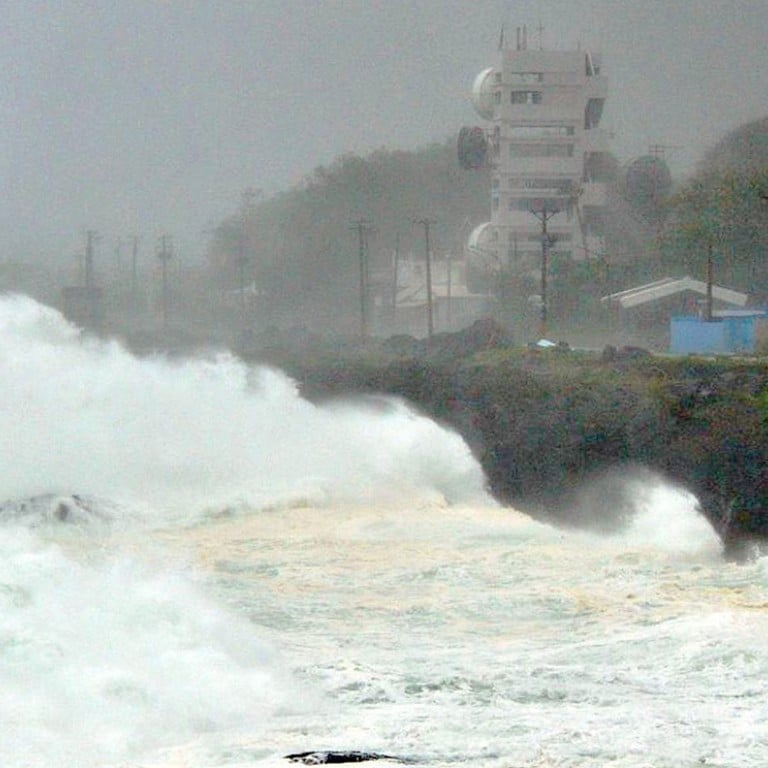 Update

|
Three deaths reported as tropical storm Fung-Wong lashes Taiwan
Tropical storm fails to reach typhoon strength but still packs a punch with gales and torrential rain before heading towards Zhejiang
Tropical storm Fung-Wong pounded Taiwan yesterday with torrential rain and gales, claiming one life and forcing the cancellation of dozens of flights and ferry services.
A man, 50, drowned in Peinan, in southeastern Taitung county, the Central Emergency Operation Centre said, while another man in the county was injured by falling rocks.
Kaohsiung was spared a feared thrashing after the storm changed its originally predicted course to skirt southern Taiwan as it headed north.
But authorities in the island's second largest city deployed water pumps and other precautionary measures. The city is still reeling from a gas blast that killed 30 people and damaged much of its drainage system.
The change in course "does not mean we can relax our vigilance as torrential rain was reported in the mountains", Kaohsiung Mayor Chen Chu said.
Despite being classified as only a tropical storm, Fung-Wong still packed winds of up to 90km/h and left more than 40,000 households in southern and northeastern Taiwan without power.
A highway traffic accident in torrential rain killed three people, but authorities said they had yet to determine whether the accident could be attributed to the storm.
Strong gusts gave a Mandarin Airlines' flight a rough landing as it returned from Zhengzhou, Henan province, to Taichung airport in central Taiwan on Saturday night.
"All 80 passengers and crew aboard were safe, and only a side light of the plane was damaged," an airline official said.
As of yesterday afternoon, Taoyuan International Airport in Taipei had cancelled 108 flights.
More than 42,000 soldiers were on stand-by to offer assistance if required.
The heaviest rainfall, according to the Central Weather Bureau, was 813mm in Pingtung, east of Kaohsiung, followed by 660mm in Taitung and 297mm in the east coast city of Hualien, where residents stacked sandbags to keep knee-high water from flooding their homes.
Fung-Wong was forecast to leave Taiwan near Keelung on the north coast at about midnight, but heavy rain from the storm would continue, the weather bureau said.
Had the storm been more powerful and moved up the island to the west of the Central Mountain Range, the damage would have been far worse, meteorologists said. Instead, it moved over to the east coast where steep mountains deflected the worst of the weather.
Across the strait, authorities in Fujian evacuated more than 35,000 people from the coast before the storm. More than 26,000 fishing boats returned to port.
Fung-Wong is expected to make landfall near Wenzhou, Zhejiang today.
This article appeared in the South China Morning Post print edition as: Fung-Wong leaves 1 dead in Taiwan