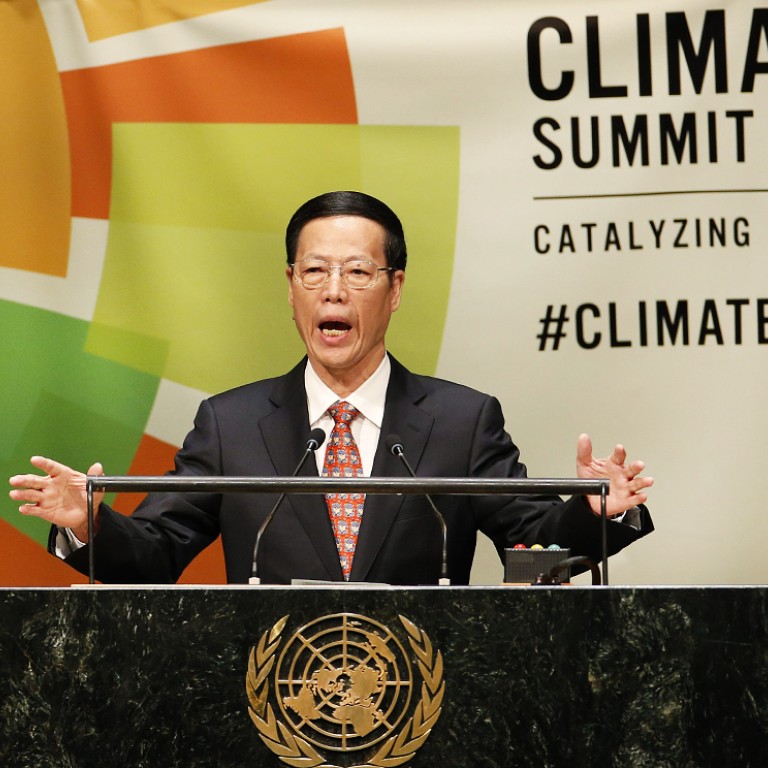 China will seek a peak in carbon emissions 'as soon as possible', vice-premier says
China says it will honour pledge to reduce carbon emissions as analysts say public concern over pollution is stirring the government into action
China pledged at a United Nations climate summit in New York to meet its top target for reducing growth in greenhouse gas emissions by 2020.
Xie Zhenhua , a deputy director of the National Development and Reform Commission, said that China would cut emissions produced per unit of gross domestic product by 45 per cent in the next six years compared with levels in 2005.
China pledged in 2009 to reduce the emissions by between 40 per cent and 45 per cent by the end of this decade. Total greenhouse emissions will still rise, however.
Environmental pressure groups said China, the world's biggest emitter of greenhouse gases, appeared to be taking its commitments to tackle climate change more seriously.
Li Shuo , a senior climate and energy policy officer at Greenpeace East Asia, said the government faced stronger public pressure to tackle air pollution and cut coal consumption, making its negotiators more open in international talks to the possibility of a carbon cap.
Xie also confirmed that China would announce its post-2020 carbon emission targets by March next year to help secure a new global treaty on climate change by the end of 2015. A UN summit in Copenhagen in 2009 failed to produce an international agreement on a new round of emissions cuts.
Vice-Premier Zhang Gaoli told the meeting in New York that China was committed to reducing greenhouse gas emissions. "As a responsible major developing country, China will make an even greater effort to address climate change and take on international responsibilities that are commensurate with our national conditions," Zhang said.
Deng Liangchun , manager of WWF China's climate and energy programme, said Chinese leaders were showing initiative and no longer "dwelling on domestic difficulties or arguing others should take more responsibility [to curb emissions]".
This included China offering to double its financial support for developing countries, particularly African and small island nations, to help tackle climate change. That offer translates to 400 million yuan (HK$505 million) over the next three years, following the 200 million yuan handed out since 2011, according to Deng.
Li, at Greenpeace East Asia, said there was pressure within China for stronger action to transform energy use so that the country's carbon emissions would peak by 2030.
"Also, countries are working hard to avoid the disastrous chaos, like what occurred at the Copenhagen summit. China and the US are already having substantial communications on what each country will put on the table," Li said.
US President Barack Obama said at the New York summit that the United States and China had a special responsibility to take the lead in tackling climate change.
A study released on Sunday said carbon emissions produced by China were now higher than those created in the US and Europe combined.
Hundreds of thousands of activists marched in New York on Sunday, warning that climate change was destroying the earth and urging swift action from governments.
This article appeared in the South China Morning Post print edition as: 'High cuts' to greenhouse gases