Focus
Get more with myNEWS
A personalised news feed of stories that matter to you
Learn more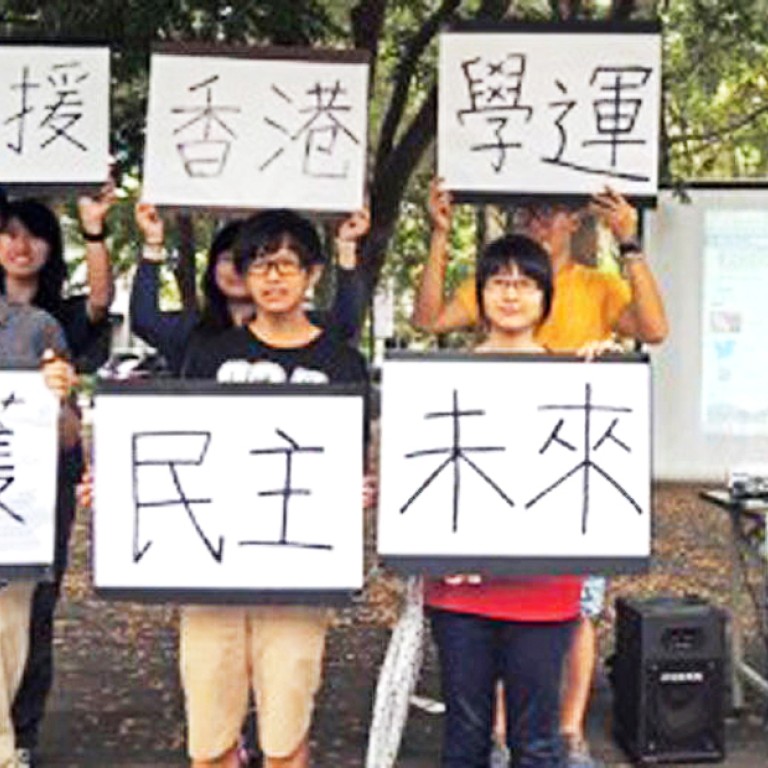 Ruling on Hong Kong poll a hammer blow to Taiwan reunification hopes
Beijing's tough stance on Hong Kong has only hardened Taiwan's resolve to maintain the status quo
Dr Morris Huang once believed that a deeper bond between Taiwan and mainland China would bring great economic benefits. So he was dismayed when Beijing asserted its authority over Hong Kong's future elections, decreeing last month that it would screen the city's chief executive candidates, a move Huang said had robbed the former British colony of true democracy.
"In just 17 years since Hong Kong reverted to mainland rule, the Beijing authorities have already broken their promise to allow Hong Kong a high degree of autonomy for at least half a century," said the 59-year-old dentist.
Huang's parents are from Guangdong, and his father fled to Taiwan with the defeated Kuomintang forces in 1949.
All hope of freedom under Beijing's direct rule was now gone, he said. " Can we trust them any more?"
When the national legislature voted on August 31 to restrict how Hong Kong picks its chief executive in 2017, the central government dashed the hopes of some Taiwanese that their island could maintain its freedoms under a "one country, two systems" arrangement similar to the one made for Hong Kong in the Sino-British declaration.
"What China has done to Hong Kong only proves that its so-called promise of 'one country, two systems' is nothing but lies," said Chen Wei-ting, a leader of Taiwan's "Sunflower" student protest who stormed Taiwan's legislature in March and stayed there for nearly a month.
The protesters demanded that Taiwan scuttle a trade pact with the mainland, fearing it would hamper Taiwan's economic independence.
Taiwanese President Ma Ying-jeou was then forced to pass a new law that would increase scrutiny of all future agreements with the mainland.
Many Taiwanese watched with sympathy as thousands of angry Hongkongers protested Beijing's move last month to tighten its control over the city's electoral process.
The Standing Committee of the National People's Congress ruled that it would allow a popular vote for Hong Kong's chief executive in 2017, but only if candidates were screened and selected by a 1,200-member nomination committee.
About 20 civic groups in Taiwan voiced their support for Hong Kong's fight for universal suffrage at a press conference this month. The activists said Taiwan must back Hong Kong because "once there are no more such protests by Hongkongers, China will be able to concentrate its efforts to take down Taiwan", said Wang Dan, a former student leader of the 1989 protests in Tiananmen Square who now teaches at a Taiwanese university. On Monday, several university students' associations also backed their counterparts in Hong Kong by boycotting classes.
Taiwan's pro-independence camp warned the mainland-friendly government of Ma against further embracing Beijing.
"Some people believe China is willing to exist peacefully with Taiwan, and now they should wake up from their dream, as Hong Kong is a tragic example of believing that it could enjoy a high degree of autonomy under the so-called 'one country, two systems' formula," said Huang Kun-huei, chairman of the pro-independence Taiwan Solidarity Union.
Ma, of the Kuomintang, adopted a policy to engage with Beijing when he was elected president in 2008, leading to a warming of ties between Taiwan and the mainland - once bitter rivals after KMT forces, defeated by the Communists at the end of the civil war, fled to the island and set up an interim government.
At a party meeting earlier this month, Ma, who also head the KMT, called on Beijing to exercise wisdom, tolerate different views and search for consensus through rational conversation and other peaceful means in resolving the Hong Kong issue.
"Democracy and rule of law are Hong Kong people's core values," he said. Many of Taiwan's 23 million people were concerned about, and supportive of, the democratic election sought by Hong Kong people, he said.
Dr Tsai Ing-wen, chairwoman of the main opposition Democratic Progressive Party, said Taiwanese people were concerned about the future of Hong Kong.
She said she believed the younger generation in Hong Kong could induce change in the city because "the seed of democracy never dies; it is simply buried in the soil, hibernating" before blooming.
But some local media, commentators and political scholars were more critical, saying it was too idealistic to believe that by using civil-disobedience measures such as boycotting schools and staging the Occupy Central sit-in in Hong Kong's business district, that Hongkongers could gain universal suffrage.
George Tsai Wei, a political science professor at Chinese Culture University in Taipei, said it would be hard for Hong Kong to copy the success of Taiwan in fighting for democracy, given the totalitarian nature of the central government.
Taiwan was able to maintain a separate government mainly through the support of the United States and a refusal to not declare independence from the mainland.
The mainland tried to take back Taiwan in the first decade after the KMT's interim government, but after losing several key cross-strait battles, the mainland turned to address pressing internal problems. The two sides remained hostile until initial talks in Singapore in 1993. Tensions eased only after Ma became president in 2008.
"Hong Kong's pan-democrats must know where the limit is; they can push the envelope, but not too far to avoid it from being torn," George Tsai said. An incremental approach, he said, would be better than a confrontational one.
Pundits said it was natural for the mainland to keep a firm grip on Hong Kong for fear of encouraging democratic demands within the mainland, especially in Tibet and Xinjiang .
To reunify China, the late paramount leader Deng Xiaoping proposed the "one country, two systems" model in 1978, saying that China could have distinct regions - Hong Kong, Macau and Taiwan - which could retain their own governance systems. He promised in 1983 that if Taiwan agreed to rejoin the mainland, the island would enjoy full autonomy, keeping its judicial independence and military force. While agreement was reached to resume sovereignty over Hong Kong and Macau, Taiwan's leaders have repeatedly ignored the offer.
In tamping down Hong Kong's hopes of true universal suffrage, Beijing not only shattered the prospect of cross-strait reunification, but also intensified Taiwanese doubts that Beijing would keep subsequent promises, Taiwanese experts said.
The two-systems plan "has lost its appeal over the years as even the KMT government is unable to accept that Beijing sees Taiwan as an equal of Hong Kong, which was once a British colony," said Sun Yang-ming, vice-president of the political think tank Cross-Strait Interflow Prospect Foundation in Taipei.
KMT spokesman Charles Chen explained that Taiwan saw itself as the "Republic of China" founded by Dr Sun Yat-sen in 1912 on the mainland.
"Constitutionally, we recognise that there is only one China, which has two areas - one that we call the mainland area and the other free [Taiwan] area," Chen said. Taipei, he said, respected Beijing's jurisdiction over the mainland.
The government in Taipei, he said, would not accept "one country, two systems" because the proposal itself had subjectively placed Taiwan under the jurisdiction of the mainland, even though Beijing never ruled the island.
The mainland government has increasingly pushed for cross-strait reunification. Faced with opposition from the pro-independence camp and a public that wants to maintain the status quo, Ma's administration has not ventured into political talks with Beijing, focusing instead on economic and cultural affairs.
A September 15 poll by the in Taipei showed that 47 per cent of Taiwan residents opted for "maintaining the status quo permanently". Just 12 per cent supported unification. Polls by the paper in the past five years showed similar results.
The same survey showed that 57 per cent of the 1,010 people polled had a negative impression of the mainland, including the government's totalitarian system that has suppressed democracy. It is a sharp contrast with Taiwan's democratic system that allows popular voting for presidents and tolerates criticism of the government.
Professor Tsai of the Chinese Culture University said the mainland's rising military and economic might had added to the concerns among Taiwanese people, especially the younger generation, who fret that the island could be swallowed whole by the mainland.
"The best way to reduce such worry is for the mainland to go through democratisation," he said, adding only then would people in Taiwan consider cross-strait reunification.
Lin Chuan-chung, a research fellow of contemporary history at Academia Sinica in Taipei, said the mainland had also realised that its "one country, two systems" model no longer worked. "This explains why Beijing has gradually shifted to economic sweeteners to woo Taiwan," he said.
Since 2008, the mainland has signed more than 20 economic and non-political agreements with Taiwan, including allowing mainland tourists to visit the island and tariff cuts on many products from the island.
This article appeared in the South China Morning Post print edition as: A hammer blow for reunification