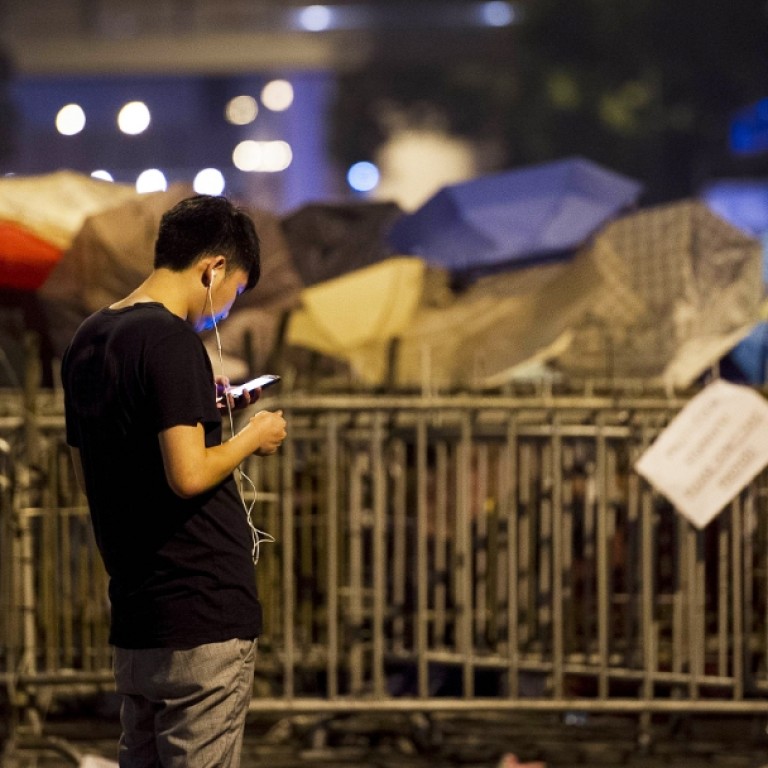 New

|
WeChat allegedly censoring photos from Hong Kong protests
As Hong Kong's Occupy Central protests continue to gather momentum and draw attention, denizens in the city are sharing photos of events on social media. But apparently, photos of the protests posted to WeChat by Hong Kong-based users are being censored, and are not visible for users of the messaging platform in mainland China.
For example, Hong Kong-based blogger Cam MacMurchy shared the screenshots below with Tech in Asia. On the left is an image from Hong Kong he posted to WeChat on September 30th. On the right, a conversation with a Beijing-based friend, who tells Cam that none of the images he's posted since September 28th are visible ("now" is a misspelling of the word "no").
As is probably apparent, Tencent is practicing a form of "hidden" censorship also common on other Chinese social media sites like Weibo. Users can post whatever content they like and it will always appear in their own feed, uncensored. But any friends they might have in China won't be able to see or comment on the content, and it will appear to them as though nothing has been posted.
It seems that WeChat's censorship strategy is more sophisticated than previously appreciated, as an earlier rumour had claimed that all images uploaded from Hong Kong-based users were blocked in the mainland.
A number of citizens from the mainland who live in Hong Kong have told the South China Morning Post that, despite a large portion of images they have uploaded to WeChat not being visible to their friends across the border, a few selected images at least appeared to have survived censorship.
It is, of course, no surprise that WeChat is censored in China but it will be interesting to see if this move affects itss user base in Hong Kong in the long term.
Although WeChat is always censored in the mainland, it generally is not in Hong Kong. The current censorship is probably many Hong Kong-based WeChat users first direct experience of having their posts blocked in China. Being subject to censorship is not fun, and it could push Hong Kong's mobile users towards other messaging platforms once they realise their WeChat posts aren't being seen by their friends in China.
Some content in this article originally appeared in Tech in Asia and was edited and republished with permission.