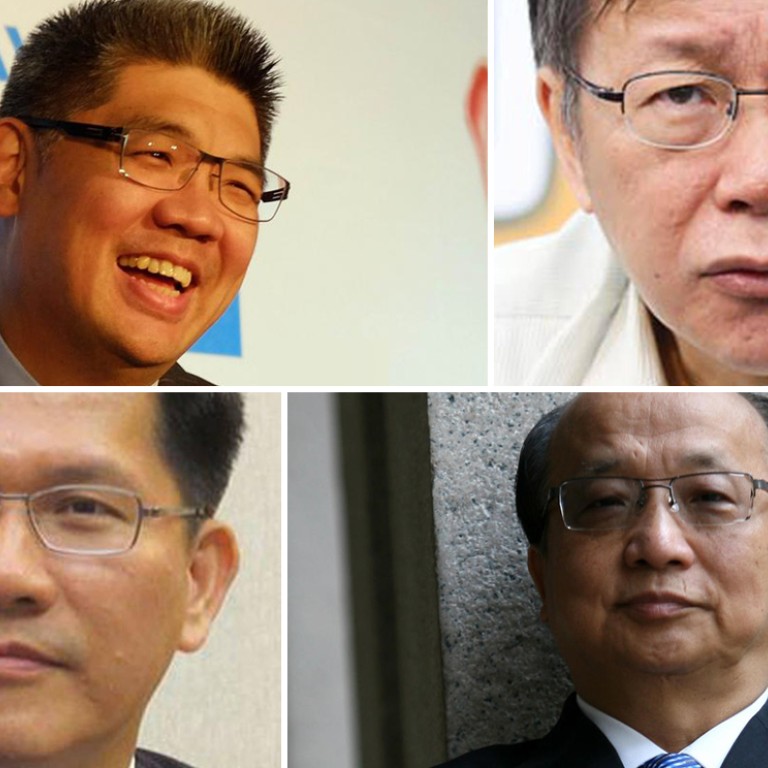 Taiwan mayoral challengers take fight for votes to KMT strongholds
Ruling party confronts tough mayoral contests in Taipei and Taichung in local elections seen as a warm-up to the presidential poll in 2016
The Kuomintang is fighting a tough campaign for local elections in Taiwan next month in a vote seen as the prelude to the 2016 presidential poll.
The so-called nine-in-one November 29 elections will see a record 11,130 posts filled across nine tiers of local government, with contests for positions ranging from village wardens to city and special municipality mayors.
The vote is Taiwan's biggest ever poll and the elections for the mayors of six special municipalities are seen as the most important and most fiercely fought of all the local races.
Various opinion polls show the KMT trailing its main opponent - the opposition Democratic Progressive Party - in the races, with the possibility that it may lose its long control of Taipei and Taichung cities, key constituencies in the 2016 presidential election.
Of the six special municipalities, the KMT holds Taipei, New Taipei and Taoyuan in the north and Taichung in central Taiwan, while the DPP has two southern cities - Tainan and Kaohsiung.
Growing dissatisfaction over the perceived poor performance of President Ma Ying-jeou's administration was the main reason for the KMT's uphill battle, observers said.
A series of food safety scandals had also eroded the ruling party's chances in the municipality races, critics said.
Ma's personal support has also fallen since becoming president in 2008, further damaging the ruling party's chances in the municipality race, they added.
Except for New Taipei where mayor Eric Chu Li-luan is well ahead of his DPP opponent, former premier Yu Shyi-kun, the KMT is facing tough races in the capital, Taipei, and Taichung.
In Taipei, a traditional stronghold for the KMT, candidate Sean Lien Sheng-wen, the son of KMT honorary chairman Lien Chan, is grappling with a strong challenge from surgeon Ko Wen-je, an outspoken independent who has the DPP's blessing.
An opinion poll by independent Taiwan Indicators Survey Research on October 14 showed that of the seven candidates running for the mayoral post in Taipei, Lien had 24.4 per cent support, 9.4 percentage points behind Ko. Other candidates had no more than 3 per cent. Before winning the KMT nomination, Lien had led political novice Ko by at least 25 percentage points, but that advantage was reversed by Ko portraying him as an overprivileged member of a wealthy family who had no experience in government administration and was incapable of running the city.
Lien, 44, hit back, saying "I can't choose my parents".
Despite his wealthy background, he said he had worked hard to be where he was.
"My training and experience in business as well as finance have enabled me to get into the habit of devising policies in a highly careful manner," Lien said. US-educated Lien was referring to his experience as a senior manager at GE's Asia Pacific Capital Fund, and as co-founder of Hong Kong investment company Evenstar Capital.
Hsu Yung-ming, professor of political science at Soochow University in Taipei, said that it usually was not difficult for a KMT candidate to win the mayoral post in Taipei.
"The city has long been a KMT stronghold, but Lien's rich family background has made it hard for him to convince the public he can feel and sense their real needs if he becomes mayor," Hsu said.
But Ko has also had his problems, making repeated gaffes, including hinting that women are not suitable for government administration. His announcement that he would run for mayor surprised commentators and troubled the DPP, which had wanted to field its own candidate but finally yielded and allied with Ko because of his popularity.
"His big mouth is his asset, but also his Achilles' heel," said Yao Jen-to, professor of sociology at National Tsing Hua University in Hsinchu.
Yao said Ko has presented himself as a independent politician hoping to win votes from both KMT and DPP voters, although his verbal gaffes may come back to haunt him.
In Taichung, long-time mayor Jason Hu Chih-chiang, 66, who has run the city for 12 years has a battle on his hands with 50-year-old challenger Lin Chia-lung, whose campaign slogan is to ask voters to give the city new hope by choosing a younger mayor with fresh thinking.
"This is a tough battle for Hu and the loss of the city would deal the KMT a serious blow in the 2016 presidential poll," said George Tsai Wei, a political science professor at Chinese Culture University. A Taiwan Indicators Survey Research poll showed Hu with 29.8 per cent support, behind Lin's 32.2 per cent.
In Taoyuan, the KMT is predicted to continue to hold the city, given the popularity of mayor John Wu Chih-yang.
In Tainan and Kaohsiung, analysts said DPP incumbents William Lai Ching-te and Chen Chu were expected to win re-election, given that the two areas have long been party strongholds and that the two have solid support. Lai is facing political novice Huang Hsiu-shuang, a local university president, while Chen is being challenged by DPP turncoat Yang Chiu-hsing, a former magistrate of Kaohsiung county. Yang joined the KMT last year after losing the DPP primary in the 2010 municipal elections.
This article appeared in the South China Morning Post print edition as: Challengers take fight for votes to KMT strongholds