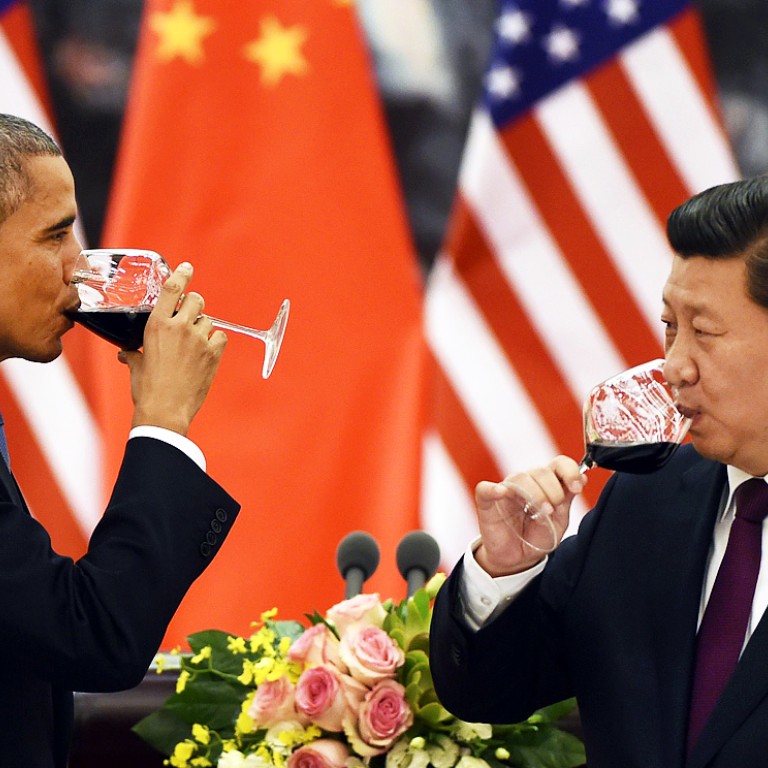 Update
China and US reach historic deal on climate change
Xi and Obama also reach agreement on trade, defence and security, but pledges on the environment likely to have the most profound effect
President Xi Jinping and his US counterpart Barack Obama yesterday unveiled a flurry of agreements on climate change, trade, defence and international security as the two leaders sought to set aside their differences and redefine the relationship through cooperation.
Among the agreements announced in Beijing was a ground-breaking commitment for both countries to cut greenhouse emissions. It was hailed by climate change experts and officials as a "historic pact", although some conservative American politicians branded it as unrealistic and a jobs-killer.
The agreement between the world's two major energy consumers will help galvanise support for upcoming global talks on climate change. UN climate chief Christiana Figueres said the deal was a landmark and would give "a significant boost" to efforts to reach a global accord.
China agreed that its carbon dioxide emissions would peak by around 2030 and non-fossil fuels would generate 20 per cent of its energy by the same deadline. Renewable energy now accounts for less than 10 per cent of China's total energy production.
Washington agreed to cut net greenhouse gas emissions to 26-28 per cent below 2005 levels by 2025.
The deal was struck after intensive talks between Xi and Obama, starting with a private banquet and an evening stroll in the exclusive Zhongnanhai compound on Tuesday.
By focusing on cooperation and areas that promise real progress, the world's two most powerful countries were seeking to defuse tensions over key strategic issues such as cyberattacks, geopolitical rivalry and differences over freedom of navigation, analysts said.
"I believe that President Xi and I have a common understanding on how the relationship between our two countries should move forward," Obama said at a joint press conference with Xi yesterday.
"Where we have disagreements, we will be candid about our intentions and we will work to narrow those differences where possible."
Xi said China was ready to work with the US.
"The Pacific Ocean is big enough for the two countries to grow," Xi said. "China and the US should work hand-in-hand to contribute to Asia's security. This should be complementary, not mutually exclusive."
The two leaders also agreed to establish confidence-building mechanisms between the two militaries to reduce the risks of accidental clashes, with the two armies agreeing to inform each other in advance of any major operation. This came after dangerously close encounters between Chinese and American military aircraft and ships near China.
In another effort to deflate tensions between the two sides, Obama said in front of his host that the US had "played no role in the ongoing pro-democracy protests in Hong Kong".
But Obama said he also made it clear that the US would encourage the right of people to express themselves and democratic reform in Hong Kong.
"These are issues ultimately for the people of Hong Kong and China to decide," he said.
The White House said the two leaders also discussed threats posed by the militant group Islamic State, but no further details were released by either administration.
Earlier in the week, the two countries struck a deal to eliminate tariffs on a range of technology products for the first time since 1996.
Just before he met the media, Xi held another round of talks with Obama at the Great Hall of the People, where he sought to add more flesh to the "new type of great power relationship", a concept he first raised a year ago.
While many analysts described the idea as vague, Xi said yesterday that the aim was to respect each other's sovereignty and choice of political systems.
"Don't impose one's will and model on the other side," Xi said.
Analysts said Washington was reluctant to embrace Xi's proposal, in large part because of China's push to include respect for each country's "core interests" as a principle.
Renmin University international relations professor Shi Yinhong said the meetings between Xi and Obama this week failed to narrow differences on key strategic issues.
"This means the basic pattern in the two countries' relations remains unchanged. The two countries are still very antagonistic on key strategic areas, but on the economic front and on global issues they can work together to make progress," Shi said.
This article appeared in the South China Morning Post print edition as: 'Historic' deal on climate change