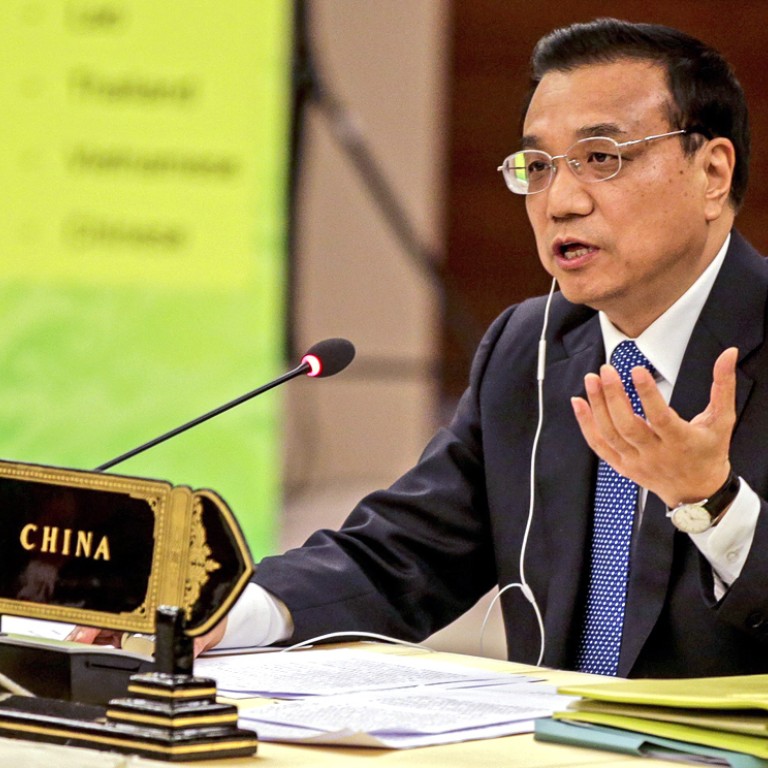 China offers more incentives to Asean investors in planned trade pact
Premier promises preferential treatment for Asean-based backers of planned agreement
China is ready to offer more preferential treatment to investors from Asean countries as part of a bilateral free-trade agreement under negotiation, Premier Li Keqiang said.
Li also pledged more financial support to the 10-member Association of Southeast Asian Nations, including US$20 billion loans, 3 billion yuan (HK$3.8 billion) to fight poverty and other initiatives to boost infrastructure and economic development.
Li repeated the promises at several meetings during the Asean summit in Myanmar that followed the Asia Pacific Economic Cooperation summit in Beijing. The 21 Apec economies agreed to move towards a new free-trade zone, backed by Beijing, which is seen as a rival to the US-led Trans-Pacific Partnership (TPP), which excludes China.
Li continued to push forward trade initiatives at the Asean summit yesterday, calling for an early wrap-up of negotiations for an expanded free-trade agreement between China and Asean.
In return, China was willing to begin the negotiations by taking a so-called negative-list approach, which would lower the threshold for Asean businesses to set up in China. Sectors previously closed to foreign investors would be open to Asean countries - unless they were specifically mentioned in the list. The Shanghai free-trade zone established last year is based on a similar concept.
Li said 30 million yuan would be set aside to support economic and technological cooperation between China and Asean. China would also work with the bloc to seal the Regional Comprehensive Economic Partnership, a proposed free-trade agreement covering Asean and six other countries, by the end of next year.
Beijing would also support negotiations for a free-trade deal between Hong Kong and Asean, Li added.
China is Asean's largest trading partner, and last year bilateral trade rose by 11 per cent from 2013 to US$444 billion.
Wang Yuzhu, a Southeast Asian affairs specialist at the Chinese Academy of Social Sciences, said Li offered the concessions to counterbalance the TPP. "The pressure by TPP is mounting and the US is setting up new trade rules indeed," he said. "China does not want to be left behind, and now it needs to move ahead by offering attractive terms."
Li promised to donate 30 million yuan to establish a maritime cooperation platform. China would also offer US$10 billion in low-interest loans to Asean, and the China Development Bank would set aside another US$10 billion loan for infrastructure between China and Asean, part of Beijing's plan to beef up connectivity along the so-called "maritime silk road".
The summit was held against a backdrop of maritime disputes in the South China Sea between China and Asean members, the Philippines and Vietnam.
Li said it was inevitable for China to run into problems with its neighbours, and he supported efforts to establish a code of conduct over the disputed area and for dialogue between defence ministers.
But he added that China was determined to uphold its territorial integrity.
This article appeared in the South China Morning Post print edition as: China offers better deal for trade pact investors