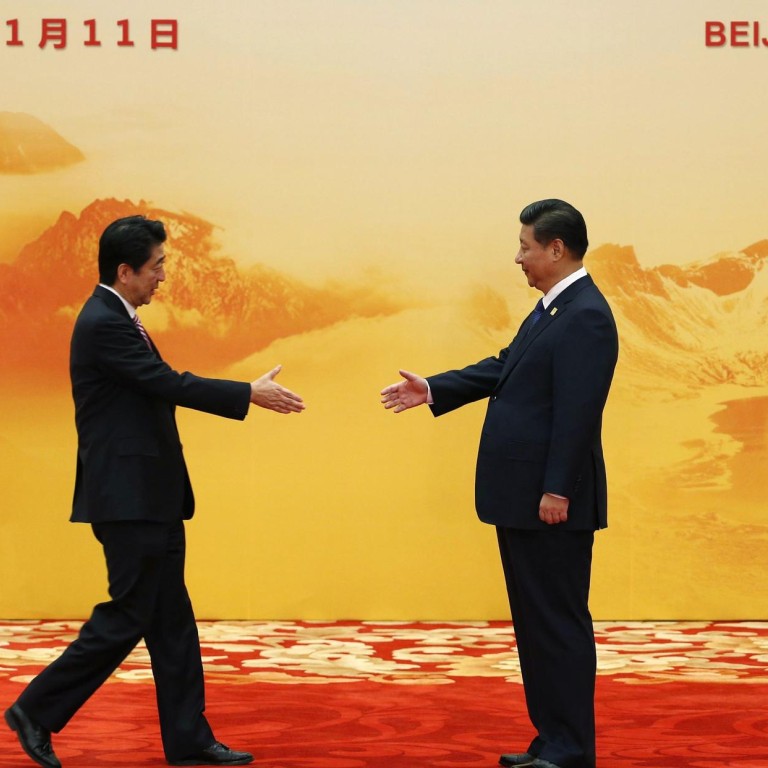 China and Japan must work hard at restoring the ties they both need
Whatever their feelings, Beijing and Tokyo still need each other
The leaders of China and Japan have had several high-level exchanges over the past week since breaking a two-year diplomatic stalemate.
The latest encounter came on Wednesday when Japanese Prime Minister Shinzo Abe had a brief chat with Premier Li Keqiang on the sidelines of the Association of Southeast Asian Nations summit in Myanmar.
That conversation came after a half-hour meeting, which China said was at the request of Tokyo, between Abe and President Xi Jinping in Beijing on Monday during another regional summit.
Although both sides described the meeting at the Asia-Pacific Economic Cooperation gathering as ice-breaking, Sino-Japanese ties still faced many uncertainties due to the lack of trust and rising nationalism in both countries, observers said.
Exchanges between the two countries in the coming months would be largely confined to economic cooperation, they said.
The uncertainty in the relationship was highlighted by Japanese Foreign Minister Fumio Kishida on Thursday when he said that a four-point accord reached by both nations before the Xi-Abe talks was "not legally binding".
The accord says both nations have "differing views" on territorial disputes over the Diaoyu Islands, known as the Senkakus in Japan, in the East China Sea.
Tokyo had been asking for a bilateral high-level summit since Beijing said Abe was not welcome in China following his visit last December to the Yasukuni Shrine, which honours Japan's wartime dead, including a number of war criminals.
But Xinhua issued a harsh commentary before the meeting, saying that even though Beijing would treat the Japanese leader with courtesy at the regional summit, that did not necessarily mean a formal meeting would be held.
Zhang Likun, a member of the China Federation for Defending the Diaoyu Islands, was concerned that Beijing "might have been fouled by Abe as Tokyo shows no willingness to change its policy on China, especially over territorial sovereignty".
"It is Beijing, not Tokyo, that has been making concessions," Zhang added.
Meanwhile, some Japanese criticised Beijing for the cold treatment given to their prime minister, especially when TV footage showed a frosty-faced Xi shaking hands with Abe. But Hiromoto Kaji, an associate professor of Chinese affairs at Aichi University, said Chinese leaders did not have many options but to meet Abe as he was likely to win the upcoming elections.
"China will face the same prime minister again," he said.
The meetings were also important because both nations realise they need to develop their economies, an academic said. "Both nations need each [other] to realise their growth potential," said Jeffery Kingston, a professor at Temple University in Japan.
The political tension between the two has had significant economic consequences. Japan's direct investment in China plummeted 43 per cent in the first eight months of the year compared with the same period last year, according to China's Ministry of Commerce.
Professor Niu Zhongjun, of the China Foreign Affairs University, said the two would seek better relations as "both nations have suffered severe economic losses in the past two years".
"Japan is unlikely to make political concessions, but the two sides can seek breakthroughs in other areas such as the economy, tourism and cultural exchanges," Niu said.
The resumption of high-level dialogue will improve sentiment towards free-trade agreements, which are essential for China as it pushes a trade pact covering 21 Asia-Pacific economies to rival the US-led Trans-Pacific Partnership that excludes China.
"As the Free Trade Area of the Asia-Pacific [as China's proposal is called] becomes a possibility in two years … Japan and China will seek compromise and cooperation with one another," Kaji said.
This article appeared in the South China Morning Post print edition as: First the thaw, now the hard work