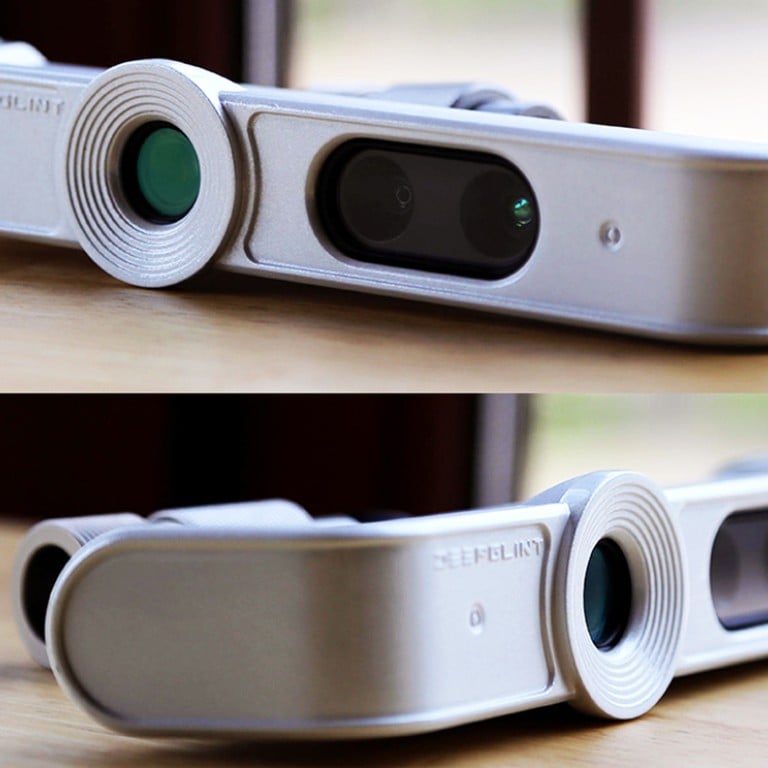 Hi-tech camera takes surveillance into third dimension
A company in Beijing is developing an advanced security camera system it says can quickly spot troublemakers in a crowd and alert the police
Banks on the mainland are testing an advanced surveillance camera technology that could be installed at key sites including Tiananmen Square and Beijing airport, according to the start-up company behind the system.
Unlike most existing surveillance systems that film in two-dimensional video and require security staff to sift through hours of footage, this technology sees - or, rather, visually senses - objects moving in three dimensions and can automatically raise an alert when it identifies irregularities such as people fighting, falling or lingering in an area.
This will slash the time investigators need to sift through security-camera images, according to He Bofei, the chief executive and co-founder of the start-up company Deep Glint.
The firm, founded in Beijing in April last year, aimed to be the first in the world to commercialise the technology, He said.
The company had been testing its products in branches of three of the nation's four largest state-owned banks in cities including Beijing, Chengdu and Chongqing and the technology would probably start being used on a large scale this year, he said.
"Banks are an ideal setting for our technology because they need to be on high alert all the time," He said in an interview at the company's picturesque office next to the Summer Palace in the capital.
Discussions about using the technology at Tiananmen Square were at a very early stage, He said.
"We are in talks with a view to knowing better what they need."
Representatives on the Tiananmen Square district management committee and at Beijing airport did not respond to requests for comment.
But one person close to the Tiananmen committee said it was determined to look at ways to tighten security after the March 1 attack at a Kunming railway station that killed 31 people and injured 141.
The country has witnessed a series of deadly attacks in recent months that the government has blamed on Uygur separatist militants from Xinjiang .
The surveillance equipment in the new technology has three main elements: a laser emitter, sensor and a two-dimensional surveillance camera.
It resembles a pair of futuristic spectacles and is longer than a typical single-lens surveillance camera.
Its sensor can scan the scene with as many as 360,000 beams of light every 1/20 of a second.
It then calculates distance and movement by measuring how much the light is reflected.
Within a 10-metre range, it can automatically raise an alert when it senses violence: for instance, when anybody in camera range throws a punch or makes other sudden movements.
Other behaviour, such as a person falling to the ground or waving both hands in the air, can also be instantly flagged.
The device can track every object's movement under its surveillance and bring it to the operator's attention.
Deep Glint's He said the technology could slash the time needed to process an hour of footage to at most several minutes.
In the example of Tiananmen Square, He said the amount of data collected every day using existing technology was about 1,800 terabytes. "If burnt onto DVDs, it would stand taller than the Eiffel Tower," He said.
Ronald Chung Hing-yip, a computer vision expert and an honorary assistant professor at the University of Hong Kong, said he knew of no other company that was using 3D sensing technologies in the commercial arena, although video analytics had been studied by academics for several years.
"The area has been studied, but no company in the surveillance industry that I know of has been able to successfully commercially apply the technology," he said.
"Without denying this may be a technological breakthrough, I think a practical issue that it would probably have is when one thing blocks [sight of] another.
"Ordinary 2D image processing cannot do tracking because once one thing blocks out another in shot before they part again, you cannot be sure of their movement path.
"In 3D sensing, a depth map would help by calculating how far the different objects are before and after the occlusion," Chung said. "But technologically, it's still a lot to ask for."
Another potential problem was the device's limited range, he said. "Many of these would be needed in Tiananmen Square, if each only has a range of 10 metres."
There may be as many as 120 million surveillance cameras across the mainland, according to Harry Cai, a security industry specialist based in Shanghai for the research firm IHS.
He based the figure on estimates that about 40 million surveillance cameras are sold by manufacturers in China every year, with cameras having an average lifespan of three years.
The firm estimated the market would grow 20 per cent every year over the next five years, fuelled mostly by government needs.
The government launched a programme called Skynet in 2005 that aimed to increase the number and capabilities of surveillance cameras.
Rights activists have criticised the excessive use of surveillance cameras and data-analysis systems as an invasion of privacy and civil rights.
Officials say the cameras help combat crime and maintain "social stability".
Mainland agencies tend to be reluctant to rely on overseas technology, especially for places as sensitive as Tiananmen Square and airports, according to Hong Kong University's Chung.
Cai added that the low technology threshold in the field, compared with industries such as telecommunications and information technology, may also be a reason for the widespread use of domestic technology on the mainland.
The main problem with existing surveillance technology is the painstaking amount of time needed to monitor video footage, according to Chung.
Operators had to look at small screens collecting footage from several cameras and it was easy to miss things, he said.
Another University of Hong Kong team, headed by Professor Yu Yizhou, said in June it had found a way to address this issue by merging footage from different angles into a three-dimensional reconstruction of the scene.
It could reduce the time needed to process footage, according to the research.
This article appeared in the South China Morning Post print edition as: 'Next wave' of surveillance technology