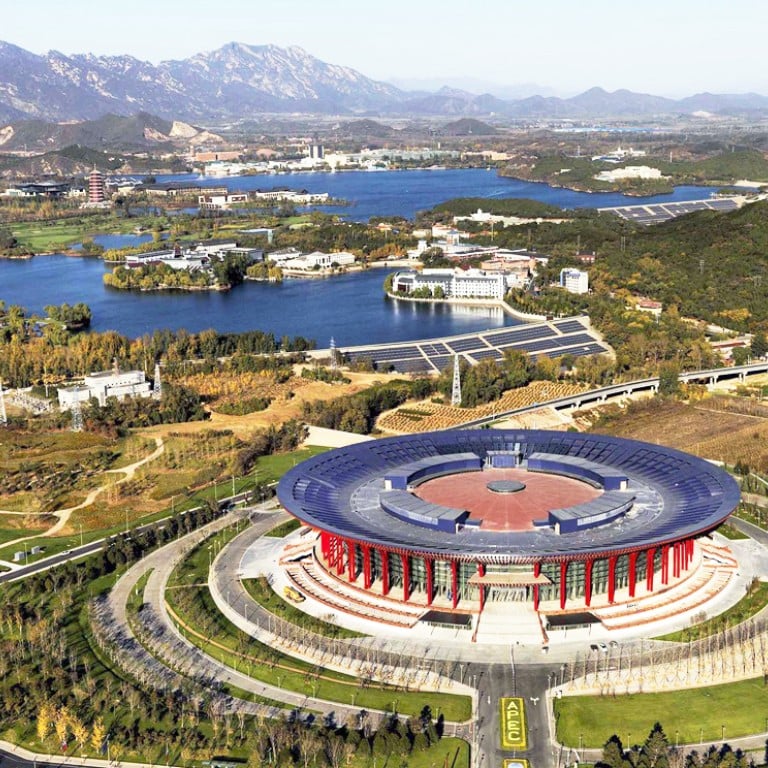 How leaders and an army of staff turned Beijing's grey into 'Apec blue'
State media give more details on the lengths taken to curb smog for this month's summit
More than 400,000 officials across several provinces were involved in this month's huge mission to cut smog and ensure there were blue skies over Beijing for the Apec summit.
Revealing new details yesterday of the efforts, the , a newspaper under the control of the Ministry of Environmental Protection, said President Xi Jinping , Premier Li Keqiang and Vice-Premier Zhang Gaoli took a direct role in leading the clean-up.
Xi and Li issued numerous written instructions on measures to curb air pollution and Zhang chaired meetings and oversaw the anti-smog campaign.
Zhou Shengxian , the Minister of Environmental Protection, said 434,000 staff were involved in the Apec blue-sky mission orchestrated by the central government, Beijing, Tianjin , Hebei , Shanxi , Inner Mongolia , Shandong and Henan .
Their work included inspecting 60,100 industrial plants and 123,000 other ventures including construction sites and petrol stations.
About 10,000 plants had to suspend production and 39,000 others were told to limit the hours they operated, with round-the-clock supervision by officials, the report said.
At least 11.7 million vehicles were ordered off the roads each day to cut exhaust emissions during the meeting.
The Beijing Environmental Monitoring Centre said that between November 1 and 12 air pollutants in the capital fell to their lowest levels in five years.
The amount of PM2.5 in the atmosphere, the fine particles of pollution thought most harmful to health, also fell by 30 per cent in the same period, according to the monitoring centre.
The Asia-Pacific Economic Cooperation summit, attended by world leaders including US President Barack Obama, ended last week and the smog swiftly returned.
As more cars returned to the streets and factories restarted production, the air quality index published by the US embassy in the capital reached 296 on Saturday, officially described as "very unhealthy" and bordering on the "hazardous" level.
"Apec blue" was the term coined by people living in Beijing to describe the impact of short-term curbs on air pollution and smog.
This article appeared in the South China Morning Post print edition as: How army of staff turned Beijing 'Apec blue'