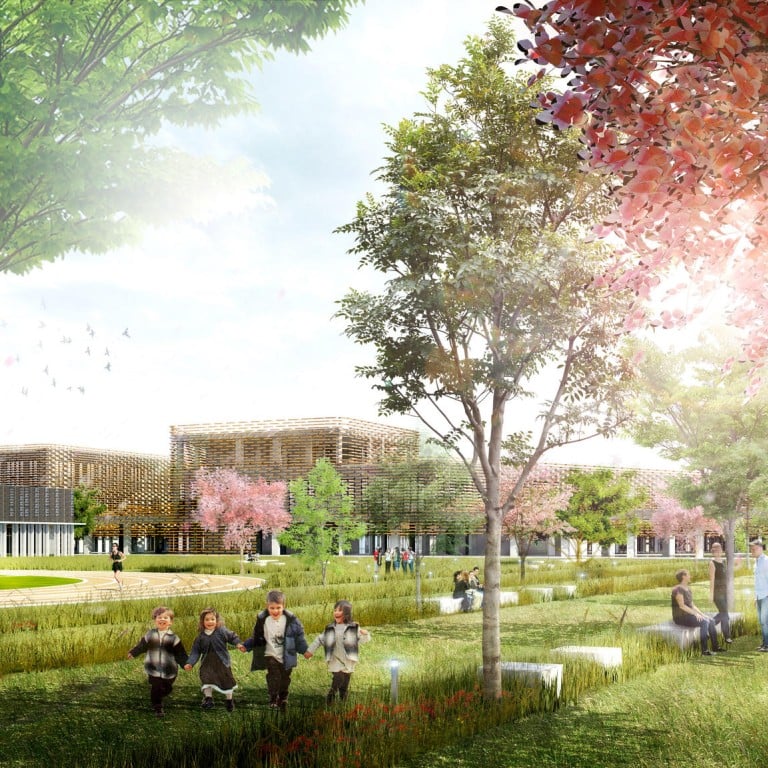 How Beijing's new French school aims to beat the smog
New French campus in Beijing designed to keep out contaminated air as pollution makes foreigners more wary of living in the capital
The French International School in Beijing has announced an ambitious anti-smog design for its new campus, which is due to be completed by the end of next year.
It joins a growing list of international schools in the capital, including Harrow, that have upgraded their campuses with air-purification systems to cope with choking outbreaks of pollution.
Beijing issued four air pollution alerts last month, including one orange alert, which indicates the second-highest level of air pollution on a four-tier warning system.
The new campus, designed by French architect Jacques Ferrier, aims to provide a healthy environment for pupils and teachers with a ventilation system that pumps filtered and purified air into every classroom and the rest of the building.
Ferrier, who also designed the French pavilion at the Shanghai Expo in 2010, said the classrooms in the new campus would have a higher air pressure than the corridors so polluted air did not get in even if the doors were open.
"[But] the problem of air pollution in Beijing can't be treated by architecture alone," Ferrier said. "It has to be addressed at an urban scale, with cleaner factories, a huge incentive for electric vehicles and better public transport systems."
The new campus' overall budget is €23.9 million (HK$231 million) and a large part of that money will be used to rent four hectares of land for 40 years.
The construction cost alone is €16.5 million.
The new school will accommodate 1,500 students, 30 per cent more than the existing school building's capacity, officials said.
The expansion comes despite "a tendency that students are withdrawing from international schools due to the air pollution in Beijing", according to Guillaume Mouette, the French school's head. "It was a phenomenon addressed at the annual international school meeting in Beijing earlier this year," Mouette said.
The French school has had as many as 1,050 pupils, but this year about 950 students are enrolled. Mouette expects the French school's new campus to attract more students.
The school is built around three courtyards separating the kindergarten and primary and high schools.
Ferrier said the site was formerly used to grow fruit and vegetables. "It was one of the reasons why we decided to set the new buildings in a densely planted environment with cherry trees," he said.
Anouk Hei, whose eight-year-old son attends the school, said she was looking forward to him moving to the new campus.
"My son loves sport and last year he played basketball, but most of the time the outdoor environment was not safe for him to play. This year he switched to taekwondo," she said.
"The new campus will be a good environment for children like my son.
"But it's most important that the air pollution can be dealt with."
Ferrier, whose team is finishing an office building project in central Shanghai, said: "I do believe that in a few years time Beijing is going to be far better."
This article appeared in the South China Morning Post print edition as: How one school will beat the smog