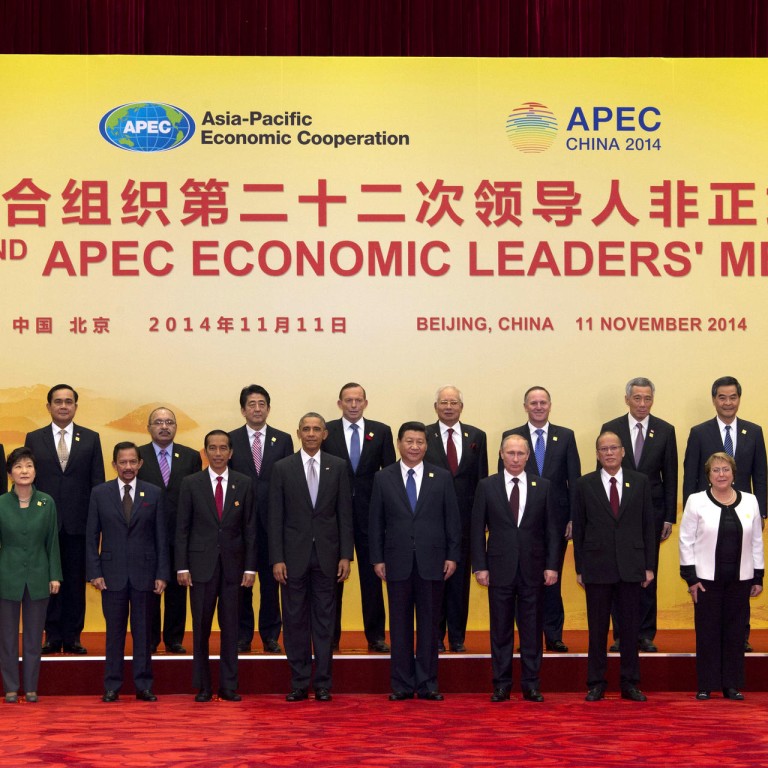 From leader of the pack to supporting act: How leaders line up at summits
A president can be centre stage one day, then shoved to margins the next
A picture is worth a thousand words, the saying goes.
The "family photos" of state leaders attending last week's whirlwind of regional summits certainly offered clues to the power plays behind the scenes and to the hierarchy of nations.
In the space of six days, the Asia-Pacific Economic Cooperation (Apec) leaders' summit was held in Beijing, the Asean meetings in Myanmar and the Group of 20 summit in Australia.
Experts say that while organisers of the summits usually have a set of loose protocols to follow, the host countries can bend the rules of the "pecking order" to suit their preferences.
So what subtle messages did the line-ups of leaders snapped last week send?
Russian President Vladimir Putin was front row and centre for the group photo at the Apec summit in Beijing. But a few days later, he was shoved to the far right-hand edge of the official G20 photo in Australia.
Before that summit, Australian Prime Minister Tony Abbott - using an Australian rules football term for a head-on shoulder charge to an opponent's chest aimed at knocking the opponent backward to the ground - had said he would "shirtfront" Putin over Russia's suspected involvement in the downing over Ukraine of Malaysia Airlines flight MH17 with the loss of 298 lives, including 38 Australians.
Abbott himself took centre stage in the photo, flanked by the leaders of Australia's top two trading partners - China and Japan. They in turn were flanked by German leader Angela Merkel and US President Barack Obama.
At the Apec meeting, President Xi Jinping took centre stage as the host. But organisers could not explain why Obama and Putin were positioned next to him.
According to Apec protocol, the leader of the host country should usually stand next to the hosts of the previous and forthcoming summits, said Apec media manager David Hendrickson. The rest of the leaders should be lined up "in alphabetical order".
If China had gone by the book, Xi should have lined up next to Joko Widodo of Indonesia - last year's host - and Benigno Aquino of the Philippines, which will organise the event next year. Instead, these two flanked the US and Russian leaders.
"These are just guidelines. It's up to the host what they want to do," Hendrickson concluded.
This article appeared in the South China Morning Post print edition as: Leader of the pack or supporting act?