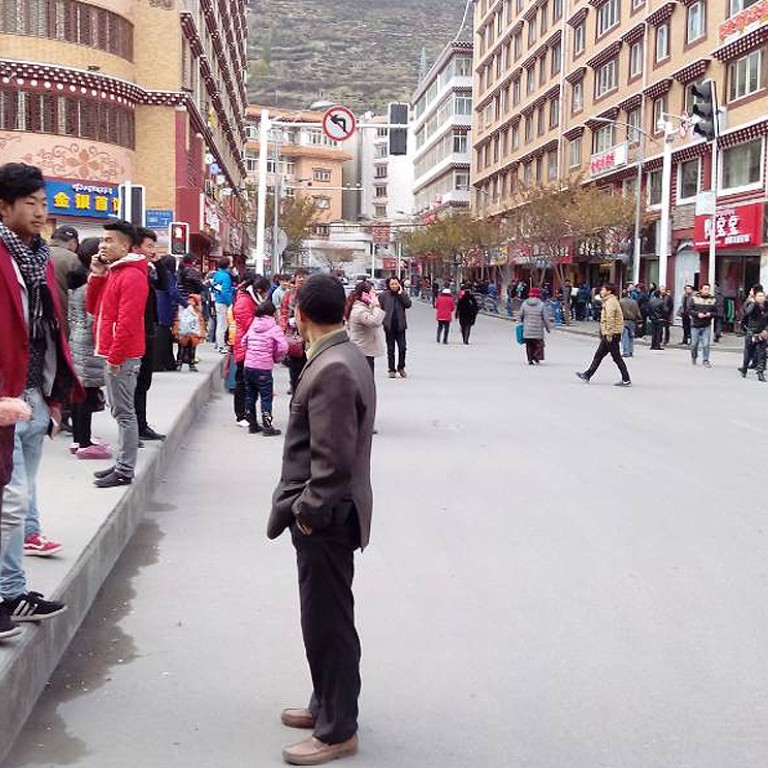 Update

|
Magnitude 6.3 earthquake strikes remote region of Sichuan province
Quake hits Sichuan province on Saturday afternoon with one casualty reported so far, according to official media
A strong earthquake struck a lightly populated, mountainous area of western China, killing at least two people, injuring 54 others and collapsing homes, officials said Sunday.
The US Geological Survey said the magnitude-5.9 quake hit Saturday about 30 kilometres (20 miles) from the town of Kangding in Sichuan province. China's seismological agency put the magnitude at 6.3.
The Sichuan provincial government information office said on its microblog Sunday that the death toll had risen to two with 54 injured.
The dead included a woman in her 70s who was struck by a falling window pane, the official Xinhua News Agency and state broadcaster CCTV said, citing Chen Yunbing, a doctor at the region's Ganzi People's Hospital.
A duty officer at the Kangding county government, who gave his surname as Xia, said the quake lasted only a few seconds, and that there had been some reports of cracks in buildings and toppled walls. The area is frequently struck by earthquakes, and Xia said newly constructed buildings in the town of Kangding must be able to withstand those of up to 8 in magnitude, although requirements are less strict in the surrounding rural area.
Along with the two collapsed homes, Kangding's regional airport sustained some damage, though flights were not disrupted, Xinhua said.
Wang Dan, a spokeswoman for the government of Ganzi prefecture, which includes Kangding county, said rescue teams had been dispatched to the epicentre.
Xinhua said workers were restoring the electricity supply to Tagong, the town closest to the epicentre, where a statue of Buddha in a local temple was also damaged. About 100 vehicles were trapped by a landslide on a highway connecting Sichuan and Tibet, and railway service was also halted in the area while workers checked on damage to the line, Xinhua said.
No major damage was reported in the town of Kangding, where CCTV video showed residents strolling the town's streets, looking up at the steep surrounding hillsides and talking on their cellphones.
Kangding and the surrounding county have a population of 129,320 people, about 70 per cent of them Tibetan.
Western China is regularly hit by earthquakes, and reports said Saturday's quake could be felt in the Sichuan provincial capital of Chengdu on the plains below the Himalayan foothills. Sichuan was struck by a magnitude-7.9 quake in May 2008 that left nearly 90,000 people dead, many of them in collapsed schools and other poorly constructed buildings.
Construction standards have been significantly tightened since then, and the country's disaster response capacity has improved with better equipment and trained rescue teams.