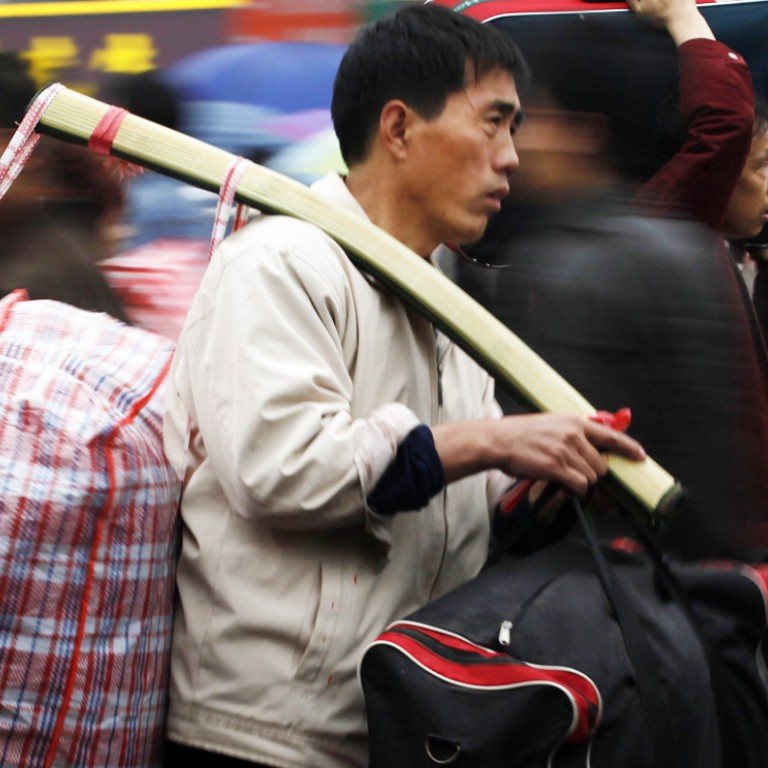 Landlords face 30,000 yuan fine if they fail to comply with strict Guangzhou residency rules
Landlords and worker dormitory operators who fail to comply with Guangzhou Province city's strict new residency regulations will face a fine of up to 30,000 yuan (about HK$30,790).
The regulation targets aim to register all migrant workers, university students, soldiers and their families in the city.
All tenants will need to provide details of their personal information to their landlords, who must then pass on the information to the local authorities within three days of their arrival.
While such requirements were first introduced four years ago, it has never been enforced.
However, the Guangzhou government published a new regulation on its website earlier this week ordering strict enforcement. Details of how to enforce will be released soon.
Tourists and those who travel to Guangzhou for medical and business appointments are exempted as they have to register their personal information with the hotels and guesthouses during check-in.
Chen Shaokang, chief of the city's migrant population administration, told a press conference yesterday that the Guangzhou government would launch an inspection from this month to May next year to find out the exact number of migrants in the city.– local or foreign – in Guangzhou for travel, business or to attend medical appointments must register their personal information, including names and ID numbers to their hotels, guesthouses or landlords within 24 hours of their arrival, Southern Metropolis News reported.
Hotels, guesthouses and landlords need to pass on this information to community authorities within 72 hours.
Chen said the tougher enforcement was part of the government's efforts to monitor the city's enormous migrant population. The city had no record of the details of 28 per cent of its floating population, he said. So far 7.11 million migrants have registered.
The new order came after Guangzhou was hit by a number of violent cases, including hacking near Guangzhou Railway Station in May.
Visitors who check in to hotels and guesthouses will have their information sent to the authorities by the operators of the accommodation.
If tenants do not check in the hotel using their own name, they are supposed to register their details with the local authorities. Chen said five groups of outsiders were being targeted, including tenants without local permanent residence in privately owned or government-owned apartments, construction workers, full-time university students and soldiers based in the city.
Landlords that fail to pass on information about their tenants to the authorities face a fine of between 200 yuan and 1,000 yuan, while people running worker dormitories can be fined between 500 yuan and 1,000 yuan for each worker they fail to report on to the authorities.