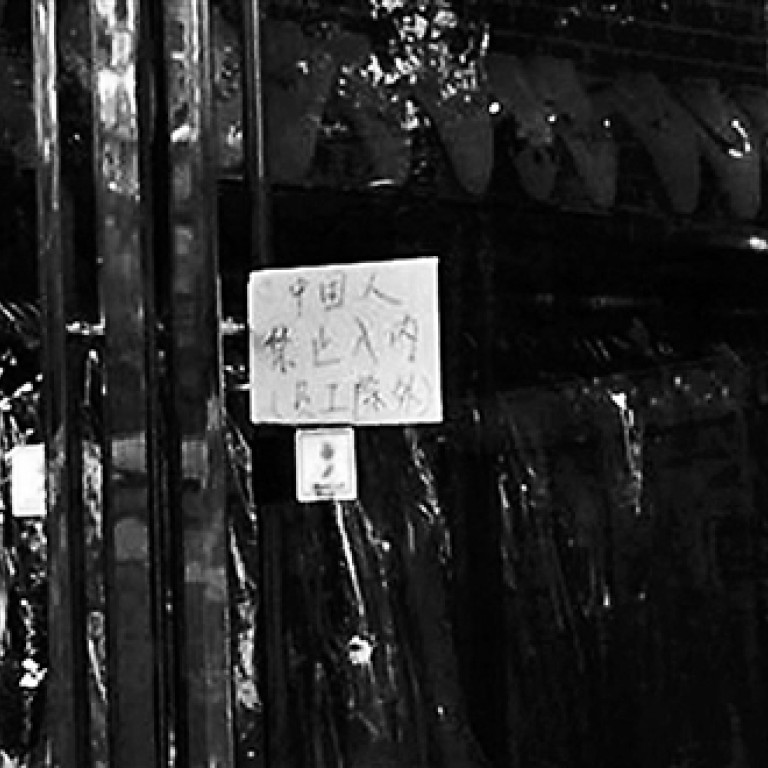 Beijing store sparks racism row... by banning Chinese customers
A clothing store in Beijing has sparked a bizarre race row by banning Chinese customers from the premises for being "too annoying".
The sign on the front door of the store on Yabao Road reading "Chinese not admitted - staff excluded" appeared more than a week ago, the reported yesterday after receiving complaints from residents.
"We didn't want to hang up the sign in the first place and lead people to think we Chinese look down upon ourselves. But some Chinese customers are too annoying," a salesperson told the paper, adding that the wholesale store mainly sells to foreigners.
The salesperson said the store had to pay a foreign customer US$5,000 last week to settle the theft of his wallet by a Chinese shopper.
"The surveillance camera footage showed a Chinese customer stole his wallet. But the foreign customer claimed that we [the shop and the Chinese customer] are a group of thieves. And Chinese women often try on lots of clothes but end up buying nothing," the salesperson added.
The sign, which is written in Chinese, was also aimed at preventing competitors from copying their designs, another salesperson said.
But mainland microbloggers were not impressed with the explanation, with many referring to a similar sign rumoured to have been at the entrance of Huangpu Park in the 1890s that said "No dogs or Chinese allowed". Although the park was indeed reserved for foreigners, there is no historical record the sign existed, but it nonetheless became a symbol of foreign repression on Chinese soil.
The story, carried by many influential mainland media outlets, became one of the most discussed topics yesterday, amassing more than a million views.
"Get out of China, please," many of the comments read.
Legal scholar Li Xiandong, of the China University of Political Science and Law, told the that while the sign was discriminatory, the mainland had not outlawed racial discrimination, so the sign was not breaking any laws.
This article appeared in the South China Morning Post print edition as: 'No Chinese allowed' sign stirs resentment