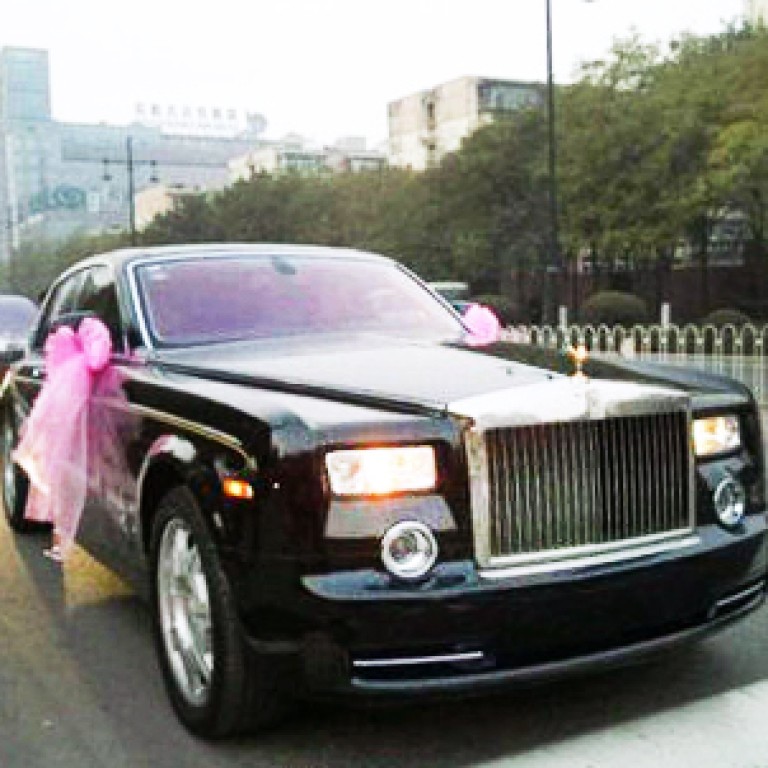 Lavish Chinese wedding leaves social media stunned amid anti-corruption crackdown
Chinese social media users were stunned by online images of the lavish multimillion-yuan wedding of a mainland energy and real estate tycoon's son.
Chinese social media users were stunned by online images of the lavish multimillion-yuan wedding of a mainland energy and real estate tycoon's son – showing a fleet of 30 Rolls-Royce Phantoms taking guests to the 9,999 yuan-per table (HK$12,600) banquet.
Liu Baoli, a normally low-profile businessman from Hebei Province - named in a report in the Huashang Daily newspaper - created national headlines after video and photographs of Sunday's "most extravagant wedding in Tangshan" were widely circulated on China's social media.
The lavish celebration in the city came as mainland China is in the midst of a crackdown against "extravagance and hedonism".
Pictures posted online by spectators showed the newlyweds – Liu's son Liu He and his bride, the daughter of a village chief – driving to the wedding banquet in their bright red Ferrari followed by a fleet of luxury motorcycles.
Online reports said they were joined by 30 Rolls-Royce Phantoms, which some microbloggers suggested were worth more than 200 million yuan.
Videos posted by guests showed Li Xiang, a well-known mainland talkshow presenter, hosting the wedding banquet.
At least seven other celebrities, including the Hong Kong singer and actor Dicky Cheung Wai-kin, were guests at the wedding, according to online comments posted by guests.
The tycoon reportedly spent more than 1 million yuan just on the 101-table banquet, staff at the hotel hosting the feast told the Huashang Daily newspaper.
"The most expensive banquet on our menu is about 3,000 yuan per table, one staff member said. "But the dishes at the wedding were customised: it was 9,999 yuan per table."
Liu made his first fortune trading in coal before switching to real estate businesses, the newspaper said, quoting local sources.
"There are so many legends surrounding him … such as he owns casinos in both Hong Kong and Macau and makes money by lending money to mainland gamblers," one source told the newspaper
Secondary school classmates of the groom, Liu He, told the newspaper that he had driven to school in a Porsche Cayenne, and previously dated the daughters of other tycoons in the city.
Liu He's wife is the daughter of Bai Yanchun, an official in the village of Ligezhuang.
Bai reportedly owns a 2,220 sq metre mansion and at least two luxury cars, villagers from Ligezhuang, in the suburbs of Tangshan, told the newspaper.
Last year, a deputy village chief from the suburbs of Beijing was sacked after spending 1.6 million yuan on his son's wedding.
Since President Xi Jinping came to power in late 2012, he has overseen a series of campaigns to help crack down on government spending and gift-giving and stamp out widespread corruption, official extravagance, prostitution, pornography, gambling, terrorism and corruption.
Chinese authorities have issued directives ordering all officials to notify their bureaus in advance of future weddings and funerals.
This article appeared in the South China Morning Post print edition as: Tycoon hosts son's big fat Tangshan wedding