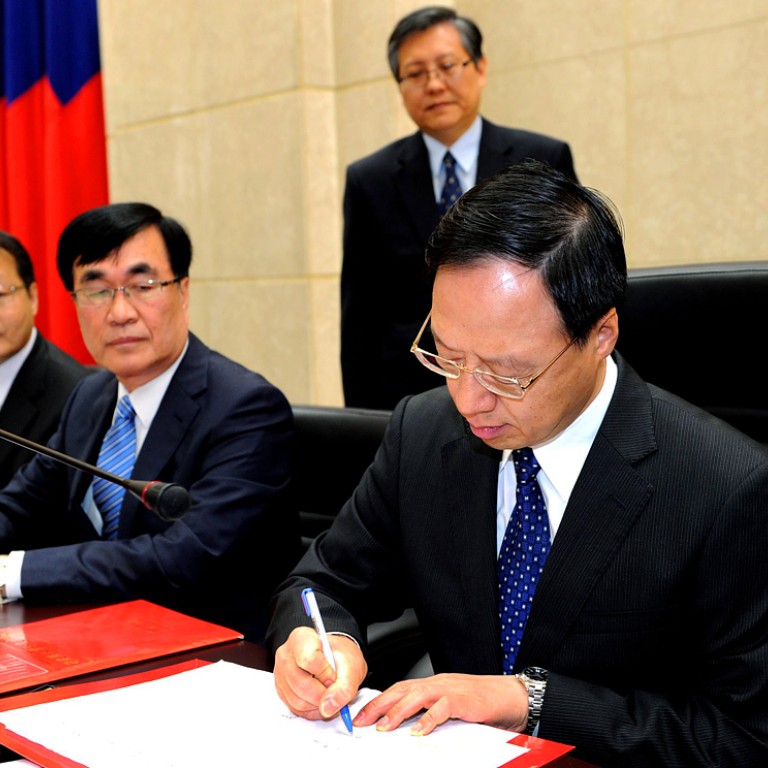 President Ma expected to quit as KMT chairman as Premier Jiang and 80 in Cabinet resign
Vice-President Wu offers to resign as KMT's vice-chairman after humiliating local election defeat as officials say decision on Ma's role as chairman will come on Wednesday
Premier Dr Jiang Yi-huah led 80 members of his Cabinet to resign en masse this morning following the humiliating defeat of the ruling Kuomintang in Saturday's local elections.
Taiwan's Vice-President Wu Den-yih then offered his resignation as vice-chairman of the KMT to President Ma Ying-jeou, who is chairman of the KMT.
"Vice-chairman Wu Den-yih tendered his resignation to chairman Ma this morning," Wu's office said in a text message to journalists.
However, it was not immediately known whether Ma had accepted his resignation as the deputy head of the ruling party.
Yesterday party officials said that Ma was also expected to resign as chairman of the KMT following the defeat.
Jiang had resigned on Saturday in order to assume responsibility for the KMT's worst electoral setback since coming to power in 1949.
A caretaker administration would remain in office until after President Ma appointed a new Cabinet head, Cabinet spokesman Sun Lih-chyun said.
Observers said the resignation of Wu might temporarily pacify a fierce power struggle expected if Ma steps down as chairman of the ruling party, a decision party officials said would be announced during the KMT's central standing committee meeting to be held on Wednesday.
Wu, as the first vice-chairman of the KMT, is supposed to take over from Ma as acting party head before a new leader is elected within three months in line with the KMT regulations.
Analysts said a new power struggle within the party would erode the KMT's chances in the 2016 presidential poll if the infighting persisted.
They also said that although the weekend elections were local contests, both the KMT and Beijing had to be prepared for the results to have some fallout on cross-strait relations.
Taiwan's ruling party lost nine of the 15 cities and counties it used to control, in what analysts said was voter payback for the Ma team's poor economic and administrative showing.
The defeats led both Jiang and KMT secretary general Tseng Yung-chuan to quit. 
So far, Ma has only apologised for the defeats, stopping short of saying if he will give up the party chairmanship, prompting criticism from KMT mavericks, including some legislators.
But KMT spokesman Charles Chen Yi-hsin told the that Ma "will not cling on to the post" and "will not shirk any responsibility he should take", adding: "The chairman will make an important announcement during the KMT central standing committee meeting this Wednesday over the responsibility issue."
He said the committee would discuss steps to take in the future and the outcome of such decisions "would be jointly shouldered by all those present".
Vice-President Wu Den-yih, the first vice-chairman of the KMT, was expected to take over as acting party chief.
George Tsai Wei, a political science professor at Chinese Culture University in Taipei, said Ma's resignation as party leader would not only signal the start of a "lame duck" period for him, but would also set off a fierce power struggle within the party.
"Local faction leaders and KMT stalwarts unhappy with Ma will team up to form a power centre," Tsai said, adding that "a power transition in 2016 would be inevitable" if the KMT could not keep the infighting in check.
The results would also affect the KMT's capacity to represent Taiwan in dealings with the mainland but would have a limited direct impact on cross-strait relations because the elections were essentially local affairs, according to Liu Guoshen , director of Xiamen University's Taiwan Research Institute.
Professor Wu Hsin-hsing, of Ming Chuan University in Taipei, disagreed, saying the election outcomes more or less reflected Taiwanese voters' worries about Ma's cross-strait policy.
"As a lame duck, Ma is certain to slow down his pace in pushing for his cross-strait policy before his term ends in 2016," Wu said.
Tsai also said the outcome would prompt Beijing to reconsider its economic sweetening policy towards Taiwan, given the negative response from the island's voters.
But Liu said the mainland would prefer to consummate outstanding trade deals, including the stalled services trade agreement, before 2016.
This article appeared in the South China Morning Post print edition as: Ma set to quit as KMT chief after election disaster