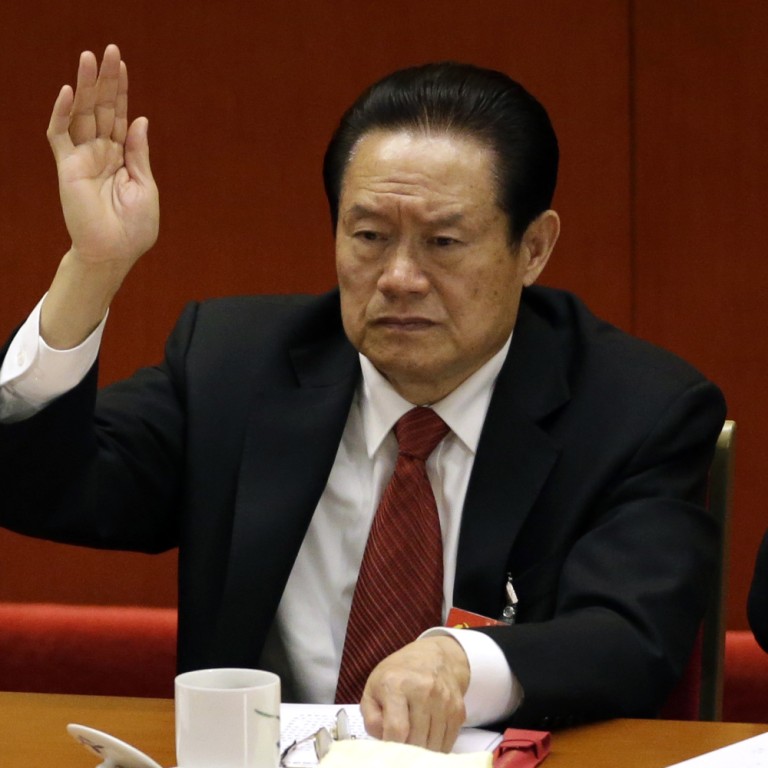 Top Communist Party paper puts Zhou Yongkang in 'traitor' class
Article says former security chief no different to executed cadres, raising spectre of death penalty
The Communist Party's top mouthpiece has likened disgraced security tsar Zhou Yongkang to past party "traitors", all of whom were executed.
An article released through 's WeChat account last night said Zhou's deeds made him "no different from a 'traitor'", a reference that prompted speculation that the former member of the innermost Politburo Standing Committee could face the death penalty.
The party announced on the weekend that a graft probe had uncovered evidence that Zhou had violated political, organisational and confidentiality rules, and was involved in corruption.
But many observers were also surprised to see Zhou accused of leaking party and state secrets.
The top penalty for leaking state secrets is seven years but a corruption conviction can bring a death sentence.
The article cited the examples of Gu Shunzhang, the head of the party's intelligence services in the 1920s who defected to then ruling Kuomintang in the 1930s.
He was later executed on the orders of Generalissimo Chiang Kai-shek for secretly setting up a new party.
The article also referred to more recent "traitors", citing three senior People's Liberation Army personnel who sold military intelligence to Taiwan. All three were executed.
"The word 'traitor' is rarely used in peacetime, but … corrupt elements who betray the party's purpose, violate discipline and tarnish the party's image … are no different from 'traitors'," the article read.
Political commentator Johnny Lau Yui-siu said the article might underscore the extent of the damage Zhou has done to the party.
"In deciding whether Zhou will get a death sentence, the party needs to assess the possible impact on other retired party leaders … which may affect political stability," Lau said.
But Renmin University political scientist Zhang Ming said the term was "traitor" was supposed to be for defectors, and the article's rhetoric could be a bit exaggerated.
"The described [disgraced top general] Xu Caihou as the 'nation's evil'. Zhou may not receive a death sentence," Zhang said.
This article appeared in the South China Morning Post print edition as: Top party paper puts Zhou in 'traitor' category