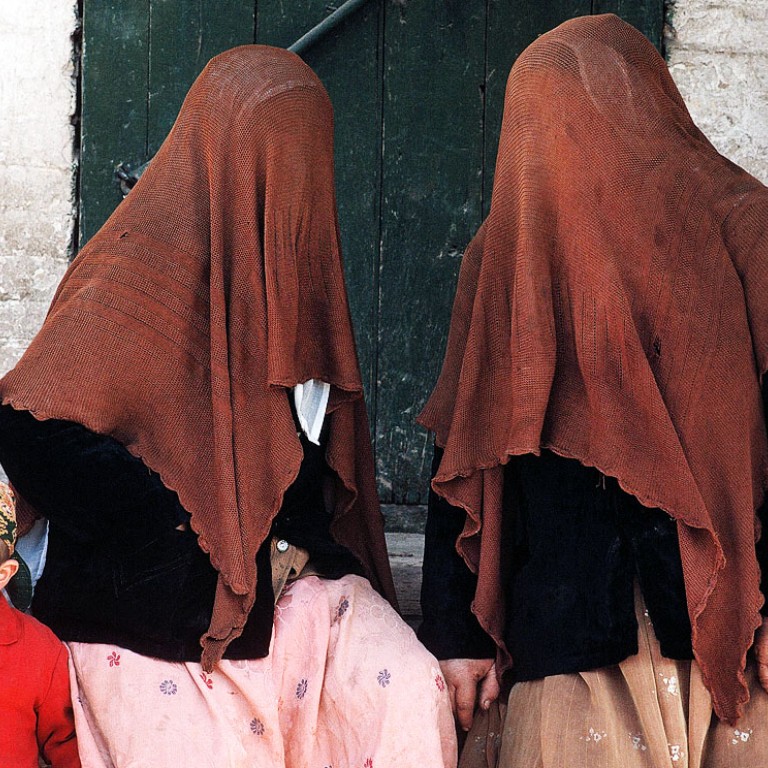 Xinjiang burqa ban could 'spark unrest'
Authority's vote to prohibit the wearing of the Islamic garment in public could make it 'more popular as a symbol of resistance', expert warns
A proposed burqa ban in the capital city of Xinjiang province could spark further unrest in the troubled region, experts warn.
The Urumqi People's Congress Standing Committee voted yesterday in favour of banning people from wearing the garment in public, the local news website
Tianshan.net
reported.
The proposal must now be reviewed by the regional People's Congress Standing Committee before it is implemented, though the report - later deleted from the site - did not specify when this would happen.
The burqa, a garment worn by Muslim woman to cover themselves from head-to-toe, is considered a symbol of religious extremism by the local authorities.
"Burqas are not a traditional Muslim garment in Xinjiang," said Jiang Zhaoyong, a Beijing-based expert on ethnic affairs. "The ban has been issued following public security concerns. Some people are wearing it not because of their religion, but to act out their resentments against society."
Beijing blames religious extremists for a series of attacks that have killed hundreds of people in Xinjiang over the past few years.
Xinjiang launched a "beautifying project" in 2011 to discourage women from covering their faces and wearing the burqa. Several campaigns against producing, selling or wearing the garments have been mounted by county and district-level governments in the province.
Last month, Xinjiang said it would ban the practice of religion in government workplaces, public schools and state-owned enterprises from next year.
People will also be prohibited from forcing others to wear clothes or logos associated with religious extremism.
Uygurs have traditionally followed a moderate form of Islam, but many, especially in the impoverished southern Xinjiang areas, have begun adopting practices, such as the wearing of full-face veils, that are more common to the Persian Gulf.
Some experts say these practices have increased as China has intensified its security crackdown in the area.
James Leibold, an expert on China's ethnic policy from Melbourne's La Trobe University, warned that banning the burqa could make it "more popular as a symbol of resistance and assertion of ethno-national identity".
"The Communist Party has drawn a one-to-one link between these styles of head, face and body coverings and religious extremist thoughts and violence," Leibold told Reuters.
"It's a very crude and counterproductive way of trying to deal with the problem of terrorism."
This is not the first such ban. In August, authorities in Karamay banned people wearing hijabs, niqabs, burqas and clothing with Islamic symbols from taking buses during a 16-day period while a sports meeting was held, the reported.
Rights groups say heavy-handed policies, including curbs on Islam and the culture and language of the Uygurs, cause the unrest. Beijing denies this.
Last week, Beijing said it had launched operations against 115 terrorist groups since May.
This article appeared in the South China Morning Post print edition as: Xinjiang burqa ban could 'spark unrest'