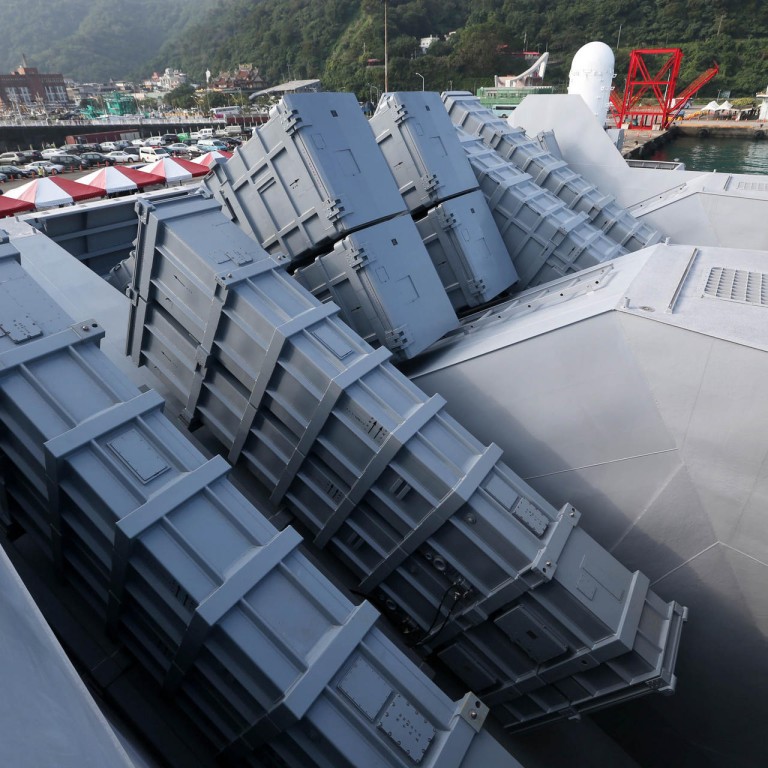 'Stealth' frigate handed over to Taiwan's Navy
Shipbuilder hands over the Tuo Jiang, designed to deflect radar signals
Taiwan's Navy yesterday took possession of the island's first self-developed missile-carrying "stealth" corvette. The ship has been described by the Taiwanese media as an aircraft carrier killer and the 500-tonne twin-hull vessel, Tuo Jiang, was built by the Taiwanese shipbuilding company Lung Teh.
The handover to the Navy took place at Suao, a fishing port in the eastern part of Taiwan, and comes after the mainland has objected to the US sale of four Perry-class frigates to the island.
The high-speed corvette has a range of about 3,700km and will be equipped with domestically produced anti-ship missiles.
The uneven surface of the vessel is designed to deflect radar signals, making it difficult for enemies to detect.
Military experts estimate testing of the missile system will take at least eight months.
The navy hopes a fleet of the vessels could be deployed next year and plans to build 2,000-tonne twin-hull frigates in the future if the Tuo Jiang fleet performs well, the newspaper reported.
Tuo Jiang is part a NT$25 billion (HK$6.1 billion) budget approved by the legislature in 2011 to build eight to 12 of the corvettes as a defence measure against the mainland's aircraft carrier. Analysts have suggested the Tuo Jiang would give a strong boost to the island's military.
Washington has agreed to sell weapons worth US$18.3 billion, including F-16 fighters, 30 Apache attack helicopters and 12 antisubmarine and maritime surveillance aircraft since the island's president, Ma Ying-jeou, took office six years ago.
Beijing has called for the arms sales to the island to be scrapped, arguing that the United States government is violating an agreement not to interfere in China's internal affairs.
This article appeared in the South China Morning Post print edition as: Taiwan Navy receives missile-carrying warship