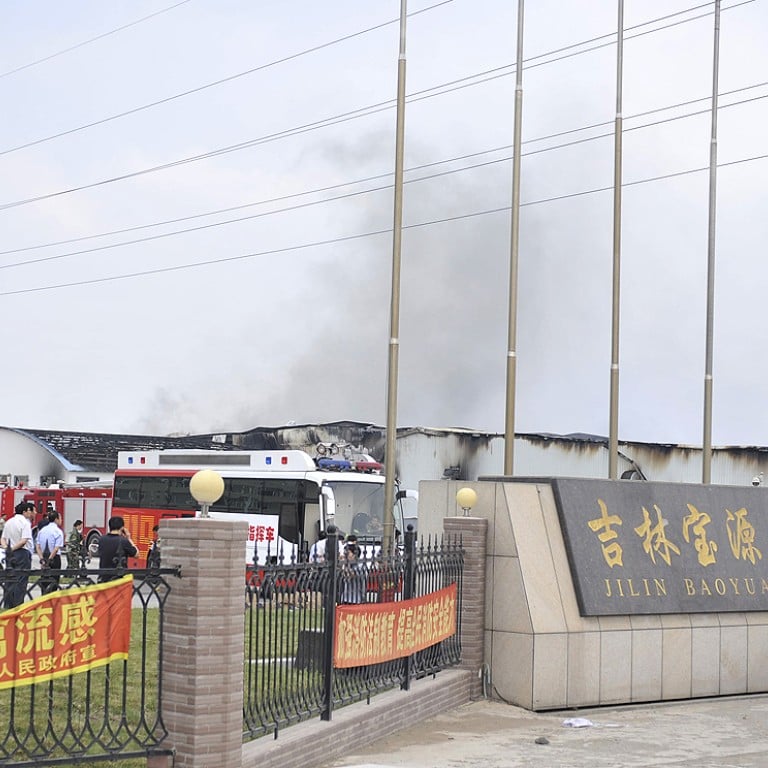 Fire chiefs and poultry plant bosses jailed for 2013 Jilin fire that killed 121
Two fire chiefs and two former chicken farm bosses jailed for up to nine years after convictions over China's deadliest industrial accident in five years
Two fire chiefs and two poultry farm bosses have been convicted and sentenced to prison terms of up to nine years in relation to a fire at a plant in the northeast last year that killed 121 people and injured 76 others, state media reported on Saturday.
The June 2013 fire in Jilin province was the country's deadliest industrial accident in five years and highlighted continuing violations of safety regulations despite recent improvements in the country's work safety record.
Survivors at the time described workers, mostly women, struggling through smoke and flames in the poultry processing plant to reach doors that turned out to be locked or blocked after an electrical short circuit ignited flammable goods.
On Friday, two district courts in Changchun city sentenced two bosses of the plant and two fire officials, the official Xinhua News Agency said.
The chairman of Jilin Baoyuanfeng Poultry, Jia Yushan, was sentenced to nine years in prison and fined 1 million yuan (HK$1.26 million) for not ensuring the working environment was safe, and former general manager Zhang Yushen was sentenced to four years for installing substandard equipment, Xinhua said.
Lyu Yandong, the former chief of the local fire department, and his deputy Liu Guicai were convicted of abuse of power and sentenced to prison terms of up to five-and-a-half years. Prosecutors previously said they had failed to carry out any serious inspections of the plant and falsified information after the fire to try and cover that up.