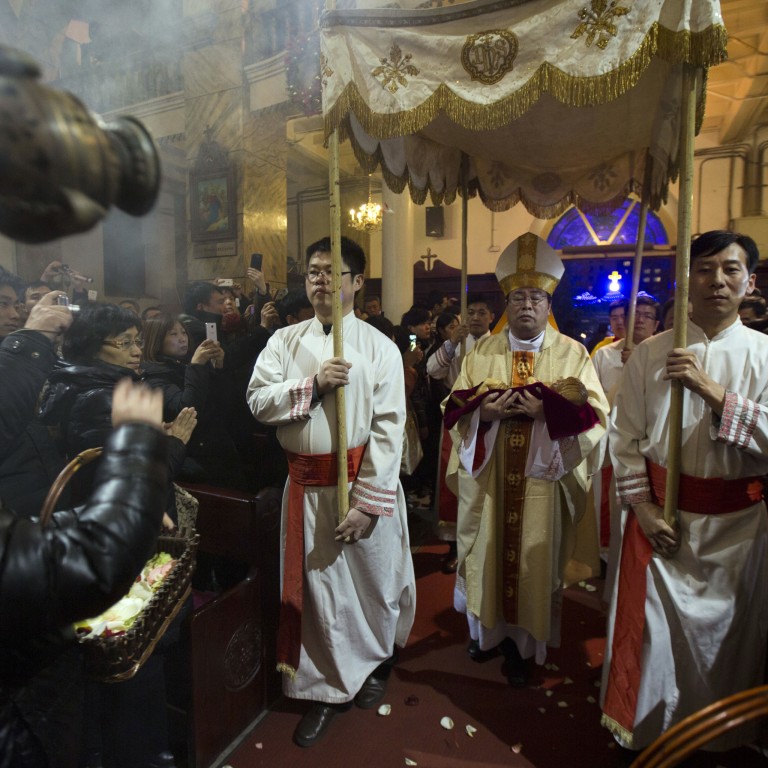 Chinese Christians forced to celebrate Christmas in secret
Members of illegal churches in China fear they face stronger crackdowns from the authorities as the government adopts a more nationalist tone
A group of Christians gathered in an apartment above a Beijing dental surgery on Christmas Eve, the atmosphere jubilant as a choir belted out carols, but the curtains had to remain tightly closed.
Unofficial Christian groups have long been subject to crackdowns, but the atmosphere appears to be worsening as their numbers increase and the governing Communist Party takes a more nationalist tone under President Xi Jinping.
Members of Shouwang, a Beijing Christian group who held the Christmas Eve service, have faced more trouble than most.
Several pastors from the group, which at its height boasted about 1,000 mainly middle class members, have been under house arrest since they tried to arrange Easter services in a public square in 2011.
Nonetheless there was a joyful atmosphere in the 12th storey apartment this Christmas where green and silver tinsel hung beside plastic snowflakes and several dozen worshippers joined in with Chinese versions of the traditional carols Away in a Manger and Noel, Noel.
"Things have got worse this year because the police started to detain us. I was detained for a week," said Zhao Sheng, 54, musical organiser for the service.
"But Christmas is still a happy time. No matter what happens, God is with us," he added with a grin.
You Zhanglao, one of those under house arrest, said in a telephone interview that he had celebrated Christmas at home with his family by saying prayers.
Christianity has aroused suspicions in China since the 19th century when it was spread by foreign missionaries who often worked alongside colonial European powers.
China's Communist party is officially atheist and effectively banned the religion during the 1960s, but the Christian population has swelled at rates of up to 10 per cent each year since restrictions were relaxed about thirty years ago.
The country is now home to an estimated 70 million Christians, according to a 2011 survey by the Pew Research Centre, as people search for a sense of community and meaning in a fast-changing society.
The vast majority of Chinese Protestants, about 50 million, according to the survey, shun state-run churches and worship in self-organising groups outside government control.
These underground churches are technically illegal, giving the authorities a pretext to crack down if they wish.
Local authorities who have long tolerated underground churches have taken a harder line this year.
This summer in the eastern city of Wenzhou, sometimes known as "China's Jerusalem" because of its large Christian population, police stormed churches to force the removal of crosses.
The crackdown affected more than 400 churches in eastern Zhejiang province, according to the US-based rights group China Aid, with some churches completely demolished.
The authorities said the churches had breached building regulations.
In the strongest sign of official fears so far, top religious official Wang Zuoan told worshippers at Beijing churches to "resolutely resist the use of Christianity by foreigners to infiltrate China", according to the state-run China News Service.
Experts say the Christian conception of universal values fits uncomfortably with the Communist Party's insistence that China cannot be judged by foreign standards.
Richard Madsen, an expert on Chinese Christians at the University of California, San Diego, said there seemed to be a new move to try to suppress churches.
"It's connected with the nationalism of China's government and concerns that this is a foreign religion with connections around the world," he said.
Since coming to power in 2012, President Xi has praised the ancient Confucian moral system and met top Buddhist figures.
China's leaders "hope the revival of traditional religions like Taoism and Buddhism will help crowd-out Christianity", Madsen said.
Just four days before Christmas, the authorities in Zhejiang clashed with locals as they tore down a church cross, China Aid cited parishioners as saying.
"We are praying that the situation improves for us next year," said Wu Changyi, a Christian in Wenzhou.
But despite tighter controls, most house churches have been able to operate with few disruptions, according to Yang Fenggang, an expert at Perdue University in Indiana in the United States, adding there were too many to be suppressed.
Since the government seized their worship space three years ago, members of Shouwang gather in apartments rented by the smaller "New Tree" church, which has reached an accommodation with the local authorities.
"We are relatively free, but it's still relative freedom," said New Tree Pastor Wang Shuangyan, who led a Christmas Eve service where she baptised five new members.
"Faith brings peace to the heart," said 25-year-old student Cheng Xiaohui, who knelt on the ground as Wang poured water over her head.
New Tree members said their church was often visited by the police, but had avoided suppression because it is relatively small and holds its services in private.
At Shouwang's separate service, a middle aged preacher expounded for nearly an hour about the meaning of the Bible, creationism, the nature of sin and redemption.
But as if underlining the Communist Party's fears, his sermon briefly touched on politics.
"In those countries like the Soviet Union, North Korea, and China that put humans at the centre of everything, the human rights situation is poor, or even very poor," the preacher said.
At the close of his speech, the curtains were pulled open, filling the room with light, while cries of "God bless you" filled the room as worshippers shook hands and embraced.
"We don't need to be careful" a 43 year-old woman surnamed Su said when asked about police pressure. "God will protect us."