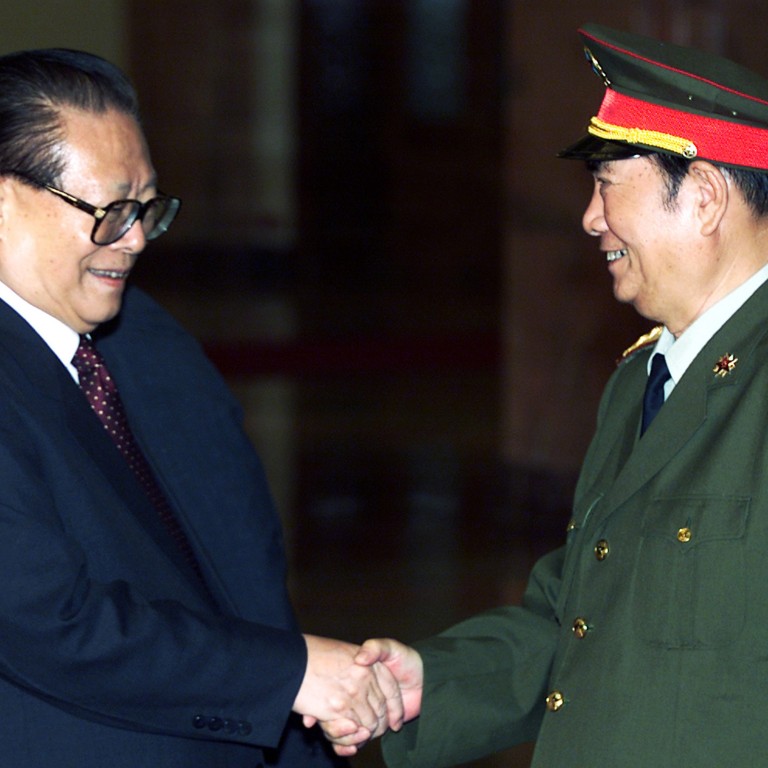 Hawkish top PLA general Zhang Wannian dies, aged 87
Top People's Liberation Army general Zhang Wannian was certain that war would erupt between mainland China and Taiwan but his prediction did not come to pass in his lifetime.
Zhang, a former vice-chairman of the Central Military Commission, died of illness in Beijing on Tuesday, CCTV reported. He was 87.
The sole senior Chinese military representative at the Hong Kong handover ceremonies on the eve of July 1, 1997, Zhang was known for his hawkish attitude towards Taiwan when he was in charge of its affairs between 1995 and 2003.
"It's inevitable that a war will break out over the Taiwan Strait within the current five-year plan (2000-2005)," the general said at a PLA armament conference in October 2000, months after Chen Shui-bian, of Taiwan's pro-independent Democratic Progressive Party, became the self-governed island's president.
According to a report by Taipei-based in 2000, Zhang even said Beijing would launch a "pre-emptive ballistic missile strike" on Taiwan to ensure the PLA's victory if the two sides came to war.
The action would paralyse the island's power supply system and immobilise its air and naval forces, the article quoted him as saying.
During the second Taiwan Strait crisis in 1995-1996 - triggered by then-Taiwanese president Lee Teng-hui's assertion that mainland China and Taiwan were separate states - Zhang was on the front line, in command of all military exercises and deployments in the key Nanjing region.
Zhang joined the army in 1944 at the age of 16. He rose through the ranks over the years, particularly during China's counterattacks against Vietnam in 1979.
According to the , which was published by PLA Press in 2011, the general led the 127th Division during the 1979 Sino-Vietnamese border war and achieved victory in a key battle, which won him praise from then-paramount leader Deng Xiaoping .
But as commander of the Guangzhou military region in 1989, he was one of the last regional military officers to profess support for Deng's suppression of the June 4 "counter-revolutionary rebellion" in Tiananmen Square.
In 1998, Zhang reportedly had surgery for cancer and had to postpone a visit to the United States. Zhang was a protégé of Jiang Zemin.
CCTV has described the general as "an excellent and loyal Communist Party member and revolutionist".
This article appeared in the South China Morning Post print edition as: Hawkish top PLA general dies of illness, aged 87