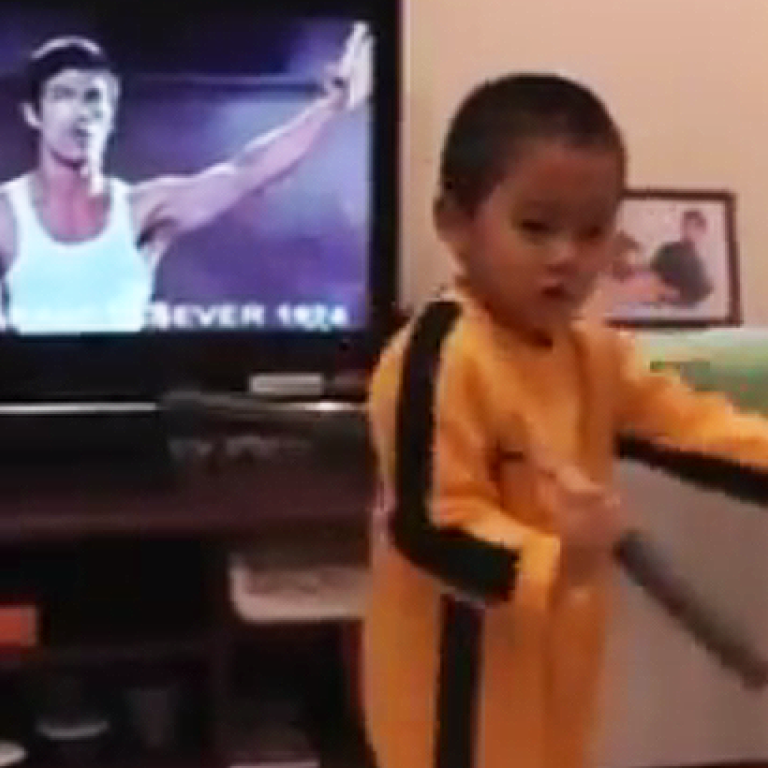 Video
Karate kid: boy, 4, shows off amazing nunchuck skills with Bruce Lee routine
A four-year-old Asian boy has shot to fame on YouTube with an amazing nunchuck routine mimicking Hong Kong legend Bruce Lee.
The youngster, said to be Chinese, appears not only to have replicated Lee's martial arts moves but also his facial expressions, and even has his own mini version of the trademark yellow jumpsuit Bruce Lee wears in the film 
The boy shows off his nunchucks skills, "wooh-ing" and "wataah-ing" almost seamlessly in unison with the Bruce Lee movie scenes playing in the background on his parents' flat-screen television.
The two-stick nunchucks, or nunchaku, are a traditional Japanese training weapon that hone quick reflexes. They are made of wood, glass or metal, and are linked together by a chain, but some toy versions are made of plastic or foam.
The boy handles them with ease, flicking and twirling them over his shoulders and arms in rapid succession.
In another scene from the video, the mini-martial artist is seen wearing a silk costume akin to the Chinese uniform worn by Lee in Enter the Dragon. 
Other Bruce Lee memorabilia, including posters and even a side-by-side photo of the toddler with Lee, are seen in the family's living room.
The home video was posted on YouTube and garnered thousands of views and numerous comments saying he should star in his own kung fu movie.
The young boy is not the only modern incarnation of the Hong Kong legend. 
Last year, an
Afghan Bruce Lee look-alike
also gained worldwide attention with YouTube videos of himself re-enacting scenes from martial arts movies.
Abbas Alizada, 20, who posted on the Facebook page "Bruce Hazara", was filmed doing back flips and striking Lee's famous poses.
"I want to be a champion in my country and a Hollywood star," Alizada said, speaking to a news agency from his home Kabul, where he trains twice a week, swirling nunchakus.
WATCH: Alizada (right) shows off his 'fists of fury'