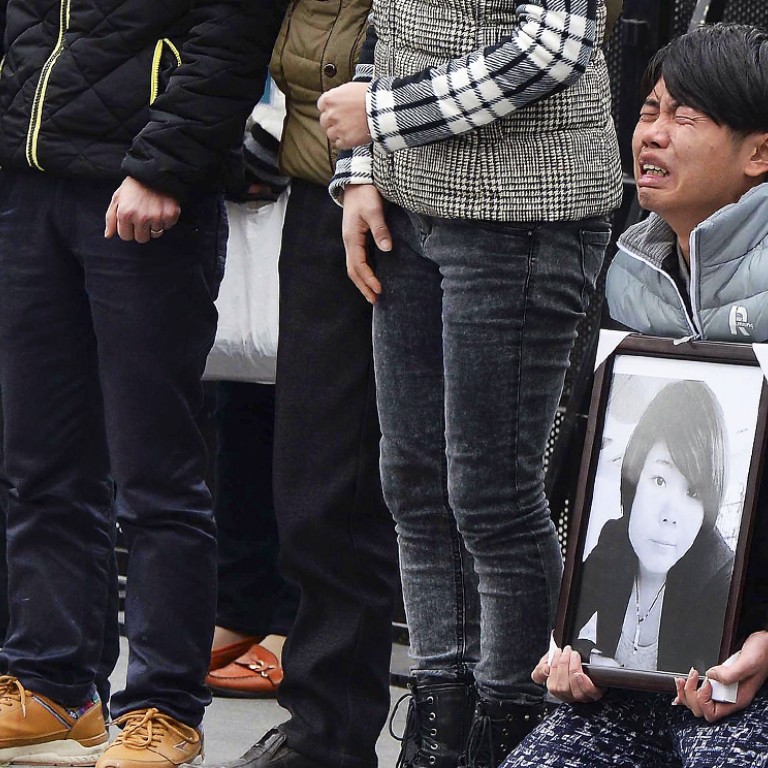 Families of victims killed in Shanghai stampede to each receive 800,000 yuan compensation
After weeks of silence on the issue, Huangpu district government announces compensation for deaths and injuries caused by the disaster
Families of revellers killed in Shanghai's New Year's Eve stampede will each receive 800,000 yuan (HK$1.01 million) in compensation, the Huangpu district government announced on Wednesday night after three weeks of silence on the issue.
The authorities said those injured in the stampede would be given payouts depending on the severity of their injuries, according to a statement on the district authority's official microblog.
The compensation for the deaths is in line with guidelines from the Supreme People's Court, which stipulate that payouts in such cases should be about 20 times the average annual income of a Shanghai resident.
The announcement came the same day that investigators released their report on the tragedy, making no mention of compensation in the document and refusing to answer questions on the issue at a press conference.
Four Huangpu district officials were sacked over the tragedy on the Bund, which claimed 36 lives and injured 49 others.
Three of the injured are still in hospital, one of whom is in critical condition.
Earlier in the day, relatives said they had been frustrated by the lack of progress on payouts.
An uncle of Hubei victim Wu Cuixia, who declined to be named, said none of the city or district leaders had talked to the relatives, many of whom had travelled from distant provinces and been split up into different hotels designated by local cadres.
"We haven't got a word of apology. They had no respect for the victims at all," the uncle said.
He said he was far from satisfied with the punishment announced, insisting that officials higher up should be held to account for an incident that could have been avoided with more security and a contingency plan.
Wu's uncle said local custom dictated that a funeral be held within days of death but Wu's body, together with those of other victims, was still in a funeral home, awaiting an outcome on compensation.
"It's been more than 20 days now … They apparently didn't have a guilty conscience," he said.
Lin Lin, a cousin of Changchun victim Zhan Yang, was equally frustrated.
Lin said after 21 days of mourning and waiting, she "turned on the TV at 11.10am [yesterday] in the hope of being updated about [compensation for] my cousin, but there wasn't a thing about it".
"Our family couldn't eat at all. They watched TV every day, hoping to get a clue, but nothing," she said.
"We called the government, and they told us to wait. We have already been waiting!"
A relative of a Fujian victim, who also did not want to be named, said he and many other relatives were disappointed that no medical official was punished, saying that some of the dead could have survived if they had received prompt treatment on arrival at hospital.
Several relatives previously told the that their relatives were still alive when they were taken to hospital, but there were too many victims and too few medical staff.
At yesterday's press conference, Xiong Xinguang, director of the Shanghai government's emergency response office and a member of the investigation team, praised medical workers for their response.
Beijing-based lawyer Hao Junbo said the families were entitled to seek redress through the legal system but "court hearings are the last thing government officials want to see".
"Lawsuits will attract media attention and fuel public anger towards the officials' wrongdoings, which could be a catalyst for social disorder."
TIMELINE: Shanghai stampede
December 31
8pm People start to gather in The Bund area, China News Service reports, citing the Huangpu district police commander.
11.30pm A witness hears women and children scream as people are crushed together near Chen Yi Square, and unease starts to spread through the crowd, according to the Southern Metropolis News.
Police spot unusual pedestrian movements near the square. They detect that "people have stopped moving" and dispatch 500 officers to the scene, China News Service reports, citing the Huangpu district police commander.
The first police officers arrive on the scene in "five to eight minutes", Eastday.com quotes a police officer as saying.
11.34pm A witness sees several people fall on a staircase near the square. where the stampede took place. People nearby try to pull them up but fail as more pedestrians crowd the steps. The situation gets out of control and those on the ground are further pressed together, according to the Southern Metropolis News website, Nandu.com.
11.35pm The stampede occurs, according to the official account.
11.40pm Several pedestrians near the stairs shout "Back! Back!", trying to stop more people flooding in, the Southern Metropolis News Nandu.com reports, citing a witness.
11.50pm A witness sees "fake money" that had been thrown from a building across the road, Eastday.com reports. The notes turn out to be bar coupons.
11.55pm The crowd starts to calm down. People help move the injured out of the stampede area. Some pedestrians try to resuscitate the start to do cardiopulmonary resuscitation on the injured while others clear a way for ambulances, Sina.com reports.
January 1
12.31am The Shanghai Public Security Bureau's official microblog says police officers are evacuating pedestrians after some people fell in The Bund area.
3am Shanghai party chief Han Zheng visits the injured at the Shanghai No 1 People's Hospital, China News Service reports.
4.01am Shanghai government's microblog announces that 35 people were killed and 42 injured in the stampede. Later updated to 36 dead and 47 hurt.
This article appeared in the South China Morning Post print edition as: Payouts to victims of New Year tragedy