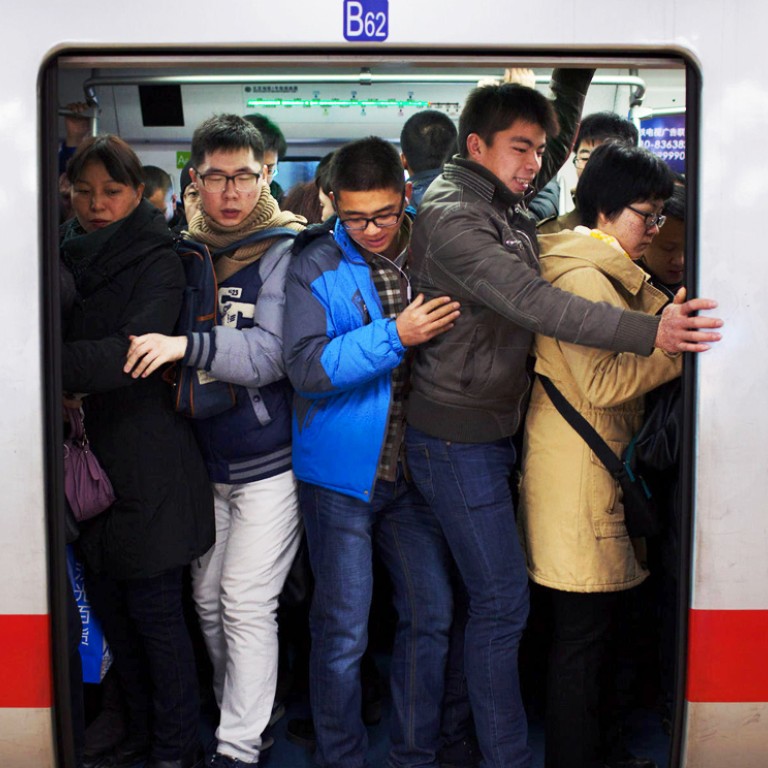 Beijing workers have longest daily commute in China at 52 minutes each way
Average daily journey of 19.2km is country's farthest and takes travellers 52 minutes - even longer than congested global centres such as New York
The average journey to work for Beijing commuters last year was 19.2km in Beijing - the longest in the country according to a survey by a mainland internet company, the China News Service reported.
Their trips could also be painfully slow, too.
The average time that Beijing residents spent travelling to work was 52 minutes - longer than people in some of the world's most congested cities, such as New York, where the average commuting time, according to a 2013 survey, was 48 minutes.
The data on Chinese travellers was collected after probably the biggest survey on mainland citizens' commuting habits ever carried out.
More than three million people from more than 300 cities took part in the project launched by Baidu, the country's largest internet search company, the CNS report said.
The method was simple.
Commuting smartphone users marked the location of their home and workplace in Baidu's map service app, and the commuting distance and time was automatically calculated and uploaded to a cloud server.
Shanghai commuters were not far behind those in Beijing. Residents in China's financial centre spent just one minute less on the road than those in the capital, with their one-way journey averaging 18.82km.
A deeper look at the data revealed some important reasons behind the phenomenon.
In Beijing, the long journey to work was caused mainly by the large number of workers living in Tongzhou and Changping , more than 50km from the city centre.
In Shanghai, many people are forced to live in nearby provinces because they cannot afford to buy or rent flats in downtown areas.
Each day there is a massive flow of traffic into Shanghai from nearby cities such as Suzhou , Hangzhou and Zhoushan .
The situation is better in smaller cities. The national average commuting distance was 9.18km with an average travelling time of 28 minutes, which was shorter than developed countries such as the United States.
One commuter, Li Xiang, who works for a finance company in Beijing's central business district, said he was a bit surprised by the findings of the new study.
"Beijing has always been on top, and I see no hope of change in the near future," he said.
Other surveys in the past few years have offered similar results.
A study by the Chinese Academy of Sciences in 2010, for instance, also estimated the time travelling to work in Beijing at 52 minutes.
Li lives in Tongzhou with his family and drives to work most of the time. Public transport, such as the subway and buses, were "terribly" congested during the morning rush hour, he said.
"I'd rather spend time and fuel to avoid the torture," he said.
Mainland social media has been full of people complaining about the difficulty of getting to work in China's big cities.
This article appeared in the South China Morning Post print edition as: Beijingers stand tall as commuter 'kings'