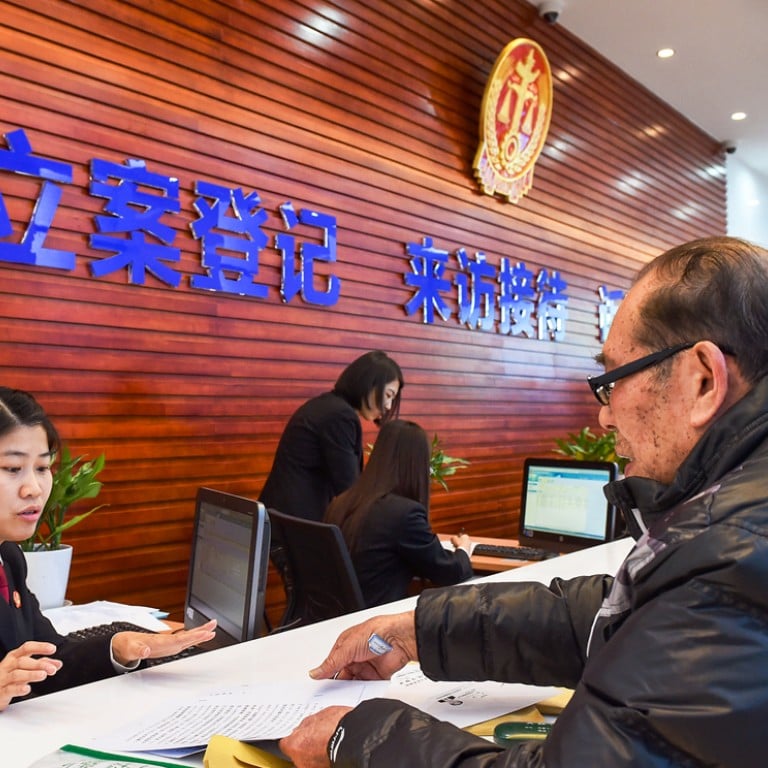 China's first circuit court opens in Shenzhen to crowds of hopefuls
Many who come to Shenzhen say corruption back home has robbed them of justice
People travelled from across the mainland to the nation's first circuit court in Shenzhen as it opened its doors this week, hoping their cases would be heard, although some lawyers fear it will amount to nothing more than a petition office.
The court's six judges began hearing cases on Monday, local media reported. More than 300 plaintiff hopefuls had arrived by the morning. Judges heard 72 cases but rejected 80 per cent of them because they fell outside the court's purview, the reported.
More thronged the court yesterday but were told they would have to wait until tomorrow to see the judges because of the long waiting list.
The First Circuit Court of China's Supreme People's Court is aimed at promoting judicial independence and reducing interference by local party officials, according to top judicial authorities. It will handle major administrative and civil cases for the provinces of Guangdong, Guangxi and Hainan , and act as the region's final appellate court, with the same power of final adjudication as the supreme court.
Some residents who had lost their lawsuits at local courts told the they saw the circuit court as their last chance for justice.
"I lost the lawsuit because I did not bribe the judges but the other side did," said Ye Chunyang, who owns a trading company in Foshan in Guangdong. She had gotten into a dispute with another company over a shipment of imported goods worth about 600,000 yuan (HK$753,420), she said.
"I have a recording that proves a man close to the judge called and asked me for 20,000 yuan. I hope the circuit court will listen to my suffering and offer me a new trial."
One man in his 70s said his son had been sentenced to 15 years for theft in Zhuhai in 2010, but the judges at the local courts were "too dirty".
"The circuit court is my last hope," he said. "My son was caught at the scene while two of his friends escaped. But they were sentenced to only three years in the end because local police said they had turned themselves in. But I know their parents bribed the officials."
The circuit court was one of a series of reforms raised at last year's fourth plenum aimed at creating a more professional and efficient judiciary. Currently many judges are also local party officials with no legal training.
A second circuit court was launched on Monday in Shenyang , Liaoning province, but it has not started to hear cases.
Duan Zhizhong, a Shenzhen lawyer representing a client in a civil matter, said only a few cases would probably be heard. "Too many petitioners were flocking to the supreme court in Beijing. I believe the circuit court in Shenzhen and Shenyang is just a diversion aimed at reducing the number people travelling all the way to … Beijing."
This article appeared in the South China Morning Post print edition as: First circuit court opens to crowds of hopefuls