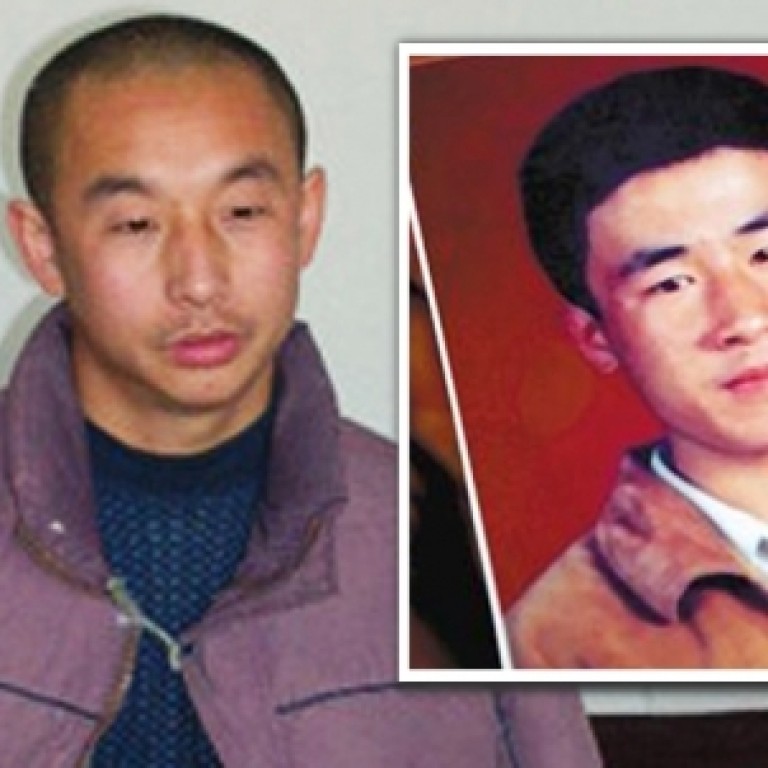 Update

|
China's 'smiling killer' sentenced to death for 1996 murder that saw innocent teenager executed
China's "smiling killer" – who admitted murdering 10 people – sentenced to death today for 1996 rape and murder of a woman for which an innocent teenager was executed.
China's "smiling killer", who went on trial last month after admitting the 1996 rape and murder of a woman for which an innocent teenager was executed, was sentenced to death today, state media reports.
Hohhot Intermediate People's Court was told Zhao, dubbed "the smiling killer", killed 10 people and also raped 13 women and young girls – the youngest of whom was only 12 – between April 1996 and July 2005. 
Zhao, who stole items and money totalling 34,900 yuan (about HK$44,000) during his crimes, was also fined 53,000 yuan and ordered to pay costs of 102,768 yuan to his victims. 
He was arrested in 2005 and confessed to earlier murders, including the rape and murder of a woman in a public toilet in Hohhot in April 1996.
Zhao's original 2006 trial was adjourned after he told the court prosecutors had failed to charge him for the 1996 rape and murder. But he never stood trial again until last month.
The parents of Huugjilt have spent 18 years trying to clear their son's name, including launching a petition.
They had insisted that he had only confessed under duress during interrogation.
However, it was only last November that the Inner Mongolia Higher Court announced the case would be reopened. The court declared that Huugjilt was innocent one month later.
Last week his parents received compensation from the state of more than 2.05 million yuan over his wrongful conviction and execution.
China News Service quoted unidentified witnesses present at Zhao's public trial, who said that the part of the hearing involving the 1996 rape and murder of the woman had been closed to the public.
Zhao had been appointed two lawyers, but had declined to defend himself during proceedings because he claimed "his crimes were too big", the agency reported.
He had admitted to being the real murderer of the women in the toilet in meetings with lawyers, and during the trial, which was attended by Huugjilt's parents, it said.