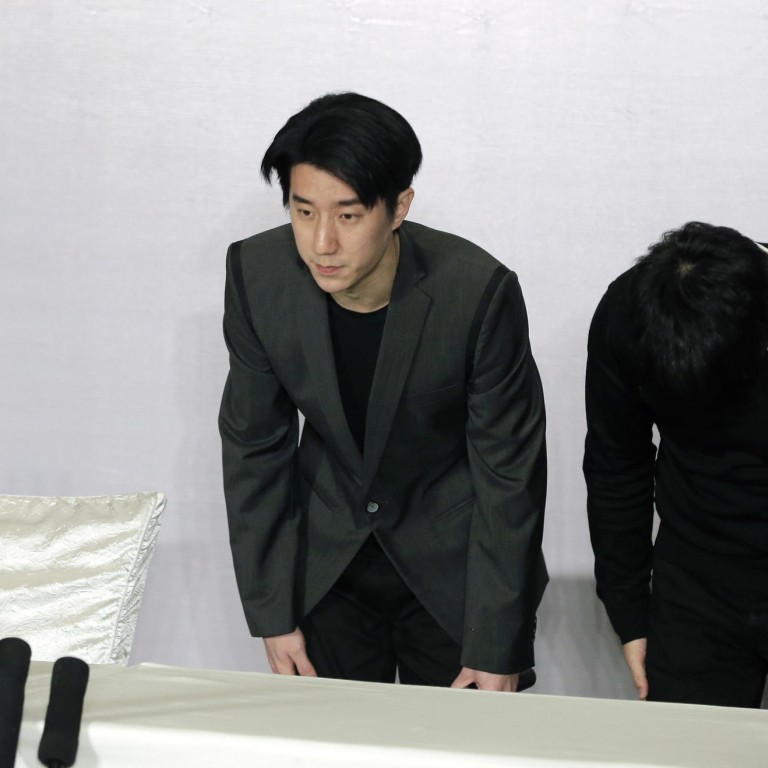 Jaycee Chan says prison was 'harsh' and father Jackie did not intervene in drugs case
Jaycee Chan said his conviction for a drugs offence had let down his friends and family
The son of the film star Jackie Chan has made a public apology on his release from jail after serving six months for a drugs offence.
Jaycee Chan told a press conference in Beijing yesterday that he was sorry and wanted to start afresh.
"As a public figure, this incident has brought a negative impact on society," he said.
"My supporters have been let down and my business partners have suffered losses. I do not have any reasons or excuses, I made a mistake.
"I am here to offer my apology to the public for my mistakes. I'm truly sorry. From now, I must live the life of a lawful citizen," he said.
Watch: Jackie Chan's son apologises for drug offences
The 32-year-old was released from a detention centre in Beijing just after midnight on Friday morning.
He was jailed for six months and fined 2,000 yuan (HK$2,500) in January.
He was first detained in August and had served his full term behind bars.
He was picked up by the police along with the Taiwanese actor Ko Chen-tung at a foot massage parlour in the capital on August 14 after officers had received a tip-off.
He admitted to "sheltering others to use drugs", a charge which carries up to three years in jail.
Chan was granted a lighter sentence by the Dongcheng District People's Court because he had volunteered information to the police about his drug use.
They found more than 100 grams of marijuana at his home.
Chan told the press conference, which was broadcast on state television, that his father did not use his influence to try to reduce his prison term, nor did his parents visit him in jail.
"I do not wish them to see me suffer. Nobody would've wished to see their family members suffer," he said.
"I made a mistake and I should shoulder it on my own. I don't want my mistakes to affect my father. I must apologise for my own mistakes."
Chan said he hoped that his acting career was still viable.
Several celebrities have been arrested in Beijing in recent months in a crackdown on drug use in the capital.
This article appeared in the South China Morning Post print edition as: Jackie Chan's son says sorry after release from jail