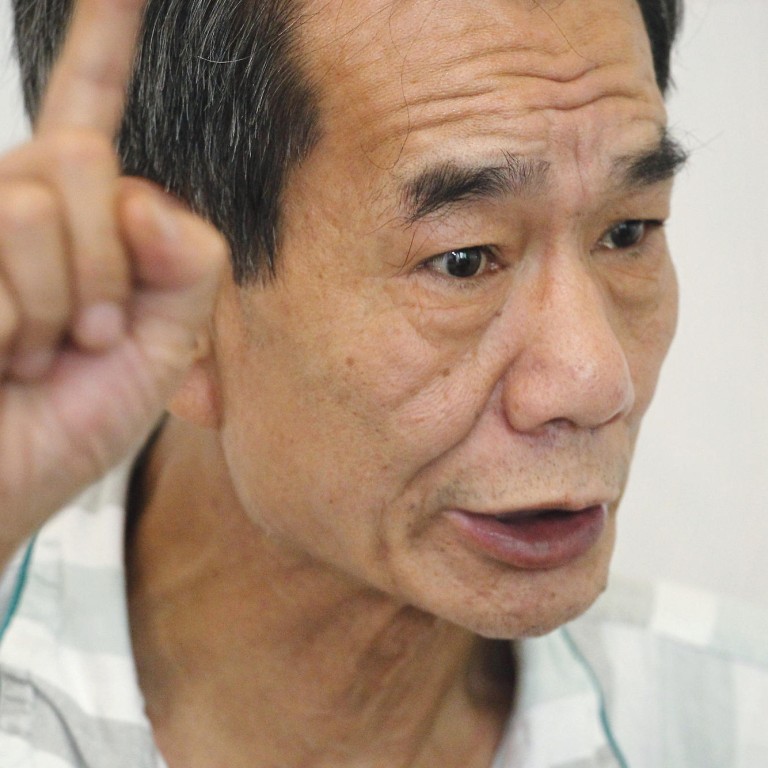 Anti-graft activist Ou Shaokun 'caught with prostitute' in Hunan raid
Changsha police detain 'Uncle Ou' within hours of him posting claims of misuse of official cars
A Guangzhou-based activist best known for his campaigns against official abuse of government cars, was detained in neighbouring Hunan for allegedly soliciting a prostitute, police confirmed on Sunday.
In a statement on an official microblog, police in the Hunan capital of Changsha, claimed Ou Shaokun , 62, was caught with a prostitute late on Thursday night during a raid on a downtown hotel.
Three other suspects - a 47-year-old man, and two women, aged 28 and 25 - were also detained, the statement said.
The four confessed to police and would remain in detention until Thursday, the statement said.
A copy of the detention letter, which was issued on Saturday and circulated online, accused Ou of paying 1,200 yuan (HK$1,500) for a prostitute in a hotel room at about 11pm on Thursday, the Guangzhou-based reported. The report did not say why Ou was in Hunan.
The incident happened within hours of Ou uploading photos on his microblog of a Toyota SUV, one of two vehicles that he said were Guangzhou government cars being used for personal business in Hunan.
Ou, who has more than 104,000 followers on his microblog, claimed that the Toyota was owned by Guangzhou police and he spotted it in the Mao Zedong memorial park in Mao's hometown of Shaoshan.
"[I] have been monitoring abuses of official vehicles for 10 years, but why do such abuses continue?" Ou said on Thursday afternoon.
"Each time I file a complaint, [officials from the] discipline inspection bureau say [they will] conduct a serious investigation, and the result is always to require [the officials] to repay the cost of the petrol … Uncle Ou feels so disappointed, and [I] earnestly ask Guangzhou police for a reasonable explanation over this complaint."
Ou is a former wet market regulator and often roams Guangzhou on the lookout for government cars parked outside entertainment venues, tourist spots, hotels, pricey restaurants or shopping malls.
When he sees what he suspects is a government car, he takes photos or video of the vehicle, posts the material online and files a complaint with the authorities.
This article appeared in the South China Morning Post print edition as: Anti-graft activist 'caught in raidwith prostitute'