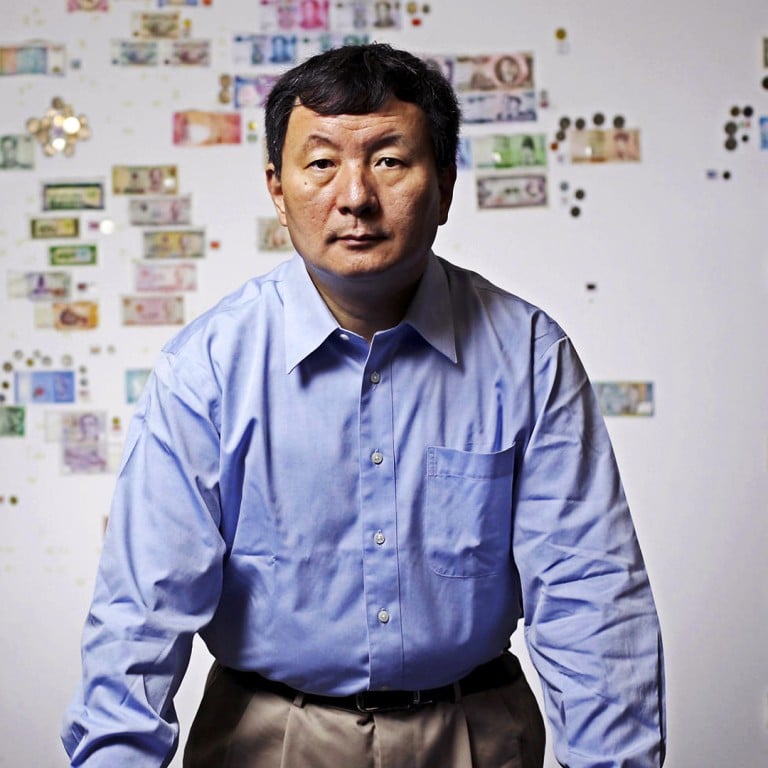 How one man wants to lend cash to 500m Chinese and lead a microfinancing revolution
Zane Wang Zhengyu, founder and chief executive of lending company China Rapid Finance (CRF), wants to redraw the mainland's credit landscape.
Zane Wang Zhengyu, founder and chief executive of lending company China Rapid Finance (CRF), wants to redraw the mainland's credit landscape.
Wang hopes to create the mainland version of the San Francisco-based Lending Club, which offers borrowers funds at rates lower than those charged by credit cards. Ideally, the model could help meet the financing needs of 500 million potential mainland customers, many of them borrowing for the first time.
"The time is ripe for major change," said Wang, 58, who earned a doctorate in statistics at the University of Illinois. "The top policymakers have been fully aware of mainland people's increasing financing needs, and we want to grasp the opportunities to create a proper business model to meet those needs."
Leaders have promised to drastically reform the country's creaky financial system by embracing the latest information technologies and giving market forces a greater role in deciding interest rates, leading to a boom in the internet finance sector in the world's second-largest economy.
Premier Li Keqiang, who has a doctorate in economics, is a strong supporter of the internet finance sector - a new business model banking on IT and mobile technologies to provide financial services.
The leadership's directives ushered in a flurry of activity among the business community and there are now more than 2,000 peer-to-peer (P2P) online lending platforms linking borrowers and lenders.
"P2P is a double-edged sword for China," Wang said. "It has the potential to incur a crisis of default, but on the other hand, it could become a miracle cure for China's imbalanced financial system, which has failed to serve the majority of consumers."
A robust risk-control system was needed to avert the danger of defaults, he said.
The P2P model has spread across the mainland without proper regulatory oversight, leading to fraudulent loans and non-performing assets, which sparked fears of a credit crisis.
Operators offer lofty interest rates, typically 2 per cent a month, to attract depositors and investors, making the model closer to a loan-sharking scheme.
At the moment most platforms typically serve large-scale clients, such as property developers, with single multimillion-yuan loans.
Global consultancy McKinsey predicts the mainland's P2P sector will probably turn "full circle", and include a huge number of loan defaults despite "digital banking" being well received by more than 70 per cent of mainlanders.
Wang, who worked as a senior financial analyst and senior manager at big consumer-credit companies in the US, returned to the mainland in 2001 to help the domestic credit-assessment system.
CRF would combine the latest IT technology with traditional offline checks of a lender's repayment ability, he said.
The main difference between the Lending Club in the US and the one planned on the mainland is that no credit records exist for the 500 million potential customers, many of whom are new borrowers.
Since 2001, Wang's company has been working with China's biggest banks, helping state-owned lenders such as Bank of China and China Construction Bank decide who qualifies for credit cards.
He believes CRF has the expertise to ensure the proper checks and assessments are carried out. It already has branches in 70 mainland cities and plans to open 30 more in other cities around the country by the end of the year. These branches help to conduct offline checks on credit-worthiness.
CRF has also teamed up with leading mainland companies, including Tencent, to offer value-added financial services to their registered users. Initially, it provides loans of several hundred yuan to help borrowers pay for consumer goods; gradually, CRF will increase a borrower's credit limit.
"A Chinese version of the US Lending Club is the answer to helping the mainland's financial reform," Wang said. "CRF is trying to highlight the benefits of a Chinese Lending Club."
Since February, CRF has issued more than 1.5 million small loans to consumers, more than the total deals conducted on all the other mainland-based P2P platforms during the same period.
"The total business value shouldn't be a primary target for a P2P firm," Wang said. "The microfinance business we are doing represents the future direction of the country's financial sector, which is supposed to serve all the people."
Greenland Hong Kong Holdings, the Hong Kong-listed unit of Greenland Group - the mainland's largest developer by sales - is also keen to highlight a different approach compared with China's traditional P2P providers.
"P2P can be beneficial to lenders, too," said Chen Jun, chairman of Greenland Hong Kong. "Greenland, an established and experienced developer, can play a role in raising funds via P2P, before ploughing them into quality developments and overseeing the whole process. So it's not just a simple game of borrowing and lending anymore."
The Hong Kong unit, which launched its online marketplace at the end of last month, will raise funds through the internet and channel the capital into property projects.
Despite the different approaches P2P players are taking, they agree about the future: mainland internet financing is certainly growing at a rapid rate and will bring about tremendous changes in the existing financial system.
Lending Club raised almost US$900 million on the New York Stock Exchange in December, completing the largest US tech initial public offering of 2014.
It helped to conclude loan deals worth more than US$4 billion last year.
"Based on the vast population of 500 million consumers, the business scale of China's own Lending Club could be several times the US predecessor," Wang said. "We are going all out for it."
This article appeared in the South China Morning Post print edition as: The man hoping to lend cash to 500m strangers