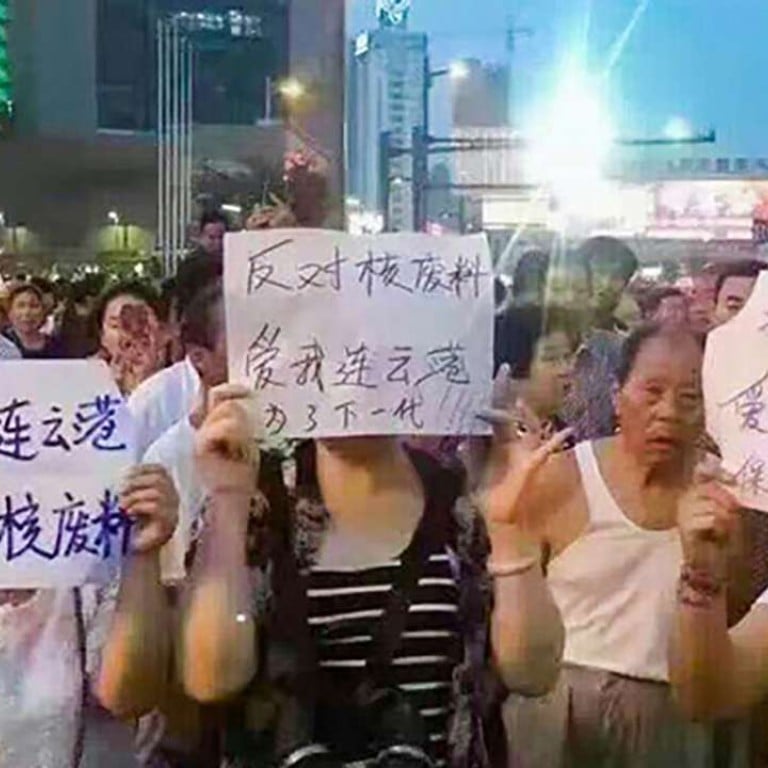 Authorities in Chinese cities try to reassure public over nuclear fuel reprocessing plant
Authorities in Lianyungang arrest man for spreading false rumours while city government in Zhanjiang insists site will not be built there
Provincial governments in ­Jiangsu and Guangdong have sought to quell public fears over plans for a nuclear fuel ­reprocessing plant after residents accused officials of disregarding the health risks.
Authorities in Lianyungang, Jiangsu province charged a man with disrupting social order after he allegedly spread a rumour on social media that city workers were preparing to go on strike over the issue.
In Zhanjiang in Guangdong, an official said the plant would not be built in the city, ­Caijing magazine reported.
Lianyungang and Zhanjiang were two of six candidates for the joint project with France, according to a statement posted on ­August 6 by China National ­Nuclear Corporation Nuclear Fuel Reprocessing, a subsidiary of the state-owned giant.
According to CNNC's website, the plant would be the biggest project yet between China and France, and would be built by CNNC using technology from ­Areva, France's state-owned maker of nuclear reactors.
The day of the subsidiary's announcement, Lianyungang residents took to the streets to protest. The city government issued a statement the next day, saying the site for the project was still being deliberated, but the decision-making process would be transparent.
The Lianyungang government announced on Wednesday that it had suspended plans to build the reprocessing plant.
On Friday, police detained the 31-year-old man they said had spread rumours through WeChat about a planned citywide strike on Saturday, according to a statement posted on Weibo by the local ­government.
Caijing reported that the ­unidentified official at the Zhanjiang Fenyong Hi-Tech Zone said it would not be the site for the project despite speculation it was a candidate.
A senior official with the China Nuclear Energy Association, a government-backed industry consortium, refused to comment on the issue.
The mainland has 35 nuclear reactors in operation and 20 under construction, according to the International Atomic Energy Agency.
On the mainland, local officials usually court state-owned firms or foreign companies to build infrastructure or large projects in their cities to boost the economy.
But a clutch of projects in ­recent years have been abandoned after public concerns were raised about the attending pollution and health risks.