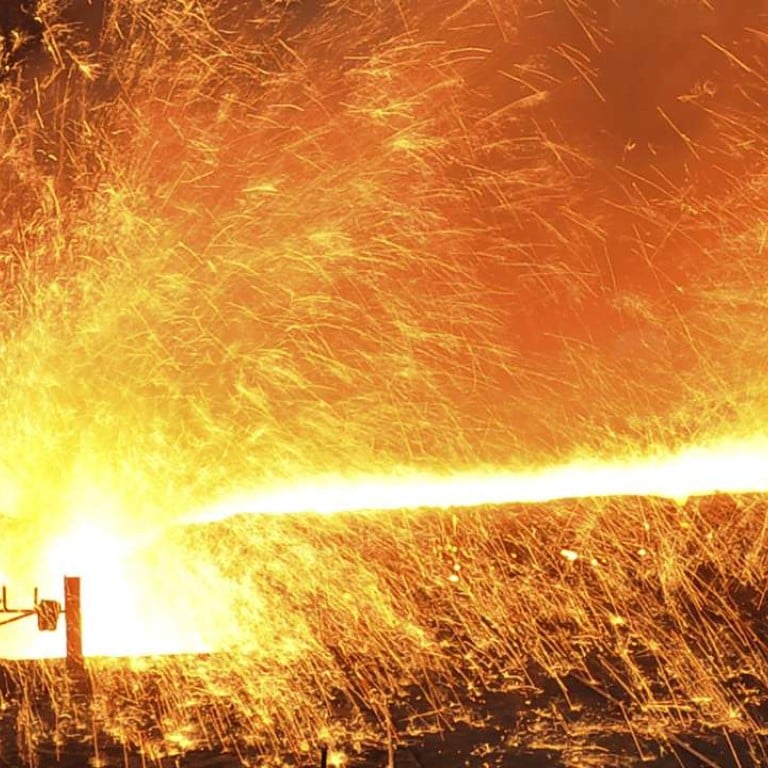 Major Chinese state steel maker starts bankruptcy process after failed debt-to-equity attempt
Bankruptcy filing follows apparent suicide of chairman, defaults on 5.8b yuan of bonds and futile talks with lenders
Dongbei Special Steel, a debt-ridden state-owned enterprise backed by the Liaoning provincial government, has started bankruptcy proceedings following the apparent suicide of its former chairman, defaults on 5.8 billion yuan (HK$6.7 billion) of bonds and fruitless debt-to-equity swap talks with bank creditors.
The company's failed attempts to avoid bankruptcy in the last six months since its first bond default in March showcased an increasingly difficulty for banks and local governments to agree upon which party should bear the brunt of a debt overhang and, more broadly, China's challenge in dealing with "zombie" state companies and defusing the debt bomb facing the country.
The Liaoning provincial government, the ultimate controller of the company, had tried to persuade creditors including the China Development Bank and Bank of China to agree upon a debt-to-equity swap plan, but the proposal was rejected. In July, angry creditors called upon all Chinese financial institutions to boycott Liaoning, a province in serious economic and political trouble, because of Dongbei's unpaid debts.
A local court in Dalian, Liaoning, has now accepted a creditor's application to start bankruptcy proceedings for Dongbei Special Steel, in what is a rare development for a state firm.
"It's an important case that indicates that Chinese state-owned enterprises can go bankrupt, and an important step towards making China's economy more market driven," said Terence Chong Tai-leung, an associate professor in the department of economics at the Chinese University of Hong Kong.
It also showcased the limits of China's debt-to-equity swap plan in addressing unpaid debts because banks often found it hard to accept low returns in such deals or to manage the businesses once their credit assets were turned into equity stakes, Chong said.
The bankruptcy application is to "restructure" rather than "liquidate" the company, signalling Dongbei Special Steel is likely to keep operating.
The Liaoning government insists the company is still in normal operation, but Dongbei Special Steel hasn't released data on its financial conditions this year and hasn't repaid its matured bonds in China's interbank bond market.
The group, which was created by the local government from three century-old steel plants in the province in 2004 and borrowed excessively to finance new facility building, reported its first default in March this year, failing to repay 852 million yuan of notes, four days after its chairman Yang Hua was found hanged at his home in an apparent suicide. To date, it has defaulted on nine batches of bonds totaling 5.8 billion yuan, with its latest default on September 26.
According a Xinhua report, Dongbei Special Steel and its subsidiaries owe around 44.3 billion yuan in financial debt and another 11 billion yuan in operating liability, with total liabilities surpassing assets.
The company is responsible for just a small part of China's US$18 trillion worth of corporate debt landscape, equal to 170 per cent of the country's GDP, according to the latest figures from the Bank for International Settlements, with most of those debts held by state-backed enterprises thought to be too big to fail.
On Monday, Beijing unveiled a guideline for using debt-for-equity swaps and mergers to control dangerously increasing levels of debt. The guideline made it clear that the government would not bail out companies for any losses under the swap plans and would encourage zombie companies – mostly debt-ridden state-owned enterprise – to declare bankruptcy.