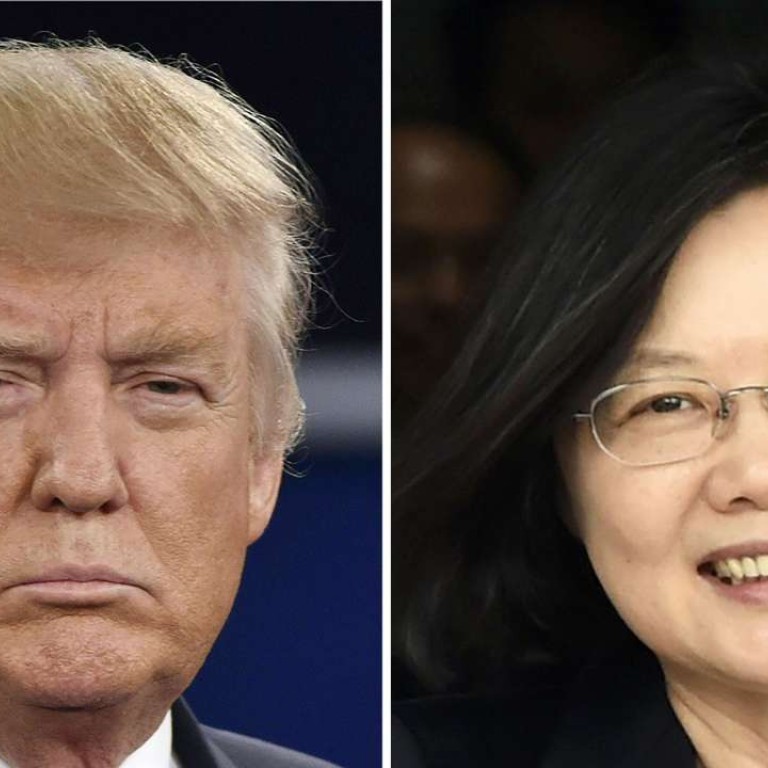 What does Taiwan hope for following Tsai-Trump phone call?
Taipei acknowledges contact signals no major policy shift but believes it may now have more room to manoeuvre
Taiwan is hopeful of securing a solid communication channel with the incoming administration of US president-elect Donald Trump following a telephone conversation between the island's leader Tsai Ing-wen and Trump on December 2.
While acknowledging the call did not signal any major policy shift by the United States in terms of Sino-US-Taiwan relations, Taiwanese officials said the call could give Taipei more room to manoeuvre in improving substantive ties with Washington.
But analysts said the call had already had a negative impact on strained relations between Taipei and Beijing, which considers Taiwan a breakaway province and has warned the US and other countries against official contact with the island.
Beijing has criticised Tsai for failing to fully back the 1992 consensus, a tacit understanding reached between Taipei and Beijing that year that there was only "one China" but each side has its own interpretation of what that stands for. The apparently consistent stance between Tsai and Beijing so far is the South China Sea issue, with Tsai pleading to defend Taiwan's sovereignty when she made her inauguration speech on May 20.
The telephone call between Tsai and Trump on December 2 also raised eyebrows in the US where critics said the president-elect, although still a private citizen until his inauguration as US president on January 20, had broken nearly four decades of diplomatic convention and risked upsetting Sino-US relations.
Observers said the call could prove costly for Tsai, of the independence-leaning Democratic Progressive Party, who needed to be cautious in the face of an infuriated Beijing.
Both the US and Taiwanese sides said Tsai called Trump to congratulate him on winning the US presidency and Trump responded by congratulating Tsai on her own electoral victory early this year. The two talked for just over 10 minutes, and discussed economic and security issues.
The conversation alarmed the political circle within the US and drew fire from the mainland as it was the first time any US president or president-elect had publicly communicated with a Taiwanese leader since 1979, when Washington severed formal diplomatic ties with Taipei.
Lo Chih-cheng, international affairs director of the DPP and a legislator, said the phone call, though only a small step forward in US-Taiwan relations, represented a solid communication channel between the Tsai and incoming Trump governments that could allow Taiwan "to have more room for manoeuvreing in dealing with the US in the future".
"But we should not have excessive expectations about future US policy towards Taiwan as Trump is not like any conventional leader in the United States," he said.
After the call, the White House has reassured Beijing that Washington would continue to respect the one-China policy. Beijing, although angered, has muted its displeasure, with Chinese Foreign Minister Wang Yi describing the call as a "petty trick" by Taipei.
Ni Yongjie, deputy director of the Shanghai Institute of Taiwan Studies, said: "The telephone call gimmick shows that the DPP is accustomed to making short-term and childish manoeuvres, and it is feared it will have to pay a big price for such a small action in terms of international politics."
Chao Chun-shan, a cross-strait expert and an honorary professor of Tamkang University in Taiwan, said the call was one "small step" forward in terms of US-Taiwan relations, but a "big step" backward for cross-strait relations.
"In strengthening relations with the United States, the Tsai government should avoid getting involved in the scrambling of interests by the two big powers, or it risks facing a difficult situation," he said.
Analysts said Tsai had chosen to play down what was seen as a small diplomatic victory for Taiwan by telling a group of visiting US journalists that the call was "not a policy shift of the United States" and that she viewed the improvement of US-Taiwan and cross-strait ties were equally important.
On Friday, Tsai said her government would firmly uphold its sovereignty over islands in the South China Sea and its rights in the region based on international and maritime law. She made the comment during the opening of an exhibition marking the 70th anniversary of the recovery of the control of the Republic of China – Taiwan's official title – over Taiping Island, a disputed land formation in the South China Sea.
People's Liberation Army advisers have expressed concerns about the Tsai government's position on Taiping Island, and said they hoped Taipei would cooperate with the mainland in the disputed region.
This article appeared in the South China Morning Post print edition as: Taipei optimistic call will open up line to White House