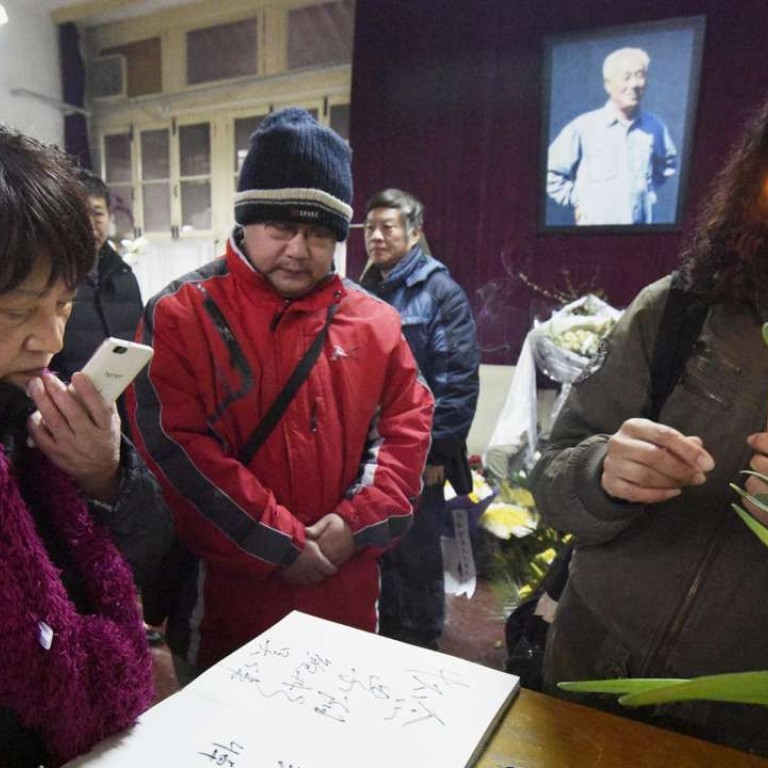 New

|
Family of reformist leader Zhao Ziyang vows to keep pressing for his exoneration
Family home where he spent his final years under house arrest fills with wreaths and messages of support on 12th anniversary of his death
The family of the late liberal leader Zhao Ziyang vowed to keep seeking redress for him and Beijing's crackdown of the June 4 pro-democracy movement on the 12th anniversary of his death on Tuesday.
Many friends paid tribute to the former premier and Communist Party general secretary at his courtyard home in Beijing, where has been under heavy security since Tuesday, according to Hong Kong Cable Television.
The mourners included Du Daozheng, the 93-year-old publisher of the liberal magazine Yanhuang Chunqiu magazine, and Ding Zilin, founder of the Tiananmen Mothers organisation. Ding paid tribute alongside the organisation's spokeswoman You Weijiea day before the anniversary to prevent being harassed by police.
"If the [crackdown on the Tiananmen movement] is not corrected, there will be no end to Zhao's mourning," Du was cited as saying by Hong Kong broadcaster TVB.
Zhao remained under house arrest in the courtyard home since he opposed the use of military force to end the protests in Tiananmen Square during the summer of 1989. He was last seen in public on May 19 making a tearful predawn appeal to hunger striking students to abandon their protest and return home. Martial law was declared in the city the following day.
Zhao's daughter Wang Yannan said they did not have high expectations that President Xi Jinping would exonerate Zhao or the crackdown protesters this year, but the family would never give up their appeal, Cable TV added.
The political atmospheres in Beijing has become more sensitive ahead of the Communist Party's 19th congress in the autumn. Cable TV said journalists had been barred from Zhao's home on Tuesday. It said another Tiananmen Mothers member, Zhang Xianling, had been monitored by police since Monday night to stop her leaving home.
Veteran journalist Gao Yu, who along with her son were banned from the mourning this year, released a tribute to Zhao online.
In the statement, Gao wrote that she had picked 40 white roses the day before while being "escorted" to a florist shop. The flowers were delivered to the Zhao home by courier.
"My tribute this year is: You are high above and yet we are down here. Our hearts are closely tied together despite the smog between us," wrote Gao, cosigned by Ding Zilin.
On Tuesday, the courtyard was full of wreaths, one of them sent by Zhao's former top aid Bao Tong, who sent his secretary Wu Wei as a representative to mourn the reformist, TVB reported.