Britain
Get more with myNEWS
A personalised news feed of stories that matter to you
Learn more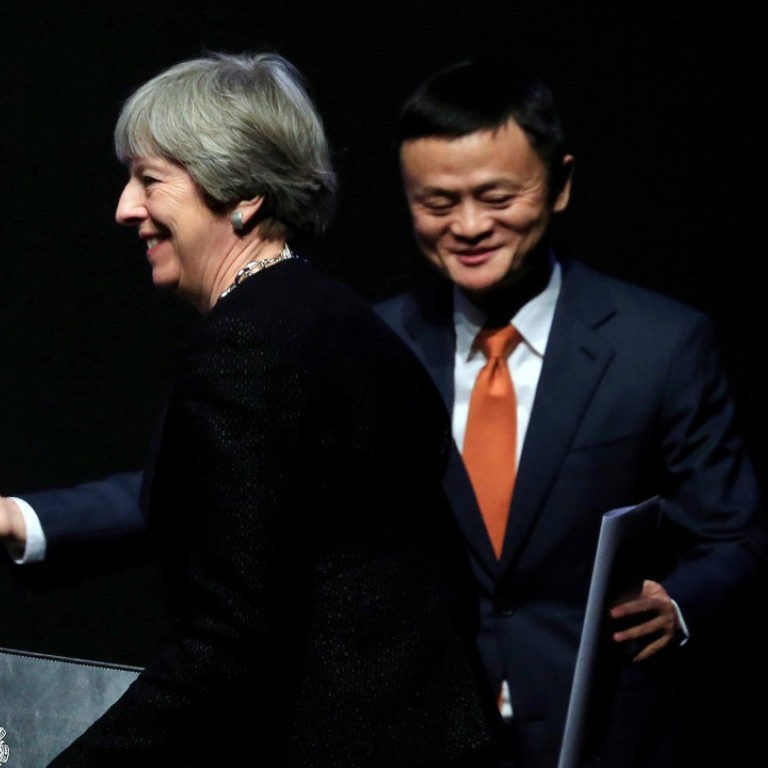 UK PM Theresa May turns to Chinese billionaire Jack Ma for post-Brexit trade ideas
Government officials said May met the business leader twice: first at the World Economic Forum in Davos, and then in Shanghai last week
When it comes to tackling the eye-watering challenge of cross-border trade after Brexit, Theresa May has turned to an unexpected figure to provide a little post-EU inspiration.     
The prime minister is said to be taking advice from one of the richest men in the world: Jack Ma, the billionaire founder of the Chinese tech giant Alibaba.    
Government officials admitted that May was charmed by the charismatic business leader during two meetings, first at the World Economic Forum in Davos, and then in Shanghai last week.    
"He's a hugely impressive, energetic guy and the prime minister definitely enjoyed their meetings," said one Whitehall source.    
Others told Bloomberg that the government had begun studying the American tech giant Amazon to learn more about how companies navigated complex international rules to provide a smooth service for customers.
The prime minister was convinced companies such as Alibaba and Amazon could help Britain keep a smooth flow of goods across borders even under new post-Brexit customs rules, Bloomberg reported.
May turned down a meeting with Ma, who is said to be worth US$45.5bn, at Davos in 2017 in favour of a fondue with her aides, according to her former communications director, Katie Perrior.
But the pair did meet this year, with the prime minister keen to canvass ideas for cross-border trade, according to reports.
Alibaba has a global parcel tracking platform that orchestrates same-day deliveries from 2 million people across 600 cities, despite border clearance requirements.
Ma has spoken out in recent months about China's single-party system, contrasting it with the unpredictability of US politics and claiming it provides stability.
The Alibaba chairman also offered his support for online control by the Chinese government, suggesting companies such as Google and Facebook needed to "follow the rules" if they wanted to operate in China.